Greenpois0n Absinthe jailbreak for iPhone 4S, iPad 2 updated to version 1.2.2, Windows version coming soon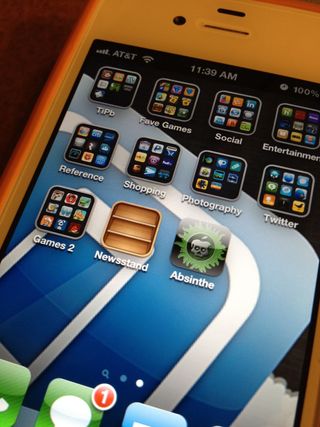 Greenpois0n Absinthe has been updated to version 1.2.2 with bug fixes for some users that were experiencing issues. If you were having issues accessing Cydia or your jailbreak was failing, this should fix your issues. Just run it over your current jailbreak.
If you need help jailbreaking, run into issues, or want to know what to do with your jailbreak now that you've got one - hit the links below.
Download Greenpois0n Absinthe version 1.2.2 - Mac, Windows and Linux versions coming soon
iMore senior editor from 2011 to 2015.
In Aprox. How much time Will it be released

"In a few more" remember those words. lol

Unfortunately, I don't know anymore than you do. But the greepois0n site says uploading next to windows so I'm pretty sure it's done, just getting put together. I'd "guess" today.

For those of you windows folks waiting, this is the page that should show a download. I'll keep watching as well and post up as soon as we've got a link but here's what you want to watch...
http://www.limera1n.cc/2012/01/jailbreak-iphone-4s-ipad-2-501_20.html

I knew their was a reason I liked your posting even though it just raised my anxiety.

I think its important to add that you will want to take off your passcode. I ran into lots of problems before i removed it

The Windows version is showing as uploading now.

Do you have the Windows version yet? Can you share?

Worked for me! I have an Ipad 2 on 5.0.1.... YES!!!!

Can I jailbreak if I am using exchange service through my work?

I had to remove my Exchange account and turn off the password. After that, no issues with the Jailbreak. Then I just set the Exchange account back up.

Thanks... Appreciate the fast response!

Maybe they are holding a windows release for a very simple reason.... Just the MAC users took a tool on the servers and all, what would the windows users do when the windows version is released.
So I guess..... To provide everyone with no issues... Or I'd rather say, minimal issues, and not pressurise the servers too much, they took a right step to hold the windows and Linux release.
I guess they would do that once the pressure from the Mac users cool down. :)
A hearty thanks to the Dream Team :)

If you jailbreak an iPad 2 or iPhone 4S, is it easy to un-jailbreak it?

Yea just restore from your backup on iTunes

so eagerly waiting for the windows version,,, I check this page every 10 mins!!! pls release it....

it has been uploading for so long?!?!?!?

If i jailbreak using a Mac, can I sync my iPad to a Windows OS? I was thinking of borrowing my dad's Mac just to JB my iPad, my laptop is running on Windows

This jailbreak or some Cydia apps messed my Music app up on my 4S. I can select a song and push play but nothing happens. As for apps I have the basic Winterboard, SBSettings, and Activator. And, yes, i tried a full reboot and still have the bug Anyone else have this same issue?

Ok, am I missing something? I've been trying to jailbreak since this was announced yeterday. I plug my phone in, launch Absinthe. It detects my iPhone running 5.0.1. I click the "Jailbreak" button, and it says, "Beginning jailbreak. This may take a while..."
And that's where it all stops. I'll let it sit for thirty minutes, and then it typically force-quits with some kind of error page.
HELP!

The Win release will not be uploaded anytime soon due to the immense pressure on servers. It will take another 2-3 days before MILLIONS of 4s and Ipad 2 owners are done JB their devices.. the ones that are JB right now are the ones that have freneticly follow Devs progress with the tool...next will be the ones downloading the tool by word of mouth

It's available now, thanks for your insight.

AFTER things have settled will Win users be able to sownload it..

my best bet is that we will see the release when people start going to work mon-tue

I found a link to Absinthe for windows:http://www.techcular.com/jailbreak-iphone-4s-ipad-2-untethered-ios-5-0-1...
However i do NOT know yet if it is genuine. ima give it a try

Ipad 2 / iphone 4s Absinthe Jailbreak for Windows in action
http://www.youtube.com/watch?v=25u_GBOvL4k

Did anyone else with a Sprint 4s after jailbreaking calculator app icon turn white?
Get the best of iMore in in your inbox, every day!
Thank you for signing up to iMore. You will receive a verification email shortly.
There was a problem. Please refresh the page and try again.