iPhone 4S release date: October 14, 2011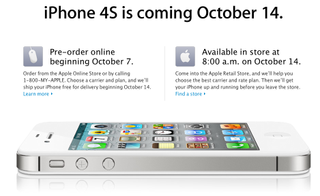 iPhone 4S launching on AT&T, Verizon, Sprint, and internationally
Apple has announced the release dates and availability for iPhone 4S on AT&T, Verizon, Sprint, and 97 international carriers, and here's the break down:
US, Canada, Australia, United Kingdom, France, Germany, Japan.
Pre-orders start on October 7
In-store starts on October 14 at 8am
Austria, Belgium, Czech Republic, Denmark, Estonia, Finland, Hungary, Ireland, Italy, Latvia, Liechtenstein, Lithuania, Luxembourg, Mexico, Netherlands, Norway, Singapore, Slovakia, Slovenia, Spain, Sweden, Switzerland.
40 more countries
Rene Ritchie is one of the most respected Apple analysts in the business, reaching a combined audience of over 40 million readers a month. His YouTube channel, Vector, has over 90 thousand subscribers and 14 million views and his podcasts, including Debug, have been downloaded over 20 million times. He also regularly co-hosts MacBreak Weekly for the TWiT network and co-hosted CES Live! and Talk Mobile. Based in Montreal, Rene is a former director of product marketing, web developer, and graphic designer. He's authored several books and appeared on numerous television and radio segments to discuss Apple and the technology industry. When not working, he likes to cook, grapple, and spend time with his friends and family.
Is the iPhone 4 going to cost less now? Or the same?

DO NOT READ THIS!ok please dont rerpot this couse i copied this from another parson im realy scaredok this is true but you can diejuly. may 20th. 1930.A girl named Ashly Kingsworth was looking for down a well and a ghost pushed her down the well. now that you read this you must Copy and Paste to 2 Other Video's or else tonight at 12:00she will stand at the end of you're bed and pull you down the well she died

It took then a year and a half almost just to come out with an upgraded version of an iPhone 4? What a disappointment.

meh. This is the start of the downfall of Apple.
Well it started off with Mr Jobs resignation. Next iPhone 5 being delayed and once Microsoft & Nokia work things out, things wont look the best for Apple.
Guess Apple sales of iPhone 4 S will tell !

the downfall of Apple, really???? Me thinks you might be over reacting just a bit......

check the stock market. Its just the begining,
16 months and no major (cosmetic) hardware update, when the competiton is blowing Apple out of the water ?
And add to that the fact that people will now realize that without Jobs , Apple doesnt have the same vision and charisma. The keynoe was pretty lame. Me think youre too blinded by your fanboyism ;)

Competition is what? I have 4 android device users at my office who want to switch to iPhones, the only reason android sells is because the Galaxy S II came out cheaper then the over an year old iPhone 4.
Apple is expensive, that's why people cling to thei spec sheets and make themselfs feel better with their android devices. The usefulness of a mobile device doesn't just get down to specs. The overall quality and usability of a device is what counts and android is no where near ios, I've had both and I'm sticking to my iPhone 4.
Will I buy the 4s? Well sure no, but I will buy the 5, abd then the 7 and so on. Appke is not failing, they have so far continued to grow. It's amasing how the most expensive smartphone (i4) is still the top selling one in my country.

If I'm Right, The 3G And 3GS Design Lasted 24 Months. How Did We Survive Then?

I wanted to jump ship on Sprint to go to Verizon, but no new iphone means I'll stick with my Evo until an iphone 5 comes out.
And for what it's worth, I'm aware that Sprint has the iphone now... I just wanted to leave cause they suck.

If you want to "Jump ship" to Verizon then get the nexus when it comes out. iPhones are all basically the same in the long run...

Wow REALLY..??? now big screen at least 4 inch screen ??? What a HUGE MISTAKE ON THE PART OF APPLE!!!!!

A larger screen would force one of two things. Either 1) Apple would have to give up the "Retina Display" that they're so proud of, or 2) app developers would have to bump up the artwork in their apps again. It seems logical to me to stick with the established norm.

1) There are Android-based phones with 4+ inch screens that are coming out (or are already out, I can't keep up) that offer either same or better resolution as the Retina Display.
2) Like it or not, 4-inch screen and larger are the norm with the exception of Apple, so developers will eventually have to "bump up the artwork" anyway. Even if Apple sticks with 3.5 inches, if they bump up the resolution on that size screen, the developers will have to alter their programs.
Apps are built for the phone, not the other way around.
Apple will survive. iP4S will be a big seller, no doubt. Still, in my opinion, this move is very disappointing and a mistake by Apple. The company that once led the industry is now falling behind. Catch up is a very hard game to play in this day. Look at RIM...they have been down this road, and they will most likely never catch up. Not in the consumer market, anyway.

How can even began to compare RIM to Apple please... Mistake on your part...

I'm not comparing the companies or their products. I was merely pointing out that catching up is a hard game to play in the smartphone world, and was pointing out that was the biggest mistake RIM made.
Try to read my reply in its whole context, and don't just cherry pick a sentence. Mistake on YOUR part.

Retina Display aka real name IPS LCD Display will definitely diminish with higher screen, but if Samsung was able to bring a phone in europe and Korea with 720p resolution which is way higher than apple, I dont see why they cant bring it on a higher screen, now the RAM is a dissapointment, 512? really? 1GB is the norm now, and expect higher

I enjoy you because of all of your work on this web site. Ellie loves wirkong on internet research and it's simple to grasp why. All of us notice all relating to the lively medium you convey efficient items through this website and in addition boost contribution from some other people on this idea and my girl is undoubtedly learning a whole lot. Have fun with the rest of the new year. Your performing a great job.

Its like you read my mind! You appear to know so much about this, like you wrote the book in it or smhteoing. I think that you could do with some pics to drive the message home a little bit, but other than that, this is great blog. A great read. I will certainly be back..

Wow! What a BIG disappointment... the 4S is just an iPhone 4 with a few upgraded specs.
Apple stock price is down nearly 4%...

I think I may hold off and wait

Will there be a factory unlocked version for sale in the US?

I bought an Android and returned it. Verizon charged me $330 to terminate my contract on that piece of crap phone. The iPhone is the right choice for anybody looking for a powerful and user friendly phone.
I'm a technical support person, and since my bad experience with an Android phone, I always encourage new buyers of cell phones to stay away from the android phones. The iPhone is in a different league. The iPhone doesn't come loaded with crappy adware, and it has thousands more app choices and they actually all work!

Really? I had the iPhone and it was a piece of crap. Only good thing sold it for 100 more than gave. I recommend Android.

you must have bought a low end android have you checked the Samsung Galaxy S2? beats the Iphone in every aspect and is more fluid and no adware that I am aware of on android, if you get a free app with ads, is the reason you are getting it for free, if you pay for them no ads will be there, and anything preloaded on the phone is up to the carrier to include. All most important apps that you can get on Iphone you can also get on android

I think he meant bloatware.

Wish they would have spoken more about the Sprint edition. Will it use EVDO Rev.B, which is supposed to be faster? Nice evolution of the iPhone 4 but next year's model will be the true upgrade. Apple will have LTE for at least Verizon's and AT&T's iPhone 5's.

Any word on what time we can pre-order on October 7? 3AM?

All of this talking about the fall of Apple??? Really what a joke. Yes current iPhone 4 users and potential Android switchovers will be upset a bit but if you watched the keynote only 50% of iPhone users have an iPhone 4 so alot of people will qualify for an upgrade and be very happy to have this phone.

I don't know about this. I'm barely into my iPhone 4. I should have waited a little while longer but I know with iOS 5 coming for the 4, I'll just do the update and stick with it until my new phone upgrade is up for Verizon and get the iPhone 5 with 4G.

The new camera and the Siri voice control looks very interesting. Siri looks very integrated with the rest of the apps and iOS. Plus Apples marketing will drive this new market...Apple is changing the landscape again and pulling the market in a new direction. They are at least one or two steps ahead of the competition. The clueless street does not get it yet...Apple at least did NOT call it the iPhone 5, but the 4S which OK with me. When the 5 comes out it will likely have even further integration with the iCloud and the new iPad.

market... market.. market market market market.

I enjoy you because of your own work on this site. My dahetugr loves participating in research and it\'s really easy to see why. Most people hear all about the dynamic method you give worthwhile secrets via your website and attract response from some other people on that area plus our favorite child is certainly studying a whole lot. Enjoy the rest of the year. You\'re the one carrying out a good job.

I've recently sttared a site, the information you provide on this site has helped me greatly. Thanks for all of your time & work. A creative man is motivated by the desire to achieve, not by the desire to beat others. by Ayn Rand.

since apple was selling unlocked iPhone 4's, will these new 4S phones also be unlocked, especially since the prices are subsidized by the carriers? Or will have to buy at an Apple store unlocked ones (just curious)?

so will this be inside of the carrier stores unlike last year iphone4?

I love the retards that say this is the end of Apple, you do realize they are one of the most successfully / cash on hand companies in the WORLD. Even if this release is disappointing to some (typically only those who have a iPhone 4), all my android friends (all 3 of them, are going to the iPhone 4s), I HIGHLY, HIGHLY doubt this is the end of Apple.. those of you who think so, are retards.. pure and simple.
And maybe you retards should also take a look at the sales #'s for the pre order, AT&T.. 200,000 in 24 hours. Apples initial shipment, sold out in under 24hrs...
sounds like a flop to me.. idiots

That's right Danjon! I strongly agree with that..

Hey!!!
DId you check out STEVE JOBS QUOTES AND TRIVIA APP on the Apple Store???
A nice way of remembering this GREAT MAN on your iOS device!!!
Check the reviews for the opinions of other people ;)
If you like it, please share it!!! :)

Thank you for sharing exnlleect informations. Your website is very cool. I am impressed by the details that you've on this web site. It reveals how nicely you understand this subject. Bookmarked this website page, will come back for extra articles. You, my pal, ROCK! I found just the info I already searched all over the place and just couldn't come across. What an ideal web-site.

Are you getting a specific error during the installation process? You may need to use RecBoot to get around them.
Get the best of iMore in in your inbox, every day!
Thank you for signing up to iMore. You will receive a verification email shortly.
There was a problem. Please refresh the page and try again.