iPhone 7 will reportedly feature a Smart Connector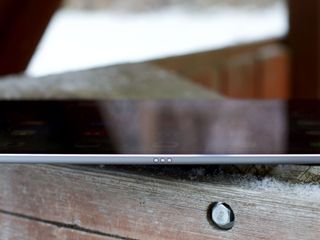 (Image credit: Rene Ritchie / iMore)
A new report claims that the iPhone 7 and 7 Plus will each sport a Smart Connector when they launch later this year. Mac Otakara also backs up previous rumors that state that the new phones will ditch the 3.5mm headphone jack, with the 7 Plus also adopting a new two-lens camera.
An image of the supposed iPhone 7 Plus surfaced last month showing both the dual camera setup and a Smart Connector. The photo is not the highest resolution, and it would be wise to take this all with a grain of salt. We won't know anything for sure until Apple announces it.
Get More iPhone
(opens in new tab)
Joseph Keller is the former Editor in Chief of iMore. An Apple user for almost 20 years, he spends his time learning the ins and outs of iOS and macOS, always finding ways of getting the most out of his iPhone, iPad, Apple Watch, and Mac.
Great! Another device that requires $100 worth of adapters to use! This is not grand industrial design, it's narcissistic need to make something very minimalist! Like the Mac Pro, it'll look good for design magazines and be a pain in the *** the use! That is NOT the Steve Jobs design paradigm. Jony Ive turned loose!

Yes, I am sure that customers were providing lots of feedback that said replace the headphone jack with a smart connector. And why your at it, make it thinner as we would rather have it thinner than a bigger battery.

I wish the duel camera were on top of each other, so when in landscape you could record a nice 3D movie. In the picture provided, it looks like they are next to each other which is a shame...

Why would the placement of the lenses matter? When you rotate your phone to landscape, the camera rotates to landscape. Why would it not continue to do so?

You're not considering the two lens aspect of the situation. What you described works fine with one lens... There's a reason why when 3D is shot natively, the two lens are side-by-side rather than one on top of the other.

I may have to skip this one because of the very reason of no headphone jack. Sent from the iMore App

it's not like they're going to bring in back in the future, so are you going to skip every iphone from now on?

Maybe, maybe not. If enough people stay away, they will. Look at Samsung. The Galaxy S6 ditched the SD card slot, and there were lots of protests, as well as lower sales. And guess what? It returned on the S7. Any company that doesn't pay attention to what its customers want does so at its own peril. If Apple is going to ditch the headphone jack, it had better articulate a very compelling reason for doing so, and I don't think a thinner device is it. At some point, you end up with something that's uncomfortable to hold.

Yea.. Its going to suck to have a modern plug, with better capabilities, better sound, ability to send power through for things like noise cancellation.. We must stay away!
Hate to break it to you but this is just the beginning of the end for that ancient audio port. All things are going to soon drop it, not just phones. Sent from the iMore App

If they go proprietary it's a pain I they adopt like a miniature USB it's all good.

Usb c yes, mini usb or micro, god no, those are awful Sent from the iMore App

A modern connector will also have DRM. That will likely do two things. First, it will drive up the cost of headphones, since whoever develops and licenses the copy-protection scheme is going to charge each manufacturer for using it in their products. Second, these schemes are often buggy, which may mean your headphones may not always work if, for some reason, they can't authenticate with the phone. And God help us if Apple decides to adopt a proprietary system.

All we can do is hope for the best because trying to clutch onto that old audio port isnt going to work. Sent from the iMore App

Why? Next year Samsung will just copy the iPhone again and get rid of theirs two. Sent from the iMore App

Go eat some grass. You're not even a smart sheep Sent from the iMore App

As the above poster said, looks like you'll be going to Android then

personally i nearly went Android instead of a iphone 6. I can say without a doubt, for my needs, the iPhone is far from some clear winner. I could live happily with both. Every app i use except a podcast app is available on Android.

looks like your never getting an iPhone again. Lol

Nexus here I come Sent from the iMore App

You will be glad you did Posted via the iMore App for Android

Nexus phones are nice. Sent from the iMore App

Fine by me. Most people do not even use connect headphones. I see tons of people with bluetooth ones around their neck.

Exactly Sent from the iMore App

True, but I've yet to see bluetooth headphones that don't look like sh1te except the over the ear cans, which most people don't wear and don't want to wear. Maybe Apple can change that, but it remains to be proven. Remember, they don't exactly have a good record in this area. Almost every headphone they have ever made has been panned by the critics and not just for sound quality which is subjective, but for not staying in your ears, which is really job one when it comes to headphones. Apple has to pull a (magic) rabbit out of a hat here, and in an area they have traditionally sucked at.

Yeah because it's awesome when the batteries die in it. I love using batteries for everything. Saves so much time. Posted via the iMore App for Android

And Apple continue to drive me to an Android phone. Aside from a weakening battery my iphone 6 will last some time longer i suspect and then likely it's Android because the changes Apple makes simply are not what i'd call improvements. The directition most of their products are going are away from my needs or interests.

What's wrong with a smart connector?

Hmmm... Wonder if would be used for wireless charging or something to get away from lightening? The argument could be made that the Apple Watch has a magnetic charger but the magnet is very weak making it easy knock it loose. Getting the smart keyboard loose from the iPad Pro's Smart Connector takes some effort and best of all, it lines itself up perfectly every time. Just a thought!

That's the question I am wondering as well. What would the smart connector be used for? Also, please tell me the footprint of the phone will not be as big! If Samsung can make the Edge I know Apple can decrease phone size and I will jump to the 7+ (should change name to Pro imo).

I can see only assume there's going to be some sort of peripheral like the Apple Pencil for the iPad Pro, that's probably the reason there will be a smart connector. Sent from the iMore App

There no need for Apple to decrease the size of the plus model iPhones as they're fine as they are. I don't like the compact design language Samsung is now using with in the S7 and S7 Edge, it affects usability with the thinner bezels the S7 and S7 Edge has and the bezels on the iPhone is one of the many reasons I why love the iPhone and its design. Sent from the iMore App

Looks like the LG G5, but with the camera off center.

So I guess they're taking away the True Tone flash in the new iPhone... Sent from the iMore App

It's a headphone jack people. That's it. Bluetooth headphones are becoming cheaper and have better technology/sound than wired ones. Not buying the phone rather than dropping $30-40 on a Bluetooth headset is just ridiculous. At least give a better, more serious reason for not wanting to buy it. Sent from the iMore App

Because they already spent $300 on wired headphones. And bluetooth do not offer noise cancelling. At least not Bose.

Finally someone, thanks rob1974, articulated a reason why wired headphones are useful. I do use mine occasionally when flying, but now that I can use BT, I use those more often than not.

Earbuds of some kind are more popular than over-the-ear bluetooth headphones by a ratio of at least 10 to 1 though. This move is okay if your some 20 year old who want's to impress everyone with their giant, red and gold Beats headphones at the beach, or some Grandpa who is sitting in his living room with his expensive Bose crapola, but for the average user of earbuds, they will have to switch to whatever bum-ugly alternative Apple ships in the box.

Not to mention the people (myself included) that use the headphone jack as an aux port. It's the only way I can use my phone at work. Yeah, I can use the adapter, but you know that's awful. What if we need to charge?

All these articles about this smart connector on different websites, and so far not one of them has explained just what on earth a smart connector is and what it does!

Thinner, is not always better. The 6S is slippery without a case. Wireless headphones vary in battery life. Bluetooth on, wifi on, battery life suffers. As far as connected headphones, it can be done through the charging connector with great results. It will be interesting to see what they come out with. Sent from the iMore App

I'm certainly not getting the iPhone 7 Plus, especially if it looks like this. Sent from the iMore App

Currently on a Galaxy S6 and contemplating going back to iOS, im both super excited by all these new rumored features and terrified by the loss of the 3.5mm jack, considering how much Im invested in it (high end headphones) and the reluctance I have for any possible 'adapter' (dont want anything protruding off the lightning connector or smth dangling off of it). Unless they come up with smth my brain cant think of.

And yet there is nothing at all about battery improvements !
Screw u apple Sent from the iMore App

The battery of the 6S and 6S Plus is great, battery technology hasn't really moved on, but that's not Apple's fault, however I'm fine with the battery as it is, an improvement would be nice but I don't know how they'd do it and I don't think they do too

The 6S battery is far from great. Sent from the iMore App

My 6s battery sucked. My 6s plus battery is great Sent from the iMore App

It looks fake as crap. Zoom in on the image. Notice the off color rectangles? I'm going with Photoshopped until further notice, or an actual decent non-grainy image appears. A smart connector on a phone makes zero sense. Nobody wants some stupid modular connector or dongle you need every time you want to do something like charge the phone or use headphones.

It's already been shown on other websites that put this thing through a photoshop scraper that the apple logos camera and smart connector area were put in on top of the picture.

It also have rhe same antenna as the honor phone?! Too close to the 6 line to be true... I hope. I like the iphone 6 design but it's time to change! Ive and its team didn't work a lot those last 2 years :) Sent from the iMore App

It would be great if Apple extends the smart connector to iPhones, but that picture in the article is an obvious fake. A simple levels adjustment in photoshop can tell you that. Also, having a smart connector in the particular place envisioned by our fake photo creator would be pretty ridiculous, not to mention non-functional. A Smart Connector on the side or the bottom though would be an excellent idea. Aside from keyboards, it would solve Apple's long-standing problem with cradles, charging cables, and hectoring advocates of "wireless charging."

Those antenna lines look silly. They really need to figure out what to do with them. Sent from the iMore App
Get the best of iMore in in your inbox, every day!
Thank you for signing up to iMore. You will receive a verification email shortly.
There was a problem. Please refresh the page and try again.