iPhone 7 and iPhone 7 Plus specs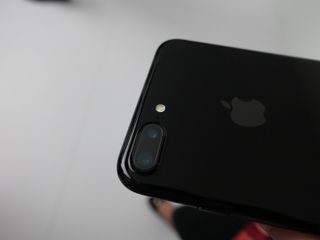 Apple has announced the next iterations in its iPhone lineup, the iPhone 7 and iPhone 7 Plus. While the phones carry over the same basic design of the previous generation, the new iPhones feature new colors, camera technology, and are now water- and dust-resistant. For those of you looking to dive into the specs (opens in new tab) of these new phones, you've come to the right place.
Swipe to scroll horizontally
| Category | iPhone 7 | iPhone 7 Plus |
| --- | --- | --- |
| OS | iOS 10 | iOS 10 |
| Finish | Rose Gold, Gold, Silver, Black, Jet Black | Rose Gold, Gold, Silver, Black, Jet Black |
| Capacity | 32GB/128GB/256GB | 32GB/128GB/256GB |
| Height | 138.3mm | 158.2mm |
| Width | 67.1mm | 77.9mm |
| Thickness | 7.1mm | 7.3mm |
| Weight | 138g | 188g |
| Screen Size | 4.7 inches | 5.5 inches |
| Screen Resolution | 1334x750 (326ppi) | 1920x1080 (401ppi) |
| Display | IPS LED, 3D Touch, Wide color display (P3), 625 cd/m2 max brightness (typical) | IPS LED, 3D Touch, Wide color display (P3), 625 cd/m2 max brightness (typical) |
| Splash, Water, and Dust Resistant | Rated IP67 under IEC standard 60529 | Rated IP67 under IEC standard 60529 |
| Chip | A10 Fusion chip with 64-bit architecture | A10 Fusion chip with 64-bit architecture |
| Coprocessor | Embedded M10 motion coprocessor | Embedded M10 motion coprocessor |
| Rear Camera | 12MP, ƒ/1.8 aperture, Digital zoom up to 5x, Optical image stabilization, Six‑element lens, Quad-LED True Tone flash | 12MP wide-angle (ƒ/1.8 aperture) and telephoto (ƒ/2.8 aperture) cameras, Optical zoom at 2x, digital zoom up to 10x, Optical image stabilization, Six‑element lens, Quad-LED True Tone flash |
| Video recording | 4K video recording at 30 fps, 1080p HD video recording at 30 fps or 60 fps, 720p HD video recording at 30 fps, Optical image stabilization for video, Optical zoom at 2x, Quad-LED True Tone flash, | 4K video recording at 30 fps, 1080p HD video recording at 30 fps or 60 fps, 720p HD video recording at 30 fps, Optical image stabilization for video, Optical zoom at 2x; 6x digital zoom, Quad-LED True Tone flash |
| FaceTime HD Camera | 7-megapixel photos, 1080p HD video recording, Retina Flash, ƒ/2.2 aperture, Wide color capture for photos and Live Photos, Auto HDR, Backside illumination sensor, Body and face detection | 7-megapixel photos, 1080p HD video recording, Retina Flash, ƒ/2.2 aperture, Wide color capture for photos and Live Photos, Auto HDR, Backside illumination sensor, Body and face detection |
| Bluetooth | Bluetooth 4.2 | Bluetooth 4.2 |
| Wi-Fi | 802.11ac | 802.11ac |
| GPS | aGPS, GLONASS | aGPS, GLONASS |
| NFC | Yes | Yes |
| Sensors | Accelerometer, Ambient light, Barometer, Compass, Gyroscope, Infrared, Proximity | Accelerometer, Ambient light, Barometer, Compass, Gyroscope, Infrared, Proximity |
| Fingerprint | Touch ID | Touch ID |
| Battery | 14 hours talk time, 12 hours LTE browsing | 21 hours talk time, 13 hours LTE browsing |
| Pricing | 32GB $649/128GB $749/256GB $849 | 32GB $769/128GB $869/256GB $969 |
Get More iPhone
(opens in new tab)
Get the best of iMore in in your inbox, every day!
Joseph Keller is the former Editor in Chief of iMore. An Apple user for almost 20 years, he spends his time learning the ins and outs of iOS and macOS, always finding ways of getting the most out of his iPhone, iPad, Apple Watch, and Mac.
Does anyone have the dimensions of the 6S Plus handy? If we have a case with a big hole for the camera lens curious if it still fits.

same as the 6s plus 158.2 x 77.9 x 7.3mm

Thanks! Lifeproof is out but the wallet cases are in.

First of all I am a huge Apple fan, but for some reason I watched this keynote and thought "meh" the whole time. The watch doesn't interest me at all but I usually like the phone technology. Maybe I am getting too old, but for some reason iPhone 7 does nothing for me.

The iPhone is pretty matured now, there's not many more "spectacular" things that can be added until other technological advancements are made

??? Its true of the entire market..

Same Here Sent from the iMore App

Apple would of killed itself with a 16GB option.

Common error in the US. The poster meant "would've". It's a phonetic issue. Sent from the iMore App

Nerd Break!!! It's both a phonetic a grammatical issue. If you learned grammar properly (or well), then you avoid this mistake even when you take the phonetic shortcut in actual speech (these shortcuts are common in the normal population). Knowledge of grammar means you are aware that this forms a compound verb tense, and "of" is not an auxiliary verb (usually taught as "helping" verbs) - or a verb at all. That knowledge will lead you to automatically expand the contraction "would've" into "would have," since you will have a reflex for proper grammar structure and usage. It can also help you eradicate the bad usage form your speech (and people in your native neighborhood often notice this almost immediately ;-) ). If your grammar isn't great, then you will likely fall into the phonetic trap: Turning pronunciation directly into spelling. This is always a bad thing in English, because English is one of the worst languages IRT turning spelling into pronunciation (therefore, the opposite works just as badly). English also favors vowel reduction (unstressed vowels are reduced to "schwa" - /ə/ in IPA) heavily. It also favors changing consonant voicing to aid in producing fluid, connected speech with as few glottal stops as possible. This is why "The Wizard of Oz" is generally pronounced as "Thə WIZəd əv OZ" as one fluid utterance with no glottal stops. Words like "the" and "of" are function words, and tend to be unstressed even when monosyllabic. All of the unstressed syllables see the vowels reduced to schwa. /f/ gets voiced, which changes it to a /v/ consonant. The voicing of /f/ means that you can avoid a glottal stop between "of" and "Oz," making it [physically] easier to pronounce those two works consecutively. Voiced vs. Unvoiced: B vs. P
D vs. T
V vs. F
Z vs. S
G vs. K
etc. Some of these are extremely prone to changes in voicing at certain positions, particularly when they are sandwiched by vowel sounds. "Would've" is pronounced "would-əv." The /ə/ is inserted to signal the contraction, therefore when spoken, it affects pronunciation because the sound following the /v/ is also /ə/ - again, a vowel. Schwa ( /ə/ ) is the English "Neutral Vowel." It sound like "uh." Because of this, the /v/ devoices and becomes /f/. Because /əf/ is homonymous with how we [often] produce "of" (due to it being a function word, it is almost never stressed, therefore the /o/ is almost always pronounced as /ə/ ) people who are prone to spell things as they hear/pronounce them will write "would of" when they expand the contraction. Additionally, TH can be either voiced or devoiced, which is why some accents take a shortcut and replace them with "d" in some positions. The "th" in Bathe is not the same that that in "bath," for example. In some accents, unvoiced TH is "optimized" to /d/ for ease of oral production. In Old English (and still, in Icelandic and one or two other languages) there were two separate letters for the "th" sound. One for the voiced variant, and another for the unvoiced variant. So, they were similar to consonant pairs like /g/ and /v/, or /p/ and /b/. When we moved to a strictly latin alphabet, we replaced them both with "TH," making English spelling even worse in the process.

Ha! Nicely done, sir... Sent from the iMore App

I was not disappointed but I was not amazed either....(if that makes any sense) Sent from the iMore App

I think the word you're looking for is "ambivalent" :)

Excited about the 7 plus. I am currently looking at getting a new phone, so it will be either the 7 plus or a 6s plus. Decisions...

Still 720p on the S7! Really can't believe it. Those huge bezels too - looks like a throwback to a couple of years ago. Posted via the iMore App for Android

All you Android guys care about is bezels bezels bezels. They make the phone easier to hold and stop you from accidentally touching the screen, something I've done quite a lot on other phones

Other phones with smaller bezels are comfortable to hold too. Perhaps you should give it a try sometime and take your Apple goggles off. Posted from my Nexus 6P

How about you focus on not complaining about the frickin bezels theyrw there for a reason like the other guy said. If it's not the bezels you complain about it'll be something else wrong with the iPhone according you Android folk. Sent from the iMore App

The bezels are bad especially with a case on the plus models it looks like a huge brick. Posted via the iMore App

You have no idea what you're talking about. The bezels are much worse on the standard iPhones than the plus model iPhones. Sent from the iMore App

not about bezel. fast charging or headphone jack(even own beats wireless) some people plug it in the car stereo....WTH still same PPI? there are 300$ phone have more pixel

The plus line has huge bezels making an already large phone even larger. I am an iPhone guy, but after holding a note 7, the plus line seems huge (and has a smaller screen) those huge bezels don't make it feel as good in hand when holding. Sent from the iMore App

I don't mind having smaller bezels but not at the expense of having a narrow screen. Samsung got thst bit wrong IMO. Sent from the iMore App

The bezels matter because it adds significant size to the phone, particular the width of the phone. The screen to body ratio is rather poor as a result. With thinner bezels and less top and bottom bezel, an iPhone 7 Plus would not feel nearly as large as it does despite having the same screen size. This is why people complain about the bezels. It has a significant impact on the ergonomics of the device. And Ergonomics should trump "thinness" or whatever other excuses OEMs come up with to excuse it.

Most people don't care about thd bezels, only nitpicking people like you and I'll always love the iPhone design, it's iconic, I hate the narrowness of the screen on Samsung's phones and it there for ruins as j otherwise good design from Samsung along with the ugly curved edges. Sent from the iMore App

I feel bad for you Apple fans really I do. You have no choice here you got to go with the huge phone
if not you're stuck with a boring 2012 specs phone. Fire Timmy asap

Nice troll...don't worry, maybe mommy will get a new daddy to give you more attention.

Except the A9 chip already outguns the 820, and we're getting the A10F in iPhone 7. So...enjoy being 2 years behind when your finally able to go reclaim your Galaxy Grenade 7.

Replacing the battery when that time comes...probably gonna be REAL hard. No thanks...sticking with my 6.

Wow not much different than 6s. I'm really suprised they used the same crappy LCD screens. The resolution and ppi is so low compared to the lumia 950, HP Elite X3, and some androids. They basiclly have the screen of a low cost windows or android phone. The dimensions are the exact same as the old models? Wow, I wonder if the 6s was water resistant as well, just not rated? I recall seeing some water tests previously. Anyway if your in need of a new iPhone, it's a nice improvement. Otherwise nothing to see here.

They've not used the same screens. https://www.imore.com/e?link=https2F2Fc2F4... Read the section "Retina HD Display". The 6S wasn't as water resistant as this phone, that can't be proved now but you will see in comparison videos when it's released. It's also more water resistant now thanks to getting rid of the headphone jack. I like how you completely ignored the tremendous improvements to the camera, the big improvements with hardware, the 3D touch home button (with shortcuts), the glossy black version, the stereo speakers, the improved battery life… …yeah not much different from the 6s right!?!?

Sorry but "wide color gamut" is marketing buzz to distract you from the fact that they are still using technologically outdated panels compared to the rest of the industry to give them another year to get Quad HD panels ready for the Ten Year iPhone. Posted from my Nexus 6P

Crappy? Are you joking? The screen looks excellent.

So the plus gets a $20 increase? It's been a long time since the iPhone gets a price increase.

Overall very excited and looking forward going from 6 to 7 plus. A tad bummed that the so called blue phone I've seen videos of isnt happening but a gloss black is. I thought of that for a bit and decided the straight black is for me. Maybe blue next year.

No one talking about the headphone jack scam i.e. get an adapter for $159 ...WTF

Maybe because it's not a scam? Apple's accessories are always over-priced but other companies make them too for much cheaper, but it doesn't matter anyway because the adapter comes with the phone. Apple explained perfectly why they removed the headphone jack, make sure you watch the keynote before you start making silly claims

The explanation was nothing short of a joke. Getting rid of a perfectly good working system to sell overpriced garbage. It comes in the box, sure, but do you really expect nobody would ever lose them? Accidentally forget it after putting in their pockets and getting washed and destroyed? No silly claims. Just being factual.

There was no explanation at all. Just FU apple fans... we want more MFI money Posted via the iMore App for Android

PS...still uses Bluetooth. Not much "courageous" about it LOL.

"Courage" was marketing buzz for "we want to push people to buy Apple or Beats branded wireless headphones because that is a potential growth market with high margins for us while growth in phones is on the decline." Posted from my Nexus 6P

The adapter comes with the phone. A replacement is $9. The wireless airpods are $159. They also have the lightning earbuds in the box. I don't see a scam here. The airpods are optional, you can use something else that is cheaper if you like.

The haters and trolls are out in force today. One of the reasons I love these Apple events. :D

iPhone 7 and 7 Plus are awesome especially that lovely jet black version. Thd iPhone 7 and 7 Plus will be Samsung's worst nightmare and is bad news for the rest Android. Sent from the iMore App

I'm here with my popcorn :)

Especially when Samsung's phones are exploding… not good timing

Could you please explain how this is Samsung's worst nightmare? And how is this bad news for Android?

Apple finally going quad core and the new duelens camera on the iPhone 7 Plus and the aperture is now on par we with the Note 7. Sent from the iMore App

LOL sure Posted from my Nexus 6P

Did they mention if it has wireless charging. I'm prolly going to trade in my note 7 if it does. Posted via the iMore App for Android

No mention of wireless charging. There are separate cases you would have to purchase for that.

I watched the entire event, my second one since I am a recent Apple fan (since they gave the FBI the middle finger). I thought that the new specs are great! The phone is so matured, along with the eco system, that there are no gimmicks needed to drive sales. Unlike Android that I've used for years and gave up due to Google spying and anti-privacy tactics, Apple does not have to incorporate idiotic useless tricks and smoke and mirrors to wow people that will 'maybe' use that particular gimmick once or twice. Bigger screens, higher PPIs, more RAM, thinner bezels... LOL. I remember when years ago, with my Nexus 5, I put the thing into the freezer while running Antutu, to maximize the benchmark results. Yeah I was one of those Fandroid maniacs! I grew up. After using Blackberry, Windows and now Apple, I realized that using technology that just "works", each time, every time, is much better and more enjoyable that the thinnest bezels, highest pixels per inch and constant tweaking to make the **** thing work without slowing down. Go Apple!! Well done.

Theoretically, think if Samsung(or alternate mfg's) could run ios? Would be curious at that point which device people would purchase.

Some manufacturers make excellent hardware (I think the LG v10 is best in recent phones)... I love that design, along with how well built it was. Sadly, the OS made it unusable for me :( I am going to try out the Elite X3 by HP this week, before I get the 7 Plus.

Conversely, how many people would buy an iPhone if it ran Android? Which is more important to most people, the operating system or the hardware?

OS Posted from my Nexus 6P

Definitely the OS, the OS is more what keeps the iPhone running fast rather than the hardware. Plus you can ~somewhat~ get an iPhone with Android, there are phones that are very similar looking and also fake iPhones that run Android. Some of the high-end Chinese Android phones look like the iPhone, even with a similar interface. Best of both worlds for some people

Well said. I myself use a 6P, and while I appreciate it's QHD, it doesn't get take advantage of as well as I thought it would. Games for example upscale to 1440P, but they have a "soft" look to them and the high res wrecks performance on some of my games like Crazy Taxi City Rush! Anyways, the same resolution on the 7 isn't nearly as bad as people are trying to make it out to be. It's still very sharp for its screen size.

I'd like a resolution boost, but I don't mind the current resolution, like you said it's still very sharp, I can browse desktop websites in Safari and still read very small text

That iPhone 7 Plus jet black is really tempting... I might as well sold my iPhone 6s Plus and get this new bad boy Sent from the iMore App

Incremental upgrade as already reported. No surprises. Next year's anniversary release should be a major redesign. I'm considering moving up to the Plus size despite its ungainly proportions. I still don't understand Apple's refusal to include wireless charging. I don't see any great cost or engineering difficulty. They should have added it given the removal of the HP jack. Big miss IMHO.

Tim crook still won't bring anything new to the table. Still selling 2013 tech in 2016. Maybe next year these boring old guys will wake up... Posted via the iMore App

That 2013 tech must be pretty good then considering how even the 6s still manages to match up to new Android flagships in terms of performance.

Funny how the same people that called other phones fingerprint magnets and scratch prone are now jumping for a jet black iPhone which will have the same issues. Posted via the iMore App for Android

Curious about slomo. 720p @240fps possibly?
Thank you for signing up to iMore. You will receive a verification email shortly.
There was a problem. Please refresh the page and try again.