Overcast for iOS gets teased, new podcast app coming from Marco Arment later this year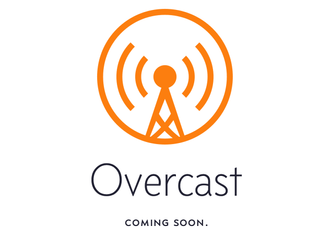 Marco Arment needs little introduction – he created Instapaper and The Magazine and is a member of our hall of fame – and his next project will see him tackle the world of podcatchers. At the XOXO Festival in Portland, Arment revealed he's been working on a podcast client for iOS that he's calling Overcast:
The Overcast icon was designed by fellow hall of famer Louie Mantia of Pacific Helm using Apple's new iOS 7 grid to great effect. Other details are pretty slim at this point, but knowing the developer behind the project, it's sure to be something we're going to want to take a good look at when it's ready. iOS isn't short on ways to get your Podcast on, and some of them offer a pretty impressive experience and feature set.
It's got our attention, and we'll be following it closely. How about you?
Source: Overcast
Yes. Looking forward to the app.

My favorite podcast app right now is Pocket Casts, especially after the latest update, but there is no way I can't try this once it is released.

Whilst I'd like to stop using Apple's execrable podcast app, quite a few of the podcasts I listen to are not ephemeral (Thrilling Adventure Hour, Decoder Ring Theatre, The Bugle, In Our Time, Software Engineering Radio amongst others) and I have an archive of them on the computer for my re-listening pleasure so any replacement app would needs to support this. Or at least I do when iTunes 11.1 isn't trying to delete my archive. However I'm not sanguine about any new podcast app supporting this behaviour because it doesn't conveniently fit into the religious beliefs of "The Cloud" zealotry.

I might try it after I see a few reviews. I'm very happy with Pocketcasts right now and with cross platform support for Android I'm unlikely to make a permanent switch.

As long as it has 3x playback speed I'm switching. Downcast is the only one that has this (that I know of) so it's the only one I use. I listen to a lot of podcast a day and 3x playback is the only way I can get through them all.

Not interested. Arment let Instapaper die on the vine with minimal improvements for a long time, did not provide any support, and seems contemptuous of users. Listen to him on podcasts to see what I mean.
I think Downcasts is the best Podcasting app on iOS and they also have a OS X version that syncs. It is constantly improved and has a better interface than anything else I have seen including the new Pocket Casts that was brought over from Android.

I agree. I still use (and really like) instapaper, but I too feel like Arment looks down on his audience/users. He put down my hometown on a podcast and was a real pill leading up to the presidential election. I guess if you don't feel the same way he does, you're beneath intelligence. I like his products, so I'll check out Overcast when the time comes, I just don't care for the person he is.
Thank you for signing up to iMore. You will receive a verification email shortly.
There was a problem. Please refresh the page and try again.