iPhone 4S untethered jailbreak shown off in video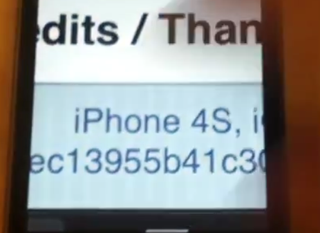 pod2g has updated his blog with a video by Chronic Dev Team member, DHowett, running an untethered iPhone 4S jailbreak on iOS 5.0.1. The video runs down everything you'd expect from rebooting the device to show an untethered state and launching Cydia and showing that the device ID is indeed an iPhone 4S. Considering the iPhone 4S and iPad 2 both run the Apple A5 chipset that wasn't vulnerable to previous
pod2g says this means we should only have a few more to wait now. Not sure if "a few more" implies days, months, light years, or some other measure of time. For now, we'll just have to sit back and be patient for what should be just a little while longer. Non-A5 iPhone and iPad owners can untethered jailbreak iOS 5.0.1 right now.
Source: pod2g
iMore senior editor from 2011 to 2015.
Nothing against the blogger or article writer, but I'd rather just hear news of the untethered jailbreak being released. No more "coming soon" blogs or updates. Mad respect to the team making this feature possible on the A5 but we've been reading endless tweets/blogs about 4S jailbreak for weeks/months now saying 30% done, 50% done, 90% done, 91% done. Just come back to us when your completely ready for public release. Each time I read "A5 Jailbreak Untethered" in the title, we always put our hopes up.

I know I visited pod2g's blog from my 4s and was all like "iPhone 4S 5.0.1 untethered" OMG Awesome! Then find out it's just a youtube vid of yet another "dev" that has the jailbreak.... That's like handcuffing a fat lady outside an all you can eat buffet..

I'd just like to point out that light years is a measure of distance, not time.

I know, it was my attempt at a bad joke. Apparently it didn't work. :P

With speculation about the iPhone 5 being released most likely this Fall, you can bet that jailbreak will take longer than the A5 jailbreak.
My guess is 6 months or longer.

The iPhone 5 is already out. It's the iPhone 4S.

No, the iPhone 4s is simply the fifth major iPhone update. That doesn't make it the iPhone 5. As has been shown by previous iPhone nomenclature, apple doesn't apply that sort of name/number correlation to its products.

If there was no iPhone 1 (by name), iPhone 2, or iPhone 3, why do you so many of you assume the next iPhone will be named iPhone 5? It is much more likely to be named the iPhone 6 than anything else. iPhone 4 was the only iPhone to have a name including an arbitrary number, and that number obviously matched up with the nth (4th) released generation of said iPhone. The next phone, whatever it is to be called, with be the 6th generation iPhone. And even if it includes 4G tech (LTE), I doubt it will continue with the 4 name unless it externally still looks identical externally to the 4 and 4s. Any re-design will surely be called the iPhone 6.

Reality is that apple doesn't follow a stric namin ruberic, just as you say. So there is no way to know that apple will "surely call it the iPhone 6". Also, who gives a crap what it will be called at this point?

Not necessarily. New chipsets and software means new vulnerabilities. The a6 and ios 6 could very well be more vulnerable and easier to infiltrate.

I agree. It drives me crazy that people still talk about when the iphone 5 will be released. Its nice to know someone else is using their head.

Ok enough of the damn follow up... Just release the dam shyt already. So freaking annoying with these follow up. Same old pattern.

Light years measure speed, not time!

Distance travelled by light for a year, not speed.

Victor, I love how you felt the need to correct the author's apparently intentional error with your own unintentional one. Excellent.

Light years refers to distance. ._.

Did you hear that on The Big Bang Theory?

FYI, light year is a unit of distance, not time.

Yes yes yes i know light years measures distance. It was supposed to be sarcastic/joke - bad one but either way - apparently no one got it.

It was funny. I think people just comb through and try to make the writer look dumb when the likelihood is they couldn't do your job half as well.
Keep up the great work. I enjoy hearing about the progress the debs are making and respect their work and yours.

"I'd just like to say that this is my only line..."

I love the people who say "stop updating us" "just tell us when it's ready" ... That's a retarded ass statement. If the writers here didn't update you and get your hopes up when pod2g releases a video like this, who would...This site would have no traffic if there were no "incremental updates."
And you would have nowhere to spend your entire day on the internet...Just be patient, they're reporting and doing their job just as the "dream team" are doing their jobs...so to speak.
If you're so impatient and could make a jailbreak happen faster, do it. If not, shut your traps and enjoy the updates and videos that DO get posted...

Foot pounds is also a measure of torque... Metric is Newton Meters....

A little late to this discussion are we?

My friend@pod2g wants me to inform every blog site that our A5 Jailbreak will be out within the next 24 hours. Thank you all for the support.

Just wondering if this solution is a patchable one? Would it be prudent of the team to wait until 5.1 is released to give it more of a shelf life? Or is this like the A4 hardware exploit Apple couldn't do anything about?

I would like to redundantly comment about some minor scientific point that a bunch of people before me have already mentioned but I don't care about because i'd rather be snarky then read any of the prior posts.
I'd like to. But i'm not going to.

This might not be the ideal place to request this, but I am searching for a pest control company inside the pittsburgh region and have no way to find out who is the best. I found this business that is truly close to me and wanted to see if any one has any reviews on them. Spectrum Pest Control, 3058 West Liberty Avenue, Dormont, PA 15216 - (412) 446-2802

Really thank you about article I decide write my comment using my lang Et donc nous dirons que la reparation et le depannage informatique des ordinateurs PC se trouve etre un grand progres indeniable l'ensemble des geeks de PC portable pationnes de micro pourront acquerir des reparations aux embetements techniques relatif a windows toute version, aux programmesl et au modem commpe pour l'internet et les imprimantes laser, la webcam comme pour le stockage usb et l'ensemble du materiel informatique

I have been exploring for a bit for any high quality articles or blog posts on this sort of area . Exploring in Yahoo I eventually stumbled upon this site. Studying this information So i am satisfied to express that I've an incredibly good uncanny feeling I found out exactly what I needed. I such a lot without a doubt will make sure to don?t forget this site and give it a glance regularly.

Hi gang,If you have any specific WordPress Marketing topics you want covered please let me know.Cheers,Mark
Get the best of iMore in in your inbox, every day!
Thank you for signing up to iMore. You will receive a verification email shortly.
There was a problem. Please refresh the page and try again.