A rare look at the iPhone 4S assembly line at Foxconn's Zhengzhou factory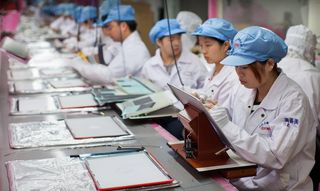 A new video has surfaced that gives us an extremely rare look at the iPhone assembly line within a Foxconn factory. Seeing one of these lines in action is a very rare occurrence as Apple is well known for keeping its production processes and products secret. The video is shot in Foxconn's Zhengzhou plant where over seventy percent of Apple's iPhones are now made.
The video which is provided by iFeng, shows a Chinese reporter with Foxconn CEO Terry Gou taking a tour around the extensive factory. The tour starts in a helicopter to give an idea on the sheer size of this huge factory. It covers 5.6 square kilometers (2.2 Square miles) with more expansion planned and employs around 115,000 workers.
The factory part of the tour starts off in the iPhone 4S production line where you can see the iPhone 4S frame and motherboard. The motherboard line is 148 meters long and rolls out 10,000 units a day. The tour continues into the camera assembly area which is all done in a clean room environment.
You can watch the video below, the dialogue is all in Chinese and we don't have a translation yet.
Source: TNW via MIC Gadget
UK editor at iMore, mobile technology lover and air conditioning design engineer.
WOW.. It requires SO MUCH of patience to watch the video completely if you don't know Chines!
I would like to ask apple not to pay too much on secrecy since there is something called reverse engineering where the final product can expose the secrets of its success. Samsung is a good example of reverse engineering I guess!

I see a Fanboy.
I smell a Fanboy.
I hear a Fanboy.

wowow thats nice, china makes everything for us and we are just consumers i wonder how apple support us economy if they dont bother themself to build factories in USA and employe citizens
in my opinion china within next ten years it will lead the world instead of US

Can't wait for the day when those factories will be completely automated! We'll get better products, faster!

Sorry, but a machine cannot give the same care and attention to to detail as a human.

A machine would have caught that double "to"...

meh. i was expecting to see 8 year olds making iphones...disappointed.

That dude in the dark hair sure is difficult to understand.......he talks too fast.
Thank you for signing up to iMore. You will receive a verification email shortly.
There was a problem. Please refresh the page and try again.