Sprint to SIM lock all new iPhone 4S activations starting today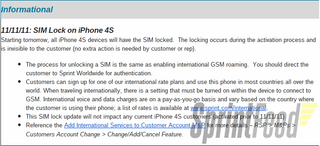 According to a leaked internal Sprint memo, all Sprint iPhone 4S handsets sold starting today will have their SIM card slots locked to Sprint. It has never been fully clear how Sprint was shipping its iPhone 4S models but it now looks like they were originally shipping them with unlocked SIMS.
According to the memo, the SIM locking will be done during the iPhone's activation process and it will be done invisibly. The customer will not see any notification of it happening.
What does this mean for any new Sprint iPhone 4S users? Well you will lose the ability to use a local SIM card if you travel out of the U.S. You will now have to have a roaming agreement in place with Sprint and pay the much higher call and data charges. One bit of good news, today's decision does not impact current iPhone 4S Sprint users; we assume that this means their SIM card slots remain unlocked.
Source: SprintFeed
Get the best of iMore in in your inbox, every day!
UK editor at iMore, mobile technology lover and air conditioning design engineer.
Sprint is looking less and less desirable. Auto enrolling people in tiered plans if tethering with no grandfathering. Now locking the sim so you have to go through them if you want to travel.
I'm willing to bet that eventually they'll just get rid of the unlimited and auto enroll everyone in the tiered plans like they did for tethering. Glad I didn't switch.

actually, Sprint cant just switch your plan they need customer approval to do that, they used to do it when they got rid of plans for better ones but stopped doing it in like 2002 after they got in trouble for it. the reason in this case people were switched automatically was because they changed the terms of service, which allowed them to make the exception for an add on service witch doesn't have the same restrictions as a phone plan, which at sprint data (unlimited) is included with all the plans and would be grandfathered in since its not an add on service. How ever if this does bother you, you can make the claim that they changed the reason for signing your contract and might be able to leave sprint with your iPhone (unlocked if you bought it before today) with paying nothing in to your contract. Also i must point out that sprint has also not given the means to check how much tethering data you have used, if you get a charge for going over and tell them you had no way to check what was phone usage and what was hotspot they refunded my overage and apologized.

I gots to agree...sprint is lately letting me down. Not only that but 3g speeds are awful!
Good thing I got the phone before today. We'll see how it goes for others.
They have the unlimited (slow as hell, might as well be called throttled) data plan, then they trick the customers into every other detail out there. Much like the WII. Not so expensive to buy the WII, but accessories, that's where they get you.
I'ts stupid.

phew! i thought they were gonna remote lock the phones we already bought!
but when traveling, i would still rather use a local pre-paid SIM card and not have to pay for sprint's international fees. depending on the country, it can cost you $2/minute and $20/MB....MEGABYTE....

This is Ridiculous.
We all need to complaint about it. :(
Good think I got mine the first week
Thank you for signing up to iMore. You will receive a verification email shortly.
There was a problem. Please refresh the page and try again.