Vodafone Germany shows iPhone 4S in 16GB,32GB and 64GB flavors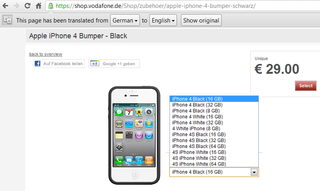 Vodafone Germany appears to have jumped the gun by listing various new iPhone models as compatible with certain accessories, including iPhone 4 8GB models in Black and White as well as iPhone 4S Black and White models in 16GB, 32GB and even 64GB flavors.
Before we get too excited by the possibility of a 64GB iPhone 4S, it may be that Vodafone Germany is just making educated guesses based on the latest rumors. Having said that, listing possible devices on an accessory page does seem a bit pointless... unless you have some inside information. Not much longer to wait now, who wants that 64GB iPhone 4S?
Source: Vodafone Germany via MacRumors
UK editor at iMore, mobile technology lover and air conditioning design engineer.
No one wants a 64GB iPhone 4 S, WE WANT iPHONE 5 ! ;)

Actually I do. I have over 7000 photos and 2500 mp3s and not much room for anything else. Happy with the storage upgrade even if it's just a slightly upgraded phone.

Easy solution to your storage problem - store your pics on another device and lose some songs. Why on earth is that an issue.

That's why apple created icloud

think about it if apple was just releasing an iPhone 4S why delay it so long there is obviously more to this they are trying to take over world. Mark my words iPhone 5 and iPhone 4S tomorrow.

Cant wait to see Apple's stocks drop and drop if they release a 4S.

Tired of these rumors its less than 24 hrs away these rumors need to cease...

It's actually 27 hours away, but who's counting?

Now its less than 24 hours away!

Who wants that 64gb iphone 4s you ask? With icloud, Dropbox, slacker radio, slingbox, Picasa, etc, I can't imagine anyone who lives in 2011 would.

I would. I am already maxed at 32gb. Forget about the cloud as long as the data plans are capped.

True. Plus the apps won't run via cloud will they? You still need to keep apps locally?

It's OK if tommorow Apple would announce iPhone 4s. As long as it had complete new design.
It's just a name, isn't it?

I want a new design iPhone 5 PERIOD. Why on earth would iPhone 4 users want to spend the $ for a slightly upgraded phone.

I sure hope Apple has something up their sleeve for tomorrow, for the sake of the company. If they release an iPhone 4S and nothing else, they will be shooting themselves in the foot. How could you wait 16 months and come out with the same phone with updated guts. This is a multi billion dollar company with a software and hardware team. What has the hardware team done this past year and a half? I'm sorry but voice recognition is not going to sell you millions of iPhone 4S. Google has cloud syncing and a music service too and pretty much the same notification system and they are leading in OS market share. Apple needs to come out tomorrow with guns blazing. They need a redesigned phone with a bigger screen and they really should be including 4G LTE. Who is going to want to upgrade to another 3G phone and be stuck with it for 2 more years while everyone else in enjoying the benefits of 4G. Verizon is moving at rapid pace, now covering well over 50% of its subscribers, ATT is deploying now and Sprint starts early 2012. Put a toggle in the settings for 3G/LTE and put the product out there. I promise that they will sell like hot cakes and take back their market share. I personally will not be upgrading my iPhone for a 3G 4S and be stuck with it for 2 more years. Unfortunately, it might make me look elsewhere for a better product. Just my two cents.

Still no iPhone 5 confirmations... Starting to think this is goign to be a 4S-only announcement tomorrow.
I hope the 4S has MAJOR hardware improvements across the board...

You really would expect Apple to CONFIRM iphone 5 BEFORE the event ?

I certainly want a 64GB iPhone 4S! The medical apps I use as a physician take up over 18GB of space already! I would love to use that extra space for more photos, music, books, and documents. I realize "the cloud" stores most of my stuff now--thanks to Dropbox and soon iCloud/iTunes, but having to rely on "The Network" isn't all that reassuring! I am excited to see what Apple has in store for tomorrow!

As a Doctor you should be able to have your own customized iPhone with 128GB space if you wish ;) :P

I want a 64g iPhone 4s... I love the way the iPhone 4 is just want under the hood to be better than what it is now

Ive been taking deep breaths since June of 2011 , I cant I just cant deal with this no more lol

I don't care what they call it - as long as it has: New dual-core CPU 8MP or better still-cameras 1080p video recording and playback Is available on SEVERAL carriers, not just AT&T and Verizon and Sprint Improved Battery life BIGGER screen in both directions Competitive price 4S, 5, 4.5, whatever - it's all about hardware for me. Without all these things, they're wasting all our times.

So basically , just like most of us you want an iPhone 5, not 4S :P

I'm switching over from a torch, so really, I don't care if it's a 4S or 5. I don't really want a bigger screen because from my basic understanding of iPhones, the battery life isn't too great. As it is, all my buddies at work have to continually plug in their iP4/iP3gs so if the screen stays the same size and the battery is better.... I'm sold. If the screen is bigger and the battery is still strong enough to keep it powered all day, bonus! As long as I don't have to watch glitchy youtube videos and let 5gb of my 6gb data plan go to waste because my phone doesn't have the guts to be used as a phone should be, in 2011. Sorry RIM.

iPhone 4S stands for iPhone 4 Inch Screen, great way to throw off everyone thinking it will be a rehash like the 3GS!!!

iPhone 4S stands for iPhone 4 Inch Screen, great way to throw off everyone thinking it will be a rehash like the 3GS!!!

I still have an iphone 3g, and I might wait next year for a 5 if that's the case. Why do I want a new phone that looks like a 4. I know I am vain!!

Finch, we get it , you got a good deal, but no need to bring in Stiffler's mom into this :P Motherf..

I don't think an iPhone 5 with a 4" screen iPhone will fit in any of my docks. No big deal, I can get an extension cord right? But I really don't see them squeezing a bigger screen into the 4S.
The iPhone 4 is 58.6mm at the waist. A 4" screen using the same ratios of the 3.5" would theoretically have a 58.1mm waist leaving only .25mm of structural space from the screen to chassis edge. Apple may be able to pull it off but that seems pretty tight. Maybe it will be a nearly 4" screen.
I predict a big 5 (that doesn't fit into anything) a well spec'd 4S with 3.5" screen and a budget 4. I wish Vegas was taking bets.

I want a redesigned iPhone... Not one that the same case fits. LAME!

I'll definitely be getting a 64GB iPhone. Can't wait!

why would everyone be so surprised to see a 4s released.. remember 3gs? come on.. thats why they are apple and we are consumers.. we know nothing.. they can put crap in an apple box and they would sell out eve.. all the complaints.. EVERY YEAR we go through this people

http://shop.vodafone.de/Shop/zubehoer/apple-iphone-4-bumper-schwarz/ go back to the site its been fixed

Wow, awesome weblog format! How lengthy have you been running a blog for? you make blogging glance easy. The overall glance of your site is fantastic, let alone the content!
Get the best of iMore in in your inbox, every day!
Thank you for signing up to iMore. You will receive a verification email shortly.
There was a problem. Please refresh the page and try again.