Yelp app now integrated into Siri restaurant searches on iPhone 4S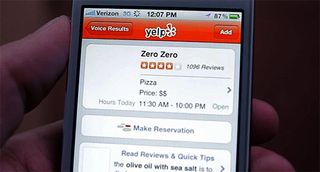 iOS 5.1 landed earlier this month without much fanfare, but there's one nice little nugget that we hadn't noticed before; when searching for restaurants through Siri, tapping on listings will launch right into Yelp. Of course, the voice-activated assistant was already pulling results from Siri's database, but didn't do much beyond that. Now when you type on business results, you go into the Yelp page, where you can see detailed reviews, pictures of the restaurant, hours, contact information, and get directions. There's even a quick link to reserve a spot through OpenTable.
It's a small upgrade, but a pretty helpful one. iOS 5.1 has quite a few other tweaks - be sure to check out our walkthrough for the full tour.
YouTube link for mobile viewing
Source: Yelp
Editor-at-very-large at Mobile Nations, gamer, giant.
I trusted reviews on yelp once for an Italian Restaurant down the street from me in our little downtown. The food was horrible, even though it almost had a 5 stars review. I felt so bad for bringing my friend there it was expensive.

Grr. When will we get full access to Siri in the UK? No location queries work. Only in the US. Taking way too long to bring full fledged Siri to other countries IMHO. Next iPhone will be out before we get a fully functional Siri :(

This would be a nice update if Siri did that outside the USA as well, like here in Germany…! Or use Maps for directions…or use Wolfram Alpha…or do anything useful like that at all…! :(
Hell, right now Siri can't even simply redial the last number -- what's up with that…?!
Get the best of iMore in in your inbox, every day!
Thank you for signing up to iMore. You will receive a verification email shortly.
There was a problem. Please refresh the page and try again.