Apple announces Touch ID fingerprint sensor for iPhone 5s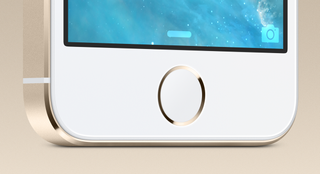 Apple has just announced the new Touch ID feature which comes in the form of a fingerprint sensor on the iPhone 5s. It is made of four layers consisting of laser cut sapphire crystal, stainless steel detection ring, the Touch ID sensor, and a tactile switch.
The sensor is built right into the iPhone 5s' Home button and is 170 microns thin. With a 500 ppi resolution, it will can the sub-epidermal layer of skin for 360-degree readability. That means you basically can't put your finger on it wrong. No matter what angle you press the Home button at, it should still recognize your print. Jony Ive had this to say live:
Lots of people thought a finger print sensor would be a gimmick. To use it as a passcode is a huge convenience but how will Apple open it to developers? That's where it could make a huge impact.
Get the best of iMore in in your inbox, every day!
iMore senior editor from 2011 to 2015.
cool they really made it Sent from the iMore App

How well it actually works will be the deciding factor. If it is quicker than passcode great. But if ever has a hard time reading your print that could become irritating quickly.

Yep. Google's face unlock generally works quite well, but still fails enough that I don't know anybody who uses it. This is a great idea...if it works perfectly.

Ya face unlock works very quick, but fails in a dark room. And obviously it isn't that secure, you can get a picture of pretty much anyone off the internet.

I can press the current concave button without touching the edges. I wonder if you have to be in contact with the steel ring to use the new flat button.

My question has less to do with the sensor and more with the button itself -- any word on if the 5S home button is more resilient, less resilient, or exactly the same as iPhone 5/4/3G buttons? That has been my only consistent complaint with iPhone hardware -- the mechanism does not stand up well to months of use.

So this explains why Apple was digging into curved glass manufacturing a year or two ago. Nobody guessed this at that point in time. I have used plenty of industrial fingerprnt scanners and they worked 7 out of 10 times. This should be interesting. I assume they have improved the tech around fingerprint readers but I wonder how sweat, grease, etc will impact the accuracy.

I don't think the saphire button is curved, it looks flat in all the pictures. Besides, if there is a sensor beneath it, a curvature would act as a lens, distorting the reading.

This is a bummer for anyone who uses ruggedized cases from Otterbox, Lunatik, etc. I don't know how they could build cases that would facilitate the use of this feature.

How reliable will this be? That is going to make or break it. Also, can if be activated or deactivated by the user?

Feels like face unlock but better; meaning it is a better done gimmick. I'm curious how multiple users work on it.

The finger print sensor technology has the potential to really fundamentally change security from simple password to a credit card security system that is truly secure not just some stupid three digit number or an NFC chip no one is using. I travel all over the country and NFC is simple not a main stream technology, but this finger print ID system has real potential to bring about change. Apple will take this tech slowly and methodically and do what they do best bring about true change. Not just throw a bunch of features at a wall and hope it sticks Sent from the iMore App

Mythbusters bebunked fingerprint scanning as secure a long time ago. http://www.youtube.com/watch?v=3Hji3kp_i9k

I had a Moto Atrix that had this a few years ago.
It worked OK but never good enough for me to want to use it all of the time.

Saw this on twitter, it describes what i think lol
"Touch ID will be the easiest way for the government to mass collect fingerprints and archive them."

Saves it directly to the A7, not to any cloud or server. Don't give your phone to anyone that you are afraid will "track" you and you SHOULD be fine.

What about my gloves with the special coating on the finger tips so I can still use touch sensitive screens? I guess I'll have to remove the gloves to use my phone in the cold or turn off the feature.

Assuming it works well I could see a lot of uses for it. If it is successful, I think we will see it migrate to Android phones as well.

Makes me wonder if the NSA will be able to get finger print reads on iPhone users....

I really really hate passwords (and passcodes to a lesser extent)! I can't wait until this replaces all my passwords.

Hopefully this actually works the way it's supposed to! Any word if you will have to physically push down to use as a home button? Or is it more like a MacBook tap to click?

I was watching some of the hands on videos on YouTube and the apple rep said three things that concern me about the touch id. First she said that you can register five "fingers" not people. So if you are like me and you use both hands you need to register at least both thumbs, "boom" now you only have three spots left. What if I want to use my pointer finger, down to 2. Seems you should be limited to the number of individual users, not fingers. Second, someone asked what happens if the fingerprint isn't registered. Rep said then the person doesn't get in. I hope to actually have a pass code option that I can tell me kids or someone else who borrows the phone. Finally, you are not able to set individual settings per fingerprint. You can't turn off iTunes purchases. Basically any fingerprint that is registered can approve an iTunes Store purchase. If No.2 and No.3 both stay the same then any one who has kids can either not use Touch ID, always have to unlock the phone for their kids, or register their kids fingerprint and hope they don't waste money in the iTunes/App Store. If someone at imore could check on these things it would be appreciated.

Fingerprint and Touch ID are getting a lot of traction in the news these days as Apple is set to roll out the new iphone 5S with this biometric add-on on September 20th. Touch ID will all but eliminate the need for passwords and pins when using your iphone 5s. But, what happens if you don't have the new phone? What options do users who have an Android, Blackberry or Microsoft device or a iphone 4s, 5 or even new 5c have available to them? EyeVerify! EyeVerify is the exclusive provider of Eyeprint Verification, a highly accurate biometric
for mobile devices. Eyeprint Verification delivers a password-free mobile experience and secure authentication at a glance. This patented solution uses existing cameras on smartphones to image and pattern match the blood vessels in the whites of the eyes. Best of all, you can get this technology right now for your existing device as long as your device has a 1 mega pixel camera. Apple's TouchID and the Eyeprint accomplish the same ultimate end goal. It is an accurate, secure & simple way to answer the question "Who is holding the phone?" Eyeprint Verification just happens to be more accessible to more of the population trying to solve the password problem. To learn more about the differences in these technologies:
Check us out online www.eyeverify.com
Read our blog http://eyeverify.com/blog/
Follow us on twitter @eyeverify
Watch us on YouTube https://www.youtube.com/watch?v=Rv2PavHmtkY
Contact us to schedule an interview at denise.myers@eyeverify.com
Thank you for signing up to iMore. You will receive a verification email shortly.
There was a problem. Please refresh the page and try again.