Three vs O2 vs EE vs Vodafone: Which UK iPhone 5s or iPhone 5c carrier should you get?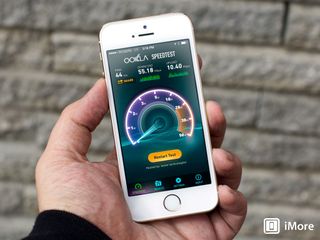 If you're in the U.K, choosing a carrier for your new iPhone 5c or iPhone 5s is a little tougher than last year. 12 months ago the iPhone 5 launched as the first LTE enabled iPhone, and better yet, the UK was getting it. If you call getting it buying a phone at launch on the promise that it would work on one carrier once they flipped the switch later in the year. This time around things are very, very different.
Gone are the days that we'd barter for more inclusive minutes, or more text messages for free. Now, it's all about data. And with three of the four big carriers officially having LTE, it's all about the 4G. Well, mostly. The good news for iPhone buyers is that there's a bunch of great options out there for buying and using your new iPhone 5s or iPhone 5c, including from MVNO networks, too. Let's take a look.
O2 vs EE vs Vodafone vs Three - The big four
This year, LTE is in play. Unlike last year, this year the shortfall in LTE is by coverage, not by carrier. We can eliminate Three immediately, however. If you buy an iPhone 5s or 5c at launch, you won't be getting your LTE from Three. While the carrier has promised excellent deals for existing customers – no price increase, matching your current tariff – new customers who want LTE now will have to steer away from Three.
That leaves O2 and Vodafone to take it to the current champion of the space, EE. We've put together a basic chart below comparing costs of 4G LTE ready contracts on each of the three carriers, and what you get for that. This information is based on the current iPhone 5 16GB model or an equivalently priced 4G enabled smartphone.
You can of course still pick up an iPhone 5s or 5c on a non-LTE tariff on any of the big four carriers, but at this point you really should be setting yourself up for the future. You may not need it now, but during the 24 months of the contract you'll almost certainly end up within some area of LTE coverage.
The wildcard is Three. No LTE plans until December, but they're offering an extremely competitive package. The One Plan is possibly the best deal available in the UK if you can get good Three service. All-you-can-eat data with inclusive tethering for around £35 per month is hard to ignore. And, if you're signed up before LTE lands, Three has already promised no price increases and that all current subscribers will be automatically transferred over to a 4G tariff with a simple software update if they have a capable phone.
The MVNO's - Virgin Media and GiffGaff
There are numerous smaller MVNO carriers in the UK, but the two biggest to consider are Virgin Media and GiffGaff. Both offer good signal, and good packages on a SIM only basis to prospective iPhone buyers.
Virgin Media has an extremely competitive SIM only option available which doesn't seem to require you to be a subscriber to one of their other services as most of their good deals have required in the past. £15 per month on a 30-day rolling basis gets you unlimited everything.
GiffGaff also offers a 30-day rolling agreement, with a range of "goodybags" where you can get unlimited data from just £12 per month. If you want more call time you can go up to £20, and GiffGaff is quickly becoming a popular option for folks who can afford to buy their phone outright.
Network availability
Then there's coverage to take into account. After all, there's little point paying out if you're not going to be getting what you're paying for. Generally the big four all have excellent coverage nationwide, with the usual blackspots to be expected. The best thing to do is to check out the coverage maps at the links below for each of them.
And, since two of the bigger MVNOs, Virgin and GiffGaff that we mentioned above, use EE and O2 signal respectively, check out those carriers maps for more information on those.
Who should get their iPhone on O2?
Existing customers who are happy with the service have the delights of LTE to look forward to in the life of their iPhone. It'll be a slow rollout, but it'll get there in the end. The O2 prices are a little higher than competitors, but if you sign up in the short term to a new 2-year deal you'll get 8GB of data for the price of 5GB, and 5GB of data for the price of 3GB. And that could be a great reason to stay and sign in to a new term.
O2 also employs O2 Refresh, where the phone and the cellular connection are split apart from each other. Each incurs a cost that combines to make one monthly payment, but the net result is a potentially cheaper way to upgrade next year to the next iPhone. You won't have to buy out your whole remaining contract, just the amount you still owe on the phone, and then you get to start all over again.
And of course, if you get great O2 signal where you are, they're worth a look.
Who should get their iPhone on EE?
Anyone who wants LTE, now. EE has more coverage than the other LTE enabled carriers by far, and has even started rolling out double-speed data in certain locations such as London and Birmingham. The network that came together as a combined effort of Orange and T-Mobile has solid signal over most of the UK, and also has a decent reputation for working indoors.
And, since EE has been in the LTE game around a year now, some of the deals that can be found work out to a better bang-per-buck ratio. EE will offer a whopping 20GB of data for about the same price as O2 currently offers 8GB.
EE has also just announced 'Swap,' wherein if you're 6 months or more into your current contract and have an eligible phone, you can upgrade early for a one-off fee. The iPhone 5 is an eligible phone, and the one-off fee varies depending on how much you're paying a month. But it could save you over the cost of buying a new iPhone 5s outright. Possibly reason enough to stay with them, or even to join up with your new iPhone with a view to upgrading early to next year's release.
Who should get their iPhone on Vodafone?
At this point, the strongest argument is that if the signal in your area is strongest on Vodafone, then go with them. Their LTE offering is still in its infancy, and their tariffs currently don't offer anything close to EE in the way of data-allowance. They are running a special promotion where they'll give you 4GB extra free per month for a limited time, but outside of that it's a tough sell.
Long serving customers and folks who enjoy the best signal are best suited to Vodafone.
Who should get their iPhone on Three?
If you want unlimited data, properly unlimited data, then Three is the one to beat. The One Plan is available for around £35 per month with more calls and texts than you'll ever need, all-you-can-eat data and unlimited tethering included. There's a misconception that Three signal isn't great, but those days are over with the majority of the UK now covered. The issues arise when there isn't any 3G, because Three doesn't have a 2G network to fall back on.
No LTE from Three at the moment, but it will be launching in December with a promise of no price hikes and all existing customers being automatically transferred to a 4G contract with no fuss. And their HSPA+ network offers some pretty astounding speeds as it is, with 20Mbps+ down on tap in many areas.
Three is the single best choice for the truly data hungry iPhone owner.
Who should get their iPhone on Virgin or GiffGaff?
If you can afford to buy an iPhone 5s or 5c outright from an Apple Store, there's no reason not to look at one of these two. Signal is pretty great, and while there's not going to be any LTE from either of them for the foreseeable future, the value-for-money is undeniable.
And of course, you also avoid being signed into any lengthy contracts.
Still undecided?
If you're still not sure about which UK carrier to get for your iPhone 5s, iPhone 5c, or iPhone 4s, jump into our iPhone discussion forums and the best community in mobile will happily help you out. Then let me know - which one did you go with and why?
Get the best of iMore in your inbox, every day!
I am an international student studying in the UK and going to be returning this coming October. I have an unlocked iPhone 5 and was wondering which carrier offers the best pay as you go service? At first I was with Three, as they offered the best value for my money, but my phone would consistently show ' No service', i went with O2, the reception was significantly better, but they didn't offer me enough Data. In your opinion which network offers comparable reception but provides more value? Any guidance would be appreciated, thanks!

In the UK O2 offers the best network coverage IMHO, GiffGaff piggy backs onto the o2 network but offers far more data :)

Hey Richard I am not liking The One Plan monthly tariff on the 5c - £46. That's a considerable increase from the previous price. So you know if that is for new customers or for existing ones? I am hoping to get the 5s and have loved Three up until now... Sent from the iMore App

I would avoid Vodaphone... their coverage for 2G and 3G is awful... hate to think what it is like for LTE... I switched to EE (T mobile unlimited data plan) and where I used to struggle to get basic coverage on Vodaphone I get full 3G on the iPhone 4S.

Only thing I would take into consideration which the writer has not put. Is the 4g support as Vodafone and ee will only work on 4g at this time

Coverage is the big one really. I joined EE early on and found the signal to be rough even in 3G for my area. All the checks had been done on the website and in store. When I complained, EE advised something must have gone wrong with both checks as sure enough, my area wasn't well supported by EE at their own admission. I'm sure this doesn't entirely flaw these tools but it has made me more wary. I love the look of 3 but historically it has a poor reputation so my intention is to get a pay as you go sim and try it out in my normal life for a couple of weeks. Nothing like a real world test and it's not like it will cost a lot to try this out. Just putting this out there as another option when deciding who to go with.