Apple clads iPhone 5s in luxurious leather case (that work with the 5 too)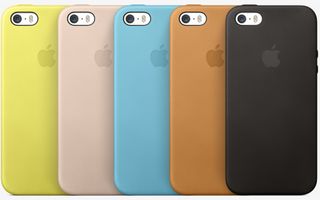 If you've decided to opt for the shamelessly flashy gold iPhone 5s that Rene covets so much, maybe you can do the decent thing and conceal its tacky exterior within one of Apple's new luxurious leather cases (opens in new tab). They'll be available in stores starting September 20th for $39.
The cases are made of pigment-dyed premium leather lined with microfiber to protect the finish of the iPhone 5s; buttons cover the volume up/down buttons on the phone, with cutouts for the hold switch, Lightning port and other openings on the phone.
The case comes in six colors: yellow, beige, blue, brown, black and red. The red case is actually a (RED) edition - (RED) is the initiative from U2 frontman Bono to fight AIDS. Apple has been a frequent collaborator with Bono on (RED) edition products in the past.
Update: As a commenter points out, Apple's web site confirms that these cases will work with the 5 as well.
Probably already covered but will these fit the iPhone 5? Can't see why they wouldn't if the 5S is the same dimensions

Apple website lists compatibility as 5s and 5.

Yep same dimensions as the 5 so they should fit.

Because its not to your taste doesn't make it tacky. And I don't think anyone who considered that color choice agrees that gold is tacky. At one time white iPhones were considered tacky. It sucks that you don't see it's insulting as an editor to make that comment. Which is different from a reader commenting the same thing. This is the difference between you and Renee, he would not have written such a tacky comment,

Well said ..... I'm definitely going gold! Sent from the iMore App

Renee wouldn't, but Rene might have. geez, get a grip! they probably poke fun at each other like that all the time.

Do we know if most of the cases out there that are for the 5 will fit the 5S? Like it was stated, don't know why they wouldn't, it's the same design and dimensions.

thank you so much! i appreciate the response!

Upon further reflection, there are a few qualifiers: the case can't cover the Home button, at least if you plan to use the new Touch ID function; also, the cutout for the camera needs to be large enough to accommodate the second LED for the "TrueTone" flash. Most, if not all, of the cases I've seen provide enough room for the flash, but there may be a few exceptions out there.

I noticed those as well. Like you said most if the cases out there shouldn't have that issue. It's the ones say from ebay that will hit or miss. Again, can't thank you enough for responding back and for your help!

"If you've decided to opt ... one of Apple's new luxurious leather cases." Ouch. Once again you owe me (us) a beer. But next time not through the nose and all over keyboard / cat, please.

Gold is lookin' good! Just a way to show off to everyone that I have the newest and best! ;)

Anyone got any suggestions for a really great durable and reliable clear case. I really like the look of the graphite one and want to show it off but I'm also afraid of not slapping a case on it.

I'm disappointed that they don't have a camo case for Duck fans.

Will the iphone 5 screen protection fits the iphone 5s?
Get the best of iMore in in your inbox, every day!
Thank you for signing up to iMore. You will receive a verification email shortly.
There was a problem. Please refresh the page and try again.