Apple should have made the iPhone 11 Pro in this color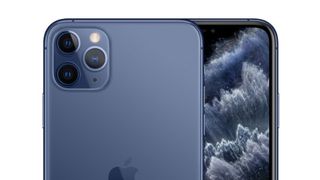 What you need to know
Designer Michael Steeber imagined what the iPhone 11 Pro would have looked like in Deep Sea Blue.
Unsurprisingly, the iPhone 11 Pro wears the blue really well.
It made us wonder why Apple didn't include this color option for its new iPhone line-up.
When Apple unveiled the iPhone 11 Pro, it also showed off a brand new color option: Midnight Green. While as nice as the new color is, we wish it could have gone with something more traditional, like blue for instance. Designer Michael Steeber had the same thought and mocked up what a Deep Blue Sea iPhone 11 Pro would have looked like and it looks absolutely gorgeous.
In Steeber's mock-up, the iPhone still retains its subtle color shift. Apple is not one to incorporate outlandish colors and that's none more evident than with the color options for the iPhone 11 Pro. The Deep Blue Sea option would fit quite nicely with the current color options.
The frame is still the shiny polished stainless steel and the back looks nice with the hint of matte blue.
Overall, we're big fans of the color option. We'd wish Apple would expand the color options of the iPhone 11 Pro to match the iPhone 11, but alas, it choose not to. Maybe it will next year.
Until it does, we'll cling to Steeber's mock-up of what a Deep Sea Blue iPhone 11 Pro could look like. What do you think of the mock-up? Is this a color that you would have purchased? Let us know in the comments.
Looks pretty nice. If this was available AND the green was NOT then yeah I'd have ordered it. If they were both options, green would still win out for me.

I went space gray and my wife went midnight green. If this blue had been available, I would have done it. Also, red.

That's a nice color. It would've made the decision tougher, but I went with the Midnight Green.

I read that the midnight green was developed for the Chinese market, which makes sense given that the outer aesthetic plays a much bigger role in the phones they choose over there. Aside from that, this is a beautiful color that Apple will hopefully consider in the future.

I feel like Midnight Green was done to evoke the idea of money. That blue looks really nice, but after buying my white iPhone XR, I think I'd probably stick with white. When I want a hint of colour, I slap on one of the several transparent coloured TPU cases I have (I have a light blue, a deep blue, a redish/pink one, a bright green one and a clear one.) It means that I can change the colour of it to suit my mood, or I can just go clear when I went to feel fancy. I've learned over the years that it makes more sense to get as close to silver and black as I can, so that all my Apple stuff matches (Silver MacBook Pro, iPhone XR white, two Thunderbolt Monitors, etc.) The outliers are my space grey iPad Pro 9.7 inch that looks silver if you don't pay much attention, the HomePod which is 'Space Grey' but it might as well be black, and the Apple TV which is again just straight up black. The iPad Pro is getting replaced by a silver 12.9 inch this year after they announce it.
Get the best of iMore in in your inbox, every day!
Thank you for signing up to iMore. You will receive a verification email shortly.
There was a problem. Please refresh the page and try again.