CableJive shipping Lightning to 30-pin dock adaptor cable, lets you use your speaker dock or car audio system with your iPhone 5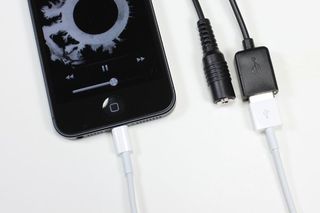 When Apple changed the dock connector on the latest iPhone 5, new iPod touch and new iPod nano there was a lot or controversy over the decision mainly due to incompatibility problems with with expensive speaker docks and car audio systems. Thankfully the guys at CableJive are right on the ball as usual and are already shipping a solution to the problem.
The dockBoss+ cable has a female USB port on one end which is where you connect in your own Lightning cable; this enables charging of your iPhone 5. The other end has a female dock connector which you clip into your speaker dock or dock connector cable from your car kit. If your equipment supports direct digital audio input, which a lot of high end speaker systems do then that's all you need to do. Your iPhone 5 will be charging and playing back high quality music through your dock. If your equipment doesn't support digital audio input CableJive has you covered there too. Simply plug the supplied 3.5mm audio patch cable into your iPhone 5 and plug the other end into the dockBoss+ adaptor and now you will have music playback and charging.
The dockBoss+ iPhone 5 kit is already available from CableJive and costs $29.95 plus shipping. CableJive have some really interesting products to make your life easier and are certainly worth checking out. When Apple changed the charging pins on the 30-pin dock connector a few years ago, CableJive were the first with an in-line adaptor which prolonged the life of my car audio interface by a few years and saved me a lot of money.
Do you like the look of CableJive's dockBoss+ iPhone 5 kit? Will you be picking one up to prolong the life of your current speaker dock or car audio interface?
Source: CableJive
Get the best of iMore in in your inbox, every day!
UK editor at iMore, mobile technology lover and air conditioning design engineer.
That's a lot of cables. Long cables too.

It's great to have options, but this a a) very cluttered and b) means you probably want a Lightning cable on top of your existing one. I don't get the advantage over the Apple adaptor at the same price (or $10 more with a cable) which wouldn't need a separate 3.5mm audio jack, as it includes digital to analogue circuitry? The pricing on this rather justifies Apple's, which they got a degree of stick for. I'll stick with a Bluetooth adaptor that plugs into the dock port to receive audio wirelesslly, and only cost $15.

What Bluetooth adaptor is this? I'd like to get one of those instead!

Its branded as "I-wave". Its about the size of the lightning adaptor, and plugs into the dock and immediately goes into pairing mode. It works on Bose and other docks ( although not on a Philips alarm clock dock we have.) I got it on Ebay a few months ago. https://www.imore.com/e?link=https2F2Frover2F... The other Bluetooth thing I use with my iPhone 5 which might be relevant is a Trailblazer AW40 which is a combined Bluetooth receiver and FM transmitter, which works very well in the car.
http://www.mobilefun.co.uk/trailblazer-bluetooth-car-kit-fm-transmitter-...

Fantastic! Thanks for the info. I'll be checking these out.

What about audio control? Will dock remotes work using this method (analog and digital)?

How can you tell whether the existing dock stereo is digital or analog?

It's all very nice and good that it all works, but it's a bit 'Heath Robinson' don't you think???

Seems a bit rudimentary. It's probably fresh out of the China factory floors. I'd rather wait for more reputable companies to come out with their versions. Why risk your new iPhone and new lightning connector no? Just my opinion...

Will this pass through the iPod control signals to play/pause/skip on to the iPhone? I'm guessing not ....

How is this different from the 30 pin adapter apple sells? Same price, more hassle, more cables and more mess. Also the same thing is now available on eBay for 3-4$ shipped.

From the info provided in the video. It seems that if your dock supports digital audio then the Apple solution should be fine, but if your dock only supports analog audio (like a lot of older ones do) then this looks like the way to go. The article should have been more clear about that.

I'm pretty sure the Apple adaptor will contain the circuitry to produce analog audio

lol... just works... rofl..

just works worse then before more likely. Slack standards and questionable moves since Jobs passed away continues.

Bah! changing standards once every 9 years is a pure money-grabbing measure! /sarcasm

Why not just buy $29 adaptor? Less cables. Less mess.

The adapter for $29 does not pass audio or video through it.

Yup. Shame on greedy Apple ....

@msw323
That is not true. The Apple adaptor does pass audio, but not video.

It will pass digital audio, but many older 30-pin audio systems require analog audio. The video above implies that Apple's new Lightning converter won't handle analog audio - we'll find out for sure when people actually start getting them in their hands! EDIT: Despite earlier rumors to the contrary, Apple's 30-pin to Lighting converter does have the circuitry to convert digital to analog audio for the older 30-pin docs that need it. (That seems to be one of the reasons Apple can justify charging $30 for it.) More details are here: http://www.tuaw.com/2012/09/13/lightning-30-pin-adapter-works-with-analo... I've liked some of CableJive's products in the past, but this one seems to be a (complicated and expensive) solution in search of a problem.

That's FRICKEN Janky has hell. One i got a car full of cables already. No that's second. First of all is i need line out access because it's powered. i don't need a head phone jack cable. i already have that. I ran the line myself. This doesn't strike me as a solution. considering the ipod for music is a major part of why i bought an iphone in the first place this is amazingly disappointing. It's amazing that Apple didn't see fit to just add audio capability. Do they not play music?

Got mine...works great with a Pioneer in-dash DVD unit (music only - have not tested video).

This would be much nicer if instead of have an adaptor cable it was an actual adaptor which plugged directly into the bottom of the iPhone 5 and had both the 1/8" jack and 8pin lightning on one end and the 30 pin on the other end. This would totally eliminate the mess of all these cables

I'm from iPhone accessories factory. We have 2 solutions for the iPhone 5 users. 1. Audio iPhone 5 adapter( without any cable and 3.5mm plug). 2. Bluetooth audio receiver as one above mentioned. Welcome to visit our website for details. www.axaet.net
Thank you for signing up to iMore. You will receive a verification email shortly.
There was a problem. Please refresh the page and try again.