Rogers, Bell, TELUS, Virgin Mobile, and Koodo unveil new voice and data plans just in time for the iPhone 5 release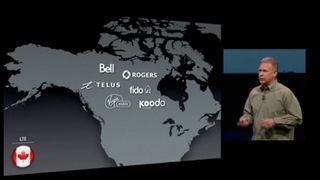 With preorders for the newly announced iPhone 5 off and running, folks in Canada may have noticed their carriers taking their sweet time to roll out new plans to go with it. While many of the carriers already offered 6GB data plans for fairly reasonable prices, they've now gone ahead and sweetened the deal by offering voice, data and other features to encourage you to give them your hard earned cash. That includes Rogers, Bell, TELUS, Virgin Mobile and Koodo. This according to Mobile Syrup, who also say Fido will be unveiling their new offerings come next week.
All carriers have set their pricing pretty much on par with each other. So, it becomes a question of coverage, customer service, and additional add-ons that may win folks over.
Rogers
$73 6GB Plan (Promo is in-market from September 14th – September 30th)
200 minutes
My10 Canada-wide calling
Unlimited Messaging
Unlimited Evenings and Weekends starting at 6PM
6 GB of LTE shareable data
Bell
Fab 10 Promo 73 with 6GB of data for $73/month
6GB of data
10 hours of Mobile TV
200 anytime minutes
Weekends and evenings starting at 6pm
Unlimited nationwide Fab 10 calling
Unlimited text, picture & video messaging
TELUS
"Promo Voice and Data 75″ for $75/month
200 local time minutes
Unlimited Nationwide Family Calling
Unlimited local Early Nights and Weekends starting at 6PM
Unlimited text, picture and video messages
Unlimited Nationwide talk and text messaging with your 10 Favourite Numbers
Caller ID, Voice Mail, Call Waiting, Conference Calling
Unlimited local calling for 1 month
6 GB of data
Virgin Mobile
"Smartphone 75 – 6GB" for $75/month
200 Anytime Minutes
Weekends & Evenings starting at 6PM
Unlimited Canada, U.S. & International Text & Picture Messaging
Unlimited Canada-Wide Talk & Text to 10 Buddies
6GB of Data
Effective Monday, September 17th plan will include "Visual Voicemail for iPhone & BlackBerry, Voicemail 10 & Call Display"
Koodo Mobile
$65/month
Up to 150 Anytime Minutes
6GB data
Canada-wide Calling
Call Display and Voicemail
Unlimited Evenings and Weekend, starting at 5PM
Unlimited Text & Picture messaging
Unlimited Canada-wide Family Calling, Call Waiting and Conference Calling
Source: Mobile Syrup
Get the best of iMore in in your inbox, every day!
Editor-at-Large at Mobile Nations, gadget junkie, energy drinker, ranter.
Heck i've had that exact Rogers Plan for almost 3 years now, paying month by month.
I get all the stuff mentioned above, plus the caller ID and Visual Voicemail package.
Plus they gave me a bonus 100 minutes a month long distance for free.
Mine comes to $71 a month with taxes and everything in. I don't think I can ever let this plan go, seems to be the best anywhere up here in Canada right now.
Can't wait for my iPhone 5 to get here. :)

Rogers Wireless are crooks, if anyone didn't know. They now want to charge me 180 dollars to HUP early by 1 yr, on my LONGEST IN THE WORLD contract of THREE yrs. Then they brain wash their supervisor to try to convince me that they're giving me a good deal of 90 dollars, and that it's necessary. O please.... consumers in Canada have been taking it up the ass for too long, and now this? When I signed it was 2 yrs. Now it's 180 to HUP on top of the 199 minimum. Let's all boycott Rogers, I promised to move my business elsewhere, once i'm free. It's insane how they rob their customers. You U.S./American ppl are lucky. I wish i had 2 yrs.

All three are the same. They pretty much follow each other's every move and trust me, you'll be paying the exact same amount even if you switch. Oh and Fido (owned by Rogers), Koodo (owned by Telus) and Virgin (owned by Bell) aren't any better. If you really want to boycott, I say boycott all three because they really are that bad. also, +1 about the 3 year term...we pay that extra one year of money for no reason and get saddled with outrageous contact termination fees.

I still can't figure out why Canada is forced into 3 year plans with the iPhone when our neighbours to the south can do 2 years, thereby having a new phone every other generation with no early upgrade fee.

+1. I too got the same offer and I ended up getting sucked into their scheme except I had 10 months left in my 3 year contract where my HUP ended up being $208 and they gave me 50% off plus the $35 Admin fee (for what?) as well as the 16GB iPhone 5 price ($179.99) all came up to be $361. I know this isn't fair but it's either that price or cancel and switch but then the others are the same sh*t or maybe worse so this "deal" was better than nothing so I ended up going for it. And also the CRTC won't do sh*t about it because they get a cut of the profit from all 3. What disgusting collusion. I wish someone with a higher power would stop them from doing this illegal activity. Because it's our money we've worked our asses off for and they want take it as if it's their right to do so. We gotta stand up to these crooks somehow and ASAP before this gets worse and I honestly hope so.

And the reason for the HUP for me, then, was my blackberry died. Yea, they wanted to charge me 35 admin as well. I refuse to do business with them. I bought a used phone, and will, WILL, DEFINITELY, be moving my business to Wind, despite the lesser coverage. Seriously, a couple hundred for an early HUP, of 3 to 2 yrs, when 3 is outrageous, and when I signed it was 2. Seriously, F them. We consumers really need to learn to unfortunately say no, even it means, not having the latest gadget at lower price. They're insulting us with how greedy, and poorly money managed we are. Money grubbing at every chance b/c they know people will do it, the STUPID ones, the dumb ones. Don't let these execs laugh at you, b/c I can assure you. this is EXACTLY, what they were doing when they devised this plan, and ARE doing everytime you agree. Just when you thought the worst couldn't get worse- it just got ridiculously worst. Go Wind or any other, please.

Let me know when the $25/mo plan comes along and I'll consider signing up (I'll buy the phone outright!). Otherwise, unless one has some valid business reasons (e.g. having the phone brings in enough extra $ to cover the cost), the price of these plans are simply crazy. $70 / mo for a phone plan? Seriously?

I have exact same plan on Telus for past year as listed but mines $65. I called to make sure I can keep it when I upgrade and they said yes. So I'm happy. Still don't like the 3yr terms.

TELUS' plan is very similar to the one I'm on right now. I have a $70 plan with all of the features except for Caller ID (free currently) and I pay for Visual Voicemail ($5) and 5pm evenings ($2) on top of it. I won't be upgrading to a new iPhone this year as it's way too expensive after buying my 4S only 11 months ago. Not worth the upgrade price, plus the adapters for my car stereo, etc.

In the maritimes we have NO CHOICE but the BIG 3 ( TELUS, BELL ALIANT, ROGERS) & their offspring, (koodo & Fido) im here on telus, had to degrade from an awesome $55 plan ( 4 years grandfathered) to a $30 plan, 3 months ago, due to losing my job, as soon as i did, TELUS slapped me with 50% of the rest of the full price of my iPhone 4 32GB, ($369)
I'm wanting rid of my iphone 4, its basicially a ipod & basic phone now, i want to go back to a simple slider phone , nokia phone, BB 9300 or above..
So be warned to anyone whos thinking of going iphone 5 with ANY of these companies, THEY WILL CHARGE AS MUCH AS THEY CAN SWINDLE OUT OF YOU!!

I think this reflects poorly on the government, they're obviously getting something out of this. How else can this collusion, and corporate crookedness still continue. It does, b/c they have their own hands are in your pocket too.

I think the Rogers deal is the worst deal!
Every other provider has text and picture messaging. Some have caller ID and
voice mail included. This will be at least another $12 a month with Rogers for
the same deals as Telus and Virgin Mobile.
Thank you for signing up to iMore. You will receive a verification email shortly.
There was a problem. Please refresh the page and try again.