CARROT Weather: Everything you need to know!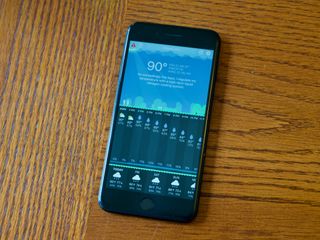 CARROT Weather is a unique forecast app that offers you a side of snark with your weather updates. Drawing from highly accurate sources, CARROT Weather offers you a look ahead at the week's weather, including detailed breakdowns of current conditions. With version 4.0, you can customize CARROT Weather to the nth degree, creating a forecast experience just for you.
Here's everything you need to know about CARROT Weather.
What's new with CARROT Weather?
July 26, 2018 - CARROT can now help you keep track of hurricanes, humans
Today, CARROT for iOS was updated with a few new features and bug fixes, bringing the app to version 4.7.2.
The coolest addition is probably Hurricane Tracker Notifications, a Premium Club exclusive. If you're a member of the Premium Club subscription tier and you live in North or Central America, you'll now be able to receive updates about the movement of hurricanes in your area and what category they are:
With this update, CARROT is also changing the way you receive and interact with certain notifications. For instance, now when you get your Daily Report notification, CARROT will "overwrite any old ones" so that you don't have a Notification Center full of Daily Reports. And, if you live in the U.S., you can tap severe weather notification to open them directly in the CARROT app. CARROT 4.7.2 also offers a better iPad landscape layout, eliminates a few annoying bugs, and gives you the option to show temperatures in Fahrenheit and Celsius side-by-side in both hourly and daily view.
The update is rolling out to all iOS devices starting today.
July 5, 2018 - CARROT 4.7 allows you to use your sausage fingers to share your forecasts
Attention, humans: version 4.7 of CARROT has officially arrived, allowing access to even more weather data (and more fun) in your desolate city than ever before. In addition to tons of new dialogue, performance improvements, and bug fixes, here are all the incredibly cool new features your foul-mouthed robot friend has cooked up for you:
Overhauled weather maps: CARROT 4.7 offers a completely overhauled weather map system with 15 — yes, 15 — map layers. That means you can basically use CARROT to be a one-[insert preferred gender here] storm tracking team, whether you're trying to chase the tornadoes or avoid them. (I personally advise that you avoid them.) With CARROT 4.7, you can view future radar, tropical storms, lightning strikes, and more. Note that some map layers and other new features do require an Ultrapremium Club subscription because weather map data is, and I quote, "very expensive." However, if you're really into weather, it's actually kind of a steal at $9.99/year.
New secret locations: If you're one of the individuals into CARROT's secret locations mini-game within the app, get excited: CARROT 4.7 offers 10 brand spankin' new missions that will take you to KGB headquarters in Moscow, the giant stone heads in Easter Island, and beyond.
New hint system for the secret locations mini-game: Struggle with using your inferior meat brain to solve CARROT's tricky puzzles? CARROT 4.7 also includes a new hint system to make things a little easier for you. But only a little.
Forecast sharing: We've all been there: CARROT says something insulting and hilarious about the weather, and you desperately want to share it with your friends or followers on social media. However, it's not the best idea to broadcast your exact location wherever you go. Thankfully, CARROT 4.7 has solved this problem with it's new forecast sharing mode. Now, whenever CARROT reminds you that clouds are mother nature's version of Pictionary, you can redact your location and take a screenshot. Viva privacy! CARROT has also added a few new sharing services like Instagram.
So, what are you waiting for, meatbag? Update and then check the weather! You never know when global warming is going to hit you with another scorcher.
July 20, 2017 - Say hello to CARROT 4.0
CARROT Weather has hit version 4.0, and with that milestone, the app is bringing several changes and new features to its experience. First up, there's a completely redesigned user interface. Now when you open CARROT Weather, the top half of the screen will tell you the current weather, while the bottom half will give you both an hour-by-hour forecast of temperatures and conditions, as well as the forecast for the next several days.
Another big change has arrived for Premium Club members: customization for pretty much every piece of data you see in CARROT Weather. If you subscribe to the $2.49 a year Premium Club, you can now choose between Dark Sky and Weather Underground as your data source, and customize what your Current, Hourly, and Daily weather readouts look like line by line. There are also a number of options available for the Apple Watch app.
CARROT Weather 4.0 also comes with more secret locations, the ability to change the app's personality modes, improved weather radar, and the ability to pinpoint your exact location on a map.
What is CARROT Weather?
From Developer Grailr, CARROT Weather is a weather and forecasting app for iPhone, iPad, and Apple Watch that shows you your current weather conditions, as well as highly-detailed forecasts for the next seven days. It also features colorful illustrations to reflect the current weather, along with a healthy dose of snark to give weather reporting a little more personality.
The iOS app also comes with an iMessage app that lets you send weather forecasts to your friends.
What makes CARROT Weather stand out?
It's really the personality of the app, tailored to your specific weather conditions. The app features thousands of lines of dialogue, along with colorful scenery and characters that react to the weather. CARROT Weather delivers responses to new conditions, and now, with version 4.0, you have more control over those responses.
In version 4.0, you have access to a personality slider for CARROT Weather, which gives you five personality options:
Professional: In this mode, CARROT Weather delivers no snark, only announcing weather conditions.
Friendly: CARROT Weather will behave itself, offering a friendly personality.
Snarky: This mode gives you a little more cheek and sarcasm, but doesn't ever try to kill you.
Homicidal: Don't be surprised if CARROT Weather tries to get you to launch yourself into the Sun.
Overkill: Like homicidal, but with more swearing.
In addition to personality types, you can also elect whether to have CARROT Weather's voice and sounds turned on or off.
CARROT Weather also likes to have fun with its Secret Locations. These are little challenges that the app gives you that help you find certain landmarks, such as the White House, the Pyramids, and even the Moon.
Where does CARROT Weather get its data?
Up until now Dark Sky, which offers highly-localized weather forecasts, was the sole data provider for CARROT Weather. But in its latest update, Premium Club members can now switch between Dark Sky and Weather Underground as their data source for weather information.
Does it have an Apple Watch app?
There is indeed an Apple Watch App, which uses the same data sources as the iPhone app. However, in order to use Weather Underground as a source on the Apple Watch, you'll need to join the $9.99 a year Ultrapremium Club due to the higher costs of Weather Underground data and the fact that both data sources need to be downloaded with every weather update.
What is the Premium Club?
The Premium Club offers access to many of the advanced features of CARROT Weather. For $0.49 per month or $2.49 per year, Premium Club offers access to the new customization options for the iPhone, iPad, and Apple Watch apps, as well as the ability to choose your weather data source. Premium Club also gives you more layers to use on the Radar screen.
An additional tier, Ultrapremium, costs $1.49 per month ($9.99 per year) and lets you choose data sources for CARROT Weather on your Apple Watch.
How much does CARROT Weather cost?
You can grab CARROT Weather from the App Store for $3.99.
Questions?
If you have any more questions about CARROT Weather, be sure to ask in the comments.
Master your iPhone in minutes
iMore offers spot-on advice and guidance from our team of experts, with decades of Apple device experience to lean on. Learn more with iMore!
Joseph Keller is the former Editor in Chief of iMore. An Apple user for almost 20 years, he spends his time learning the ins and outs of iOS and macOS, always finding ways of getting the most out of his iPhone, iPad, Apple Watch, and Mac.