Facebook Blast: Threaded group chat could be coming soon to Messenger app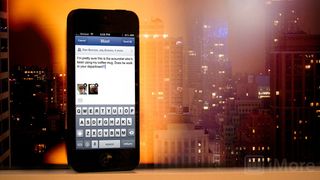 iMore has learned that, following Facebook Home, Chat Heads, and other recent releases, Facebook has additional, incremental updates in the works for their Messenger app as well. One of the updates in the pipeline is Facebook Blast, an enhancement to how users can send messages to multiple recipients.
Currently, if a message is sent to multiple friends in Facebook, it will start a group chat between all of the friends. In a lot of cases this is great, as everybody can share and coordinate ideas for the topic at hand. Other times it's not so great. Maybe you want to get some input on a big life decision and you have several people you want to ask, but don't necessarily want them all seeing one another's replies. Currently you'd have to send the same message to each person individually. With Facebook Blast, you don't.
Blasts behave more like old school multiple recipient text messages. You can specify multiple recipients, send the same message to all of them at the same time, and have it start separate conversations with each of them. But group messaging lovers, fret not. Group messaging isn't going away. In its current incarnation, users are shown a split bar with both "Group Chat" and "Blast" options at the top of their messages. Depending on what's more ideal for the message you want to send, you can choose the best option.
While not quite as exciting as the newly available Chat Heads and stickers features, Blast will offer a slightly better messaging experience where users have more control over how they send messages.
No word yet on when this feature might be released. We've reached out to Facebook for more information and will update if/when we learn more.
Get the best of iMore in in your inbox, every day!
They should fix the bugs in the app b4 creating more crap to be more buggy. Just tried posting a big long post and when I clicked post it just disappeared and couldn't find it. The new news feed is garbage. I can't even set which news feed I always want up. Instead it choose for me!! This fb app is getting worse and worse fb it's self is becoming spam pictures and complaining. And more spam

Oh and rolling the chat heads out as if its something that needs to slowly come out? Can I get a real explanation like fb only is giving it to the ppl w the most friends? 2 updates in a week and its exactly the same app just worse.

This should be exciting, I'm sure the would be a good addition to the app. We will see!

Have we set the record for most facebook articles in a week? Too bad it's not worthy of all the attention. This doesn't look like anything new to me. Group messaging. Simple messaging. And emoji? Much ado about an app in decline. It actually fell in the charts to #60. The biggest accomplishment IMO is being able to manipulate the media and bloggers still. They're going nuts with the marketing and cute names for generic features. They're trying desperately to appeal to the young ones abandoning them.

Finally, this will be a good product and look forward to it.
Thank you for signing up to iMore. You will receive a verification email shortly.
There was a problem. Please refresh the page and try again.