Facebook App: An iPhone vs. Droid Quick Comparison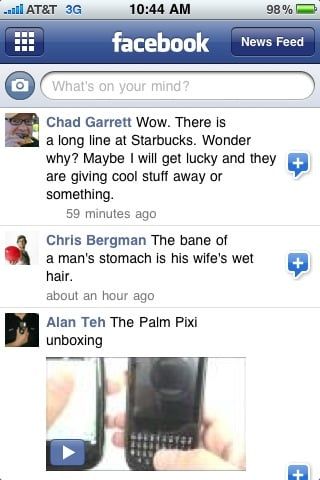 I'm a big Facebook user, and I'm guessing many of you are as well, given the interest in our Facebook for iPhone posts. Well, I was able to spend a little time with the Droid in a Verizon store on launch day, and while I wouldn't call this a full-blown comparison, it is a quick overview of some of the similarities and differences I noticed between their Facebook applications.
The setup is a little different than the iPhone. For starters, it was reminiscent of the Palm Pre; the Droid will sync your contacts to your address book. After the initial setup, I was eager to get started using the app.
At first facebook for droid looks like its iPhone cousin; very familiar news feed page. After that however, is where the similarities start to diverge. Let us take it back a step. The facebook app has a "launcher' page with News Feed, Friends, etc. The Droid app is missing Inbox.Yup. You read right. There is no Inbox on the Droid app. Ok, moving on...
So, like on the iPhone, the Droid shows links in posts and status updates. So, I went to click on a link one of my friend's posted web links and it took me directly to their profile. Odd. I then tried to click on the post again and it created a circle. Conclusion with links? It appears you cannot launch them from the Droid app. Hard to believe, I am sure.
I was also unable to switch between News Feed, Pages, Status Updates and custom groups I created. I am not saying there is not a way to do this, but I could not figure it out and the Verizon representative was less than helpful. It displayed News Feed in the top-right corner, but it was tiny and I could not find a way to switch with the brief amount of time I had with the device.
Oh, and one more thing: the app seems to cache really well, but also does not seem to refresh on launch; there is no refresh button and shake to refresh does not work like on the iPhone. So, I walked away unimpressed, but I can't believe the Droid suffers from all of these short comings. I am looking forward to clarification and inquiries in the comments!
Get more iMore in your inbox!
Our news, reviews, opinions, and easy to follow guides can turn any iPhone owner into an Apple aficionado
Software trainer, blogger and mobile technology enthusiast living in the suburban Midwest.