Facebook Messenger gets iOS 7 makeover, more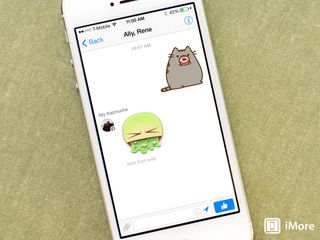 Facebook has updated Facebook Messenger, its free messaging app for mobile devices. The new 3.0 release is available for download from the App Store.
The software provides a way to send and receive private and group messages in Facebook without having to open the Facebook app itself. You can attach photos and "stickers," record voice messages and more.
The new 3.0 version gains an interface overhaul that makes it more consistent with iOS 7's new interface. Also new in this release is the ability to message anyone in your phone book, not just Facebook friends.
Do you use Facebook Messenger? Are you more apt to now that it's more iOS 7-friendly and has these new features? Tell me what you think in the comments.
But you still can't view the "others" folder in it. You have to go to Facebook in the mobile browser in order to do this. Crazy that they haven't added that feature yet.

If you read the review in iTunes, its a mixed bag of good and bad. In regards to messaging people in your phone book, I did not allow the app to access it as I have an issue with Facebook privacy policy.

Having an iMessage client built in would be cool, although I don't know if that's possible. I use and iPod, so the phone number feature is useless to me. Sent from the iMore App

The one thing about this app that makes me mad is the notifications. When you turn them off via the settings menu of the phone (I have a 4S and 5S), you will constantly receive a message when you open the app telling you that you will not receive notifications along with instructions on how to turn them on... Maybe I'm missing some option to turn this message off but it sure is annoying... Sent from the iMore App

I've never seen the point of the messenger app when the regular Facebook app has the function built in. Sent from the iMore App

Agreed. The Facebook app's chat bubbles work perfectly fine. I used the messenger all for a while, but it felt superfluous. Sent from the iMore App

I felt the same way for the longest time. This update kind of made me want to go back. I do like it being separate since the inclusion of chat heads. They get in my way more than they help. Sent from the iMore App

I've been using this leaked on my Nexus 7 for a few weeks now. I'm glad to see it available on my iPhone. I actually stopped using the messenger app on my iPhone but after using the leaked update on Android, it made me want to reinstall it on my iPhone and wait for the update. Sadly, still no iPad version. Sent from the iMore App

Little unsure about adding my cell number. If I add this, will friends who don't have my number be able to get my number? Not sure I'm ok with that. Sent from the iMore App

I forgot this app even existed. :) I think I removed it because of double notifications from messenger and FB itself. Sent from the iMore App

I love this new flat design , they are adding more sound effect to the app when you are chatting with your friends . Love it Sent from the iMore App

I had Facebook Messenger on my phone but I didn't use it much since Facebook has the same features. I decided to delete it after this last update.

I hate these double notifications here and there. These apps should be synced with a desktop/pc website to avoid it. No space for fb messanger on my small drive. Sent from the iMore App

It's always funny going back to using the old style keyboard. Only a couple of apps have stuck with that. Sometimes I miss the old keyboard, especially on my iPad. Sent from the iMore App

It looks like iMessage with stickers. Sent from the iMore App

I don't think this app is useful. I used to have both apps and when I received a message both apps will send me notifications. But when you open an message in one app. It doesn't always clears the notifications on the other. I think using the regular Facebook app is a better option. So I deleted the messenger. Sent from the iMore App

I like that sound notification alerts with a Ping Ding when the phone is asleep. I didn't get that before the update. Sent from the iMore App

I can't really express enough how much I love this update. My Facebook Messaging experience now feels like a native iOS 7 experience. It doesn't feel anything like Facebook, which is great for me! Sent from the iMore App

I still find it strange when it switches to the app from FB. I can't articulate exactly why but it just feels awkward. Sent from the iMore App
Get the best of iMore in in your inbox, every day!
Thank you for signing up to iMore. You will receive a verification email shortly.
There was a problem. Please refresh the page and try again.