Facebook Messenger now offers free voice calls for users in the UK as well as the U.S. and Canada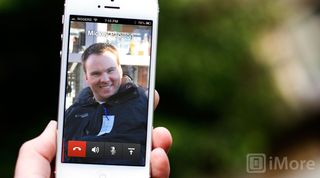 After launching its free voice calling option for its Facebook Messenger app earlier this year in the United States and Canada, Facebook has has quietly rolled out the same service for its UK users. The new calling feature for UK users is built into the iOS Facebook Messenger app and if one of your contacts is online and capable of receiving a voice call you can now easily make a call.
All you have to do to initiate a call is tap on the "i" in the top right corner of the conversation view within the Facebook Messenger app and the contacts information page will be presented with the option of making a free call. Once you have clicked Free Call, you can then talk to your hearts content over WiFi or with your existing data plan. You can find a full how to guide right here.
Facebook hasn't officially announced that this service is available in the UK or released an update to its app to enable it; it just appeared without any fanfare at all. There has also been no mention if this service is set to continue to roll out throughout other parts or Europe; but we assume that it will in the near future. If you notice Facebook Messenger offering the ability to make voce calls in your country, let us know in the comments.
Source: The Verge
UK editor at iMore, mobile technology lover and air conditioning design engineer.
As much as I think FB needs to balance monetizing itself and customer satisfaction, this is super convenient and one of my new favorite features on the FB Messenger app. :-)

Maybe I'm just old, resistant to change, or just a few streets behind, but I don't see the benefit of using this over the regular messaging/phone app.

Simple. t won't be tied to Apple devices- unlike iMessage,
and its free- unlike phone and SMS

Exactly. I've used it and it works really well. The problem is that the feature itself is kind of hidden and takes a little bit of "teaching yourself" and the one you want to chat with how to use it. Other than that it's free and its available within a service I'm sure most people you'd be calling are already using.

Whilst it is free to use one thing that concerns me is data usage - if I'm out of the house and using data how much is a say 10 minute phone call going to use up?

I like this even though I am just a casual user of Facebook. I think over time users are spending less and less time on Facebook and this new service will definitely keep users on longer. How FB utilizes this feature to create revenue? I have no idea but it should jump start use as long as it is user friendly and people can incorporate this into their daily lives.

This feature has also been turned on for Australia also :)

With FaceTime and Skype I don't see a need for this. But cool to have the option none the less.

What could be attractive for many is the disconnect between your contact list and your FB list. My contact list is rarely update, whereas on FB, it's constant.

Are that many people really going to use this? I have never really seen a need for Facebook Voice.

Never tried it too, I don't know anyone that might use that in a future. At least it's a good addition but will it be used well? We will needs chart to see if it becomes popular

This is great, making the facebook msn actually useful. I don't use it anymore, but can see a lot of people benefit from this especially if they make it available in other continents like South America later on.

Could somebody please explain to me the point of the Facebook Messenger app? I don't understand this because you can just message people in the regular Facebook app. Is there something more that this app can do that the regular one can't?

I used to wonder the same, however with the changes that they're doing, it's turning to be it's own application as a whole... FB messenger app made sense for countries such as where I live when I don't want to hog my low-bandwidth GPRS/Edge network to get the FB application to load first and all when all I want to do is check my inbox on there. But now with added features such as Voice calling and possibly more in the works, it's turning into a much more useful application overall. Wouldn't you say?

Tried it here in the Philippines. It also works!

As stated I think this is cool but not really needed. I'll stick with FaceTime and Slype.

So when can I get rid of my phone number?

I wonder if Facebook will release a desktop client once this feature becomes available in more countries

Not sure how I feel about this. It seems like Facebook is trying to play catch up to Google 's hangout feature. Until they add the ability to group video chat for free they'll always be behind Google .

WiFi only or possible over cellular data as well?

Somehow this makes me think we're going to have a "scandal" with FB recording phone calls using this feature.

I think this is great, I'm more of a twitter user. I'm sure the user of Facebook will enjoy.

Now all FB / Skype / Apple etc have to do is build some infrastructure that bypasses the phone companies' oligopoly.

Have to be honest, I just don't trust Facebook with my phone number or contacts or who I have been calling. Maybe that will change but for now this is not for me.

i don't know anyone who uses this right now. most people just skype or facetime

I absolutely love the ability to use facebook to make free calls; however, I have little trust in Facebook (advertisement company) with my phone number OR my contacts. This move by facebook will help bring carrier prices down..which I'm all for.

I still haven't tried out this feature yet. I'm on AT

But seriously, so uses fb messenger ..

I used this the other day. Pretty cool, and convenient but the call quality was very poor. I hope they will correct that aspect of it but all in all pretty neat thing.

I called my auntie on it from fuerteventura when she was in England and it worked fine. Call had a bit of an echo. It had the echo when I was in England as well.
Get the best of iMore in in your inbox, every day!
Thank you for signing up to iMore. You will receive a verification email shortly.
There was a problem. Please refresh the page and try again.