Facebook Messenger = Snapchat 2.0? There's a new Facebook Messenger update!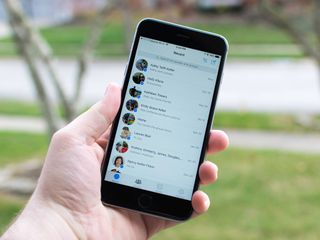 Facebook's latest update for Messenger has a whole lot of new bells and whistles, and people are pretty pumped to say the least!
Taking a page from Snapchat, Facebook is introducing 3D filters (which they call 3D masks), along with various creative frames, stickers, a canvas to doodle on, and way more. On top of these fun and interactive updates, users will be able to have group chats with their pals.
What else is new?
Oh! Totally forgot to mention that there's an entirely new interface for the app (along with everything else mentioned above, like 3D Masks and group chat capabilities!)
When can we see the Messenger update?
The new features began rolling out December 15th.
How exactly will group video chats work?
What do you think?
Are the new Facebook Messenger updates awesome, or are they kind of 'meh'? Will this encourage you to use the app more, or are you happy enough without it?
Let us know what you think in the comments below!
Get the best of iMore in your inbox, every day!
Cella writes for iMore on social and photography. She's a true crime enthusiast, bestselling horror author, lipstick collector, buzzkill, and Sicilian. Follow her on Twitter and Instagram: @hellorousseau