Facebook Messenger updated with native Apple Watch app, split-screen multitasking, more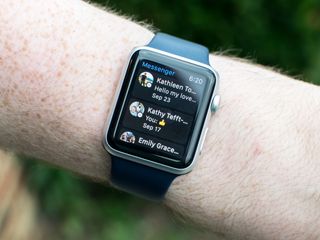 Facebook has pushed out a new update to its Messenger app for iPhone and iPad, finally bringing along a few notable features. First and foremost is that you can now use Messenger on your Apple Watch thanks to a native watchOS 2 app. Facebook has also added in support for split-screen multitasking on iPad, and Spotlight integration in iOS 9.
Overall, this is a pretty great update if you find yourself constantly inside of Messenger, and it's good to see the native Apple Watch app finally arrive after being teased on stage in early September at Apple's "Hey Siri" event.
I can receive and reply to FB Messenger messages on my Apple Watch but can't seem to be able to start a conversation within the app on my Watch.

Very cool. It's nice to see native apps coming to the Apple Watch! Hopefully we see a lot more in the next few weeks.

Hey remember when there were all those articles about how Facebook wasn't on the Watch and it so it was doomed. Gee I wish someone had said it would probably be out in a few months. If only some sort of technology blog had said that then I totally would have bought an Watch before today! Oh well Sent from the iMore App

I loaded it. Spinning circles for 10 minutes. 10/10 would build native WatchOS apps again.

Try to find chats in Spotlight but finds nothing, like other "supported" apps. Why is that? Why isn't something showing? Spotlight search is so far nothing but a disappointment. Sent from the iMore App

Interactive notifications when? The only thing that we really need!

watchOS app doesn't work on my Apple Watch, wtf :S
I'll try reinstall... Sent from the iMore App

i have been waiting for the Facebook app for a long time it about time they have brought it out
It should of come out with watch OS 1,1 the same as twitter did because Facebook is very popular
and people would use it a lot.i thought tim cook would of release them both together and working with no problems.

I loaded it and it worked fine…and it punched a big hole in my watch battery. Whereas before, after 14 hours I would still have slightly over half the battery charge, the next day after loading fb messenger it went to 35% charge in seven hours. Care to try that again, FB? Sent from the iMore App
Thank you for signing up to iMore. You will receive a verification email shortly.
There was a problem. Please refresh the page and try again.