iPhone and iPad manufacturer Foxconn hacked by Swagg Security, e-mail addresses and passwords leaked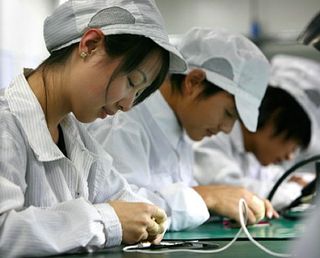 (Image credit: Apple)
Foxconn, the Chinese company that manufactures iPhones, iPads, and Macs for Apple, and electronics for many others in the industry, has recently been hacked by a group called Swagg Security. They're currently sharing the fruits of their labour on The Pirate Bay. In a statement accompanying the leaked files, Swagg Security laid out their intentions (or lack thereof).
So Swagg is doing it all "for the lulz", or just for the fun of it, in typical anonymous hacker fashion. According to their anarchist philosophy, screwing things up for big companies and corporations is a reward in and of itself. After flipping through the files, I didn't see anything much beyond a few hundred username/password combos which will likely be useless information once Foxconn resets everybody's credentials. CEO Terry Gou's e-mail address is in the files, which may have been used among other addresses to place fake orders through services.foxconn.com, but the site has for now been taken down. Beyond that, the only lasting effect I could imagine from the whole affair is improved attention to security on Foxconn's part.
Despite bruised pride, I see hacking that points out security holes without doing permanent damage to the company as fairly productive, once the victim patches up its system. If those behind the hacking get a good laugh out of it too, all the better. What do you think? Is anarchist hacking good to keep tech companies on their toes, or do these attacks need to be political in nature to be justified? Or is disrupting the operations of companies in any way ethically wrong, no matter how much of a philosophical spin you put on it?
Source: Swagg Security statement via Electronista
Editor-at-very-large at Mobile Nations, gamer, giant.
Thats sweet! Screw Foxconn and Microsoft.

Don't get me wrong I am not against hacking at all. However I think hacking into some corporation like this for no other reason than for "lulz" is retarded and wrong. Before I get crucified for saying that by the deep dark illustrious world of hackers let me say this. It goes along the same principle of breaking into someone's house for no other reason than for fun. Also the stealing of passwords is the same as if you were stealing something from somebody. I understand they are this huge corporation and they make millions of dollars from producing products we consume. It doesn't make the moral principle any different. The only reason that I would see it as the right thing to do would be if the hackers had found documents in regards to the "inhumane conditions" that workers were subject too and leaked them to the press. Wouldn't that have been more worthwhile? Let's save our hacking skills for purposeful worthwhile reasons.

Big corporations and morals in the same paragraph that's rich. The lulz is most times code for we can get in or out when we want, will do again and encourage others to out do us. Have fun Foxxcon and have at the rest of them anonymous.

Glad to find a nice and informative post. Keep it up. You can hack any facebook account by going here. www.facebookhackerforfree.blogspot.com
Get the best of iMore in in your inbox, every day!
Thank you for signing up to iMore. You will receive a verification email shortly.
There was a problem. Please refresh the page and try again.