How to use Facebook's new live audio feature!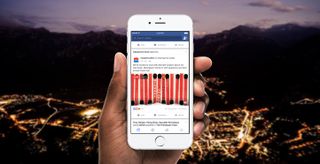 If you're a big fan of podcasts, or love a good book on tape, or just adore tuning into talk radio, then you're probably going to fall in love with Facebook's newest feature.
Meant to go hand-in-hand with Facebook's live video feature, the live audio feature allows people to broadcast radio-like shows and segments through their Facebook pages.
That means you can broadcast concerts, recording sessions with your band, family events, incriminating evidence, and so much more!
So how does it work?
Just like when someone starts broadcasting live video, there will probably be a notification indicating that someone is broadcasting live audio. The button to broadcast will probably be found around your FB status.
Will everyone be able to do it?
Again, just like live video, eventually all users will be able to broadcast to the masses; it may just take a while for everyone to have access to the feature.
What happens if I lock my iPhone? Will it keep playing?
Unfortunately, no.
If you start playing some live audio, as long as you have the Facebook app open, you'll be able to listen to it, but the second you close the app or lock your phone, the audio will stop.
Android users have it better: they're able to leave the Facebook app and lock their phones, and the audio will keep playing.
Can I listen to Facebook Live Audio anywhere now?
Actually, you totally can!
Facebook announced that over the next few weeks starting December 20th, that they would be testing live audio with partners including BBC World Service, LBC, Harper Collins, and authors Adam Grant and Brit Bennett.
So when can I start broadcasting?
Hopefully in the first few weeks of 2017!
What will YOU be broadcasting?
Do you have any plans to broadcast to Facebook Live's new audio feature? Let us know what you'll be shooting out to the airwaves in the comments below!
Get the best of iMore in your inbox, every day!
Cella writes for iMore on social and photography. She's a true crime enthusiast, bestselling horror author, lipstick collector, buzzkill, and Sicilian. Follow her on Twitter and Instagram: @hellorousseau
Why is it that they're locking down the ability to lock your screen and still hear the audio? Sent from the iMore App

Because it's Facebook and their apps have always been to the quality of dog ****. "Android users have it better: they're able to leave the Facebook app and lock their phones, and the audio will keep playing." This makes it sound like it's an iOS restriction - it's not. Plenty of iOS apps let you hear audio still whilst you lock your phone. This is just, again, incompetence of the Facebook developers.