Instagram now shares photos to your Facebook albums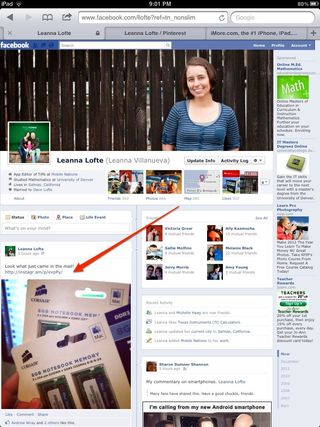 Instagram has made a change that shares your photos to your Facebook albums instead of just sticking a link on your wall. Now when you select Facebook as an option when uploading a photo to Instagram, the image will be uploaded full-sized into a Facebook album named "Instagram Photos", along with your caption. As a result, your Instagram photos will appear nice and large on your timeline and it will be easy for your friends to browse past Instagram photos.
Previously, only the instagr.am link was shared to your wall and your friends needed to visit that link in order to view your photo. Additionally, you couldn't tag people in the photos and 'likes' and comments were technically made to the shared link, not the photo.
I was very excited when I noticed this change as I have been wanting Instagram to work like this for a very long time. I believe my Instagram photos will now receive more comments and 'likes' and I'm glad I'll be able to click through my friends' Instagram albums, since I know I miss many of their share photos.
This change is only for photos uploaded to Instagram from now on. If you want to add previous photos to your Facebook album, you'll need to share it again from within the Instagram app.
Source: Instagram
Get the best of iMore in in your inbox, every day!
Former app and photography editor at iMore, Leanna has since moved on to other endeavors. Mother, wife, mathamagician, even though she no longer writes for iMore you can still follow her on Twitter @llofte.
It's about time Instagram did this, it's better to have it in it's own album rather than having people clicking on the link to view it.

finally...now the company will get more intagram dls...some of my friends have been holding back from intagram for one of those reasons even when the app is free -___-'

Very cool. Most people refuse to click links so most peoples go unnoticed. In some instances I would upload the photo to FB as a mobile upload and not just "link" it.

It is bonkers that Instagram didn't do this from the beginning.

now i'll finally get likes for my instagram photos from non instagramers!

And here I've been using ifttt.com to post my instagram pics to Facebook at full size on the correct album...and after thinking about it, I'll stick to that...I like my albums (even on Facebook) to be subject based and not type or origin based, so my kid's pic go in an album with his name instead of on an album depending on where the pic was uploaded from or when it was taken.

Queen Ends... Foreverwww.musicwillchangeforever.com

This might not be the ideal place to inquire about this, but I'm searching for a pest control provider in the pittsburgh region and have no way to find out who's the best. I located this business that's definitely close to me and wished to see if any person has any reviews on them. Spectrum Pest Control, 3058 West Liberty Avenue, Dormont, PA 15216 - (412) 446-2802

Thanks for another wonderful article. The place else may anyone get that kind of information in such a perfect manner of writing? I've a presentation next week, and I am at the look for such information.

I like the instagram photos but this like is not reflected on my Facebook timeline? Help!

My Instagram was working perfectly and now when I share pictures from Instagram and they appear on my timeline the captions aren't there and it says at the top that I uploaded a picture into the Instagram album and I can't see any likes or comments from my timeline except for the likes or comments that someone actually went to the Instagram album and left. I'm also not able to delete the picture from my timeline like I was able to do before. Please help me to get it working right like it was before. Thank you

I was able to upload a photo to my instagram album and it said 'via instagram' now it says 'I took a photo with instagram' Im getting separate comments/likes on my pic and activity! This is soooooo annoying I tried to figure it out but can't... Help!!!!!

I have the same issue as Dorthea DeVilla- facebook is sticking all of my instagram photos into an album, and they are never displayed on my timeline, is there anyway around this?

Well, it doesn't work for me any longer. I don't know why. Do you have any clue?
Thank you for signing up to iMore. You will receive a verification email shortly.
There was a problem. Please refresh the page and try again.