The iPhone 11 and iPhone 11 Pro are still using LTE modems from Intel, confirms PCMag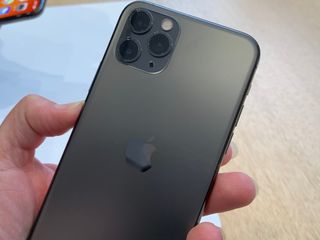 (Image credit: iMore)
What you need to know
The iPhone 11 and 11 Pro are still using LTE modems from Intel.
Apple's deal with Qualcomm came too late in the iPhone 11's development to be included in the new iPhones.
PCMag says the iPhone 11 Pro will still be 20% than last year's iPhones.
The new iPhone 11 and iPhone 11 Pro come equipped with LTE modems from Intel. The confirmation from PCMag comes as a surprise considering Apple is now partnering up with Qualcomm, but their deal came too late in the iPhone 11's development cycle to be included.
The confirmation is still nonetheless disappointing as Qualcomm leads the modem market. Modem distribution among iPhones had generally been split between Qualcomm and Intel until last year when Apple's battle with Qualcomm led it to solely rely on Intel. It seems this year was playing out the same way before Apple settled with Qualcomm.
The iPhone 11 Pro models are equipped with 4x4 MIMO antennas while the iPhone 11 still retains the same 2x2 MIMO set-up the iPhone XR offered last year, which is disappointing since it won't attain the same speeds as its more expensive sibling.
PCMag says the iPhone 11 Pro models should be 20% faster than last year's models.
This will be the last year Intel modems are featured in iPhones. Starting in 2020, all iPhone modems should be provided by Qualcomm, which is also expected to be when Apple's smartphones begin supporting 5G.
Unfortunate, but not unexpected given the timing of the deal with Qualcomm. 20% faster is fine, but how about holding on to a signal in weak areas? That was the problem with the Xs and Xs Max. That might not be all Intel's fault as it could be related to how Apple did the antenna in those phones... and hopefully that's fixed this year.

I guess I will be taking a step down, or backwards depending on your point of view, since I am "upgrading" to the iPhone 11 from my iPhone XS this year. I am on the yearly upgrade program and with the price drop I can save significant money on my monthly fee and get a phone with a significantly larger screen in the process. LCD vs. OLED doesn't bother me at all, each is just fine. . I will be very interested to see just exactly how much worse the data performance is on the 11 as opposed to the XS. I have a feeling I won't see much difference since I don't think my carrier is using carrier aggregation, 4x4 MIMO, or any of the other advanced LTE+ or LTE-Advanced networking functions over much of their system. I am talking about Verizon here, and I believe the vast majority of their system is still just plain old LTE that offers 12-25 Mbps data, and I am basing this on lots of Speedtests I have run over lots of locations around the state. Those numbers are what I get on 90% of the Speedtests and that does not indicate advanced networking at all. I do think it is ridiculous and anti-consumer for Apple to include the awful Intel modems in their phones that offer such ridiculously worse performance than Qualcomm modems for almost twice the cost of phones that have far better performance using Qualcomm's chips. The fight with Qualcomm over pricing was stupid. If cheap Android phones can be made that offer far better data handling capability, it is a slap in the face of iPhone users that Apple chose to charge users a higher cost for no benefit. That needs to change.
Get the best of iMore in in your inbox, every day!
Thank you for signing up to iMore. You will receive a verification email shortly.
There was a problem. Please refresh the page and try again.