iPhone 5 dream device giveaway!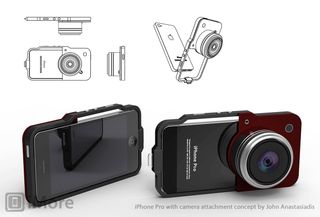 Design your dream iPhone 5 and show (or tell) us all about it for your chance to win $500!
Apple has just announced the iPhone 5 event! Now, sure, there have been parts leaks, but nothing is confirmed until Tim Cook, Phil Schiller or Jonathan Ive hold it up on stage. That means there's still time to let our imaginations run away with us!
If you ran Apple, what would YOU announce as the next generation iPhone? What would it look like? What specs would it have? What special features would make it the best phone on the planet?
Design your iPhone 5 dream device!
Break out your Photoshop or 3D program and make a killer rendering, write out your version of Phil Schiller's keynote intro telling us all about it, make a fake web page with all the tech-specs, create a spoof video commercial, or just tell us, in your own words, what your dream iPhone 5 looks like. It has to be original (you can't copy anything you've seen online, the other forum members will turn you in!), and it has to be creative (make us want your iPhone 5 even more than Apple's!), but other than that, the sky's the limit. Wow us!
The editors of iMore and Mobile Nations will go through all the entries and pick our favorites. Rene's going to want something with killer design. Simon and I are going to want the best gaming iPhone ever. Leanna's and Daniel are going to want an awesome camera sensor. Ally's going to want repairability. Chris O... will just want Siri to work in the UK. Phil and Chris P. will take some customizability. Kevin is either going to want a physical keyboard (ugh!) or something in the $2000 range. You won't be able to please all the judges, so pick and choose your targets, and execute something too great to be ignored! Insanely great!
When you have your entry ready, post it in the official iMore forums iPhone 5 dream device giveaway thread!
We know the iMore nation is the most creative, most intelligent, best looking community in mobile, and that means it's going to be really hard to pick just one winner. So we're going to add a couple of runner-up prizes, just to make it more interesting.
Grand prize: $500 U.S. Apple Store gift certificate to put towards the purchase of the real iPhone 5 when Apple launches it later this month!

Runner up prizes: 2x $100 Apple Store gift certificates to put towards the purchase of the real iPhone 5 when Apple launches it later this month!
The contest starts now and ends Tuesday, September 25, 2012, at midnight PST. Winners will be announced live on the iMore show on September 26, 2012, some time between 6pm and 7pm PST.
Are you ready? Are you set? Then go, go, go! Post your dream iPhone 5 now!
Get more iMore in your inbox!
Our news, reviews, opinions, and easy to follow guides can turn any iPhone owner into an Apple aficionado
Senior Editor at iMore and a practicing therapist specializing in stress and anxiety. She speaks everywhere from conferences to corporations, co-host of Vector and Isometric podcasts, follow her on Twitter @Georgia_Dow and check out her series at anxiety-videos.com.