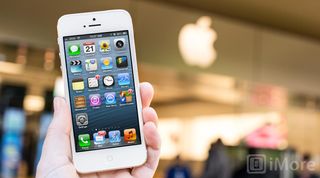 The iPhone 5 isn't just one of the most advanced pieces of consumer electronics ever made, Apple has taken the design and manufacturing itself well beyond the next level. Measured now in microns, the precision is as impressive as it is ephemeral -- easily seen in the fit and finish of every part up close, but disappearing instantly when you start using it, when it just becomes the phone, internet communicator, or widescreen iPod in your hand.
So lets take a moment to appreciate the iPhone 5 as object, as a piece of industrial design, as the craftsman of Apple and Jonathan Ive and Bob Mansfield and their teams, as a thing of beauty.
Equipment used: Nikon D800 with Sigma 50mm f/1.4 lens, Nikon D7000 with Nikkor 35mm f/1.8 lens
Allyson Kazmucha contributed photography to this post
Get the best of iMore in in your inbox, every day!
Former app and photography editor at iMore, Leanna has since moved on to other endeavors. Mother, wife, mathamagician, even though she no longer writes for iMore you can still follow her on Twitter @llofte.
After seeing this shoot i'm going with the 5 instead of the 4S.

SWEEEEEEEEEEEEEEEEEEEEEEEEEEEEEEEEEEEEEET!!!

Jealous! I pre-ordered at 3am and for some reason it wont arrive till Monday.

not as pretty as the samsung gs3

Funny, I think the Samsung people are the ones turning into sheep. Do you REALLY think the Galaxy S III is pretty? It is a generic white plastic slab. I'm sure it is a great phone, but I if you think it is "pretty" you have low standards. It is quite generic looking as opposed to the Lumias or the iPhone.

Hope to see a video review soon while I wait another 2 weeks for my phone to arrive =(

Got a white model (32GB) as well ;]
I love it so far!

Beautiful! Congrats! Enjoy!

Thanks Leanna, Good pics! Did you get any accessories right away or are you gonna get them piece by piece?

That's cool that Apple redesgined the ear buds. May have to get a pair of those.

I have a 4s and a Samsung S3. Gotta say this the earbuds or pods whatever that are in the 5 look just like ones that came with my S3. Could Apple be copying. Surely not. They won't do that only make accusations of other doing it.

The new Apple earphones don't look like the ones that come with an S3 - if anything, the ones with the S3 look like a pair of Sony ones I had years ago - strange, Samsung wouldn't copy another companies design, would they? People talk a lot about iSheep, yet there seems to be an ever increasing group of fAndroids as far as I can see

Wowwww, that girl can pose, she's slim and trim not to mention how she stares back at you with that dark look. The earings go well with that lovely white dress she's wearing (my dark skinned guy was wondering if he should ask her out) his name is Black Slate and he has loads of space (64) Gigs worth just waiting to be shared.
He also has another friend, we call him shorty or 4S that would be willing to go out with her little sis we see here in the photo shoot.
Anyways, the two ladies look great. Especially the tall one ;-)

Ahhh......Okay.... creepy!

you my friend, need some professional help.

Great photos as always, Leanna. We expect photos of the new baby too!

Judging by the first picture, it appears you selected ATT. The picture also indicates... YOU'VE GOT MAIL

I noticed that AT&T as well...

I don't think I could put up with seeing that many unread emails lol

I am so jealous! Great photos.

When can we see some photos taken WITH that lovely specimen.

I've been wanting to see side by side video & photos comparing the white to the black.

could you do one for the black iphone i'm really curious as to what that looks like in real life

i just received mine today wow is it fast with the LTE. i love it and it weighs nothing, andslim you defiently notice the difference

Should i get the black or the white ?

Your pictures are awesome and the artistic is cool but please just show us the phone without being so cute with the photos.

Great Pics....I so want one. Really well done! Kudos.

i really really wanna win the iphone 5 plz plz plz pick me (:
Thank you for signing up to iMore. You will receive a verification email shortly.
There was a problem. Please refresh the page and try again.