iPhone 5 in the UK - EE gets a hero phone for its 4G network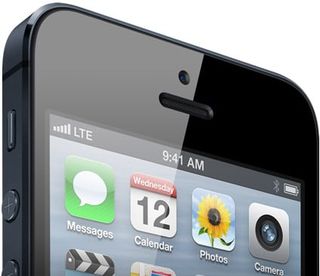 Apple's 90-plus minute iPhone 5 launch event was packed with details about the new device's hardware and software, but for viewers in the UK, the most important information was covered in just a few frames of video. As the camera panned over the map of iPhone 5 LTE carriers across the globe, Brits got their confirmation of what many had suspected -- the world's first 4G iPhone would work on their country's first 4G network.
It's a huge deal for the carrier in question, EE (formerly known as Everything Everywhere). EE is a new 4G-focused network formed by the merger of Orange and T-Mobile UK, and yesterday it announced the launch of the UK's first 4G LTE service, which will become available "within weeks." Coverage is expected to extend to some 20 million Brits in 16 major cities by the end of the year.
EE is re-farming some of its existing 2G spectrum for use with 4G, as the UK's 4G spectrum auction has been subject to endless delays caused by back-and-forth legal wrangling between competing carriers. Because EE's 4G runs on less-commonly-used 1800MHz radio frequencies, there'd been speculation that the iPhone 5 may have supported 4G, just not the right kind to work in the UK. Fortunately for EE, that wasn't the case.
So in the space of 36 hours, EE launched the UK's first 4G network, and got a killer hero device to go with it in the form of the iPhone 5. For at least the next twelve months, EE will be the only place to get hold of a 4G iPhone in the UK, and you can expect them to drive that advantage home at every opportunity. Advertisements will point out that EE's iPhone 5 is the only true iPhone 5, and that to use such a device on a lowly HSPA+ network is sacrilege. Competitors will split hairs and counter that their DC-HSPA+ networks offers comparable speeds at a lower battery cost.
Whatever the public-facing response, O2, Vodafone and Three will be far from thrilled about EE's effective monopoly over British 4G. In fact, O2 had made noises suggesting it might pursue legal action to block EE's network switch-on, though a settlement is now rumored to have been reached. If nothing else, the need to compete with EE may serve to hurry along the perpetually delayed auction of 800MHz and 2600MHz spectrum for 4G. This is currently scheduled to take place early next year.
Though EE's network hasn't officially launched yet, it'll start selling the iPhone 5 on Sept. 21 through its Orange and T-Mobile UK brands, just like everyone else. Orange and Tmo iPhone 5 customers will then be able to "move" to the new EE 4G network once it's up and running, so the other three networks won't even have the advantage of a head start over their 4G nemesis. There's no question that it's a big win for EE, and the potent mix of iPhone 5 and 4G speed is sure to tempt many a British phone buyer in the weeks ahead.
It's a situation that reminds us of the early iPhone days, when O2 had exclusivity over the original iPhone and iPhone 3G. It's been almost three years since the effect of an exclusive iPhone was felt in the UK smartphone market, and though competition is considerably fiercer in 2012, iPhone lust is still a force to be reckoned with.
So EE will likely experience a huge influx of customers off the back of the iPhone 5, and that's sure to test its fledgling LTE network. Mobile Nations had the chance to test EE's 4G service at yesterday's launch event, and we saw speeds of around 30Mbps down and 25Mbps up. However, that's on a test network, being carefully maintained for press demonstrations. The reality of a public 4G network burdened by hundreds of thousands of data-guzzling iPhone 5 users could be quite different.
EE's claims about the capabilities of its next-gen network will be put to a very public test, as will Apple's statements about its efficient new radio tech. If the perception emerges that 4G is a battery killer with few real-world benefits, it could be harmful to both EE and Apple.
But there's also the question of cost and data caps. Rival Three is certain offer the iPhone 5 with unlimited data on DC-HSPA+, as it does all its smartphones, and that could give it a way to compete with EE if the latter doesn't offer an unlimited 4G plan. EE will want to exploit its 4G iPhone advantage to the fullest, with more expensive price plans in exchange for that extra Gee of connectivity. The door could then be left open for other networks to offer really compelling, competitive 3G deals.
However things pan out, you can probably expect to pay a pretty penny if you want to enjoy that tantalizing combination of an iPhone 5, 4G connectivity and a high (or unlimited) data cap.
The 4G transition period is going to be an interesting time for the UK mobile marketplace, and with a 4G iPhone thrown into the mix, things are going to get intensely competitive over the next few months. Keep watching iMore for more details of the iPhone 5 and LTE in the UK as they come to light.
Get the best of iMore in in your inbox, every day!
The New Apple iphone 5 Cellular Phone is very wonderful.it is all new design,Brilliant 4-inch Retina display,Ultrafast Wireless,The dual-core A6 chip delivers even more power. The 8MP camera with all-new optics also shoots 1080p HD video and so on,iPhone 5 all these enough can let you amazing.
http://www.incarts.com/latest-limited-availableapple-iphone-5-with-a6-pr...

For some reason Orange has never let me get a contract with them, o2 has, vodafone has, and Three has aswell, but Orange has always rejected me, and as far as I know, I don't have any negative credit history as I'm under 25, and have only ever had 4 contracts in my life- all payed off. So for me it's pretty much decided that if I do get it, it'll be on Three's "One Plan"
Thank you for signing up to iMore. You will receive a verification email shortly.
There was a problem. Please refresh the page and try again.