iPhone 5 vs. Luxury Watch - Can Apple be used in the same breath as names like Panerai, Omega, Rolex and Bell & Ross?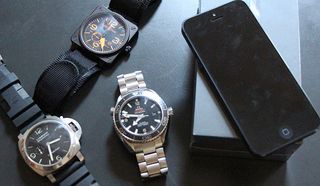 Some analysts and media commenters have said Apple's new iPhone 5's manufacturing and design has reached the level of a Rolex. That might sound silly. Even if you think the iPhone 5 has reached luxury item status, does it really make any sense to compare it to high end watches? Is it a fair comparison? A sane one? Let's find out! With my iPhone 5's unboxed, iMore's Rene Ritchie asked me to whip up another video for a slightly unorthodox head to head comparison.
I may be the BlackBerry fan on the Mobile Nations team, but I've purchased every iPhone that Apple has released to date. Know thy competition, right? The iPhone 5 was no exception - I headed out to the mall and picked up a pair this morning.
It seems since the iPhone 5 was unveiled, a lot of people have been comparing its design and build quality to jewellery rather than electronic gadgets. With extremely tight manufacturing tolerances, an understated and luxurious look and finely polished finishing details, I can see why the comparison would be made at first glance.
But what about at second glance? And third glance? Can you really compare compare the iPhone 5 to something like a Swiss-made mechanical watch? There's only one way to find out, and that's put them head to head! I'm no Ariel Adams or John Biggs, but I do love watches. Heck, I even bought the domain watchreviews.com a couple years back (hmm.. watches are mobile... maybe that could be a new Mobile Nations site for 2013?!). So hit the video above for a not-so-serious head to head comparison. If I wanted to be real serious we'd have to rip the watches and iPhone apart, but that's not happening today.
The verdict? The watches win for battery life and water resistance over the iPhone 5. The iPhone 5 wins for ease of texting and app catalog. Display quality was a tough call. Both the watches and iPhone 5 make use of super tough and scratch resistant sapphire crystal. While the watches use it on the face, the iPhone 5 uses it on the camera lense. The watches are always on, which makes them very user friendly for getting the time at glance, but it's hard to argue with a retina display. For night time viewing we'll have to give the edge to the iPhone 5 - the luminescence on mechanical watches can really vary.
In all seriousness though, the iPhone 5 really is a well made piece of kit. The tools that built it will no doubt be similar to some of the equipment being used by the big watch houses these days to turn out precision timepieces. But that said, I wouldn't go around comparing the iPhone 5 to a Swiss watch just yet. A statement like that will surely tick off the watch snobs out there, who can bite back even harder than Apple fans. :)
Master your iPhone in minutes
iMore offers spot-on advice and guidance from our team of experts, with decades of Apple device experience to lean on. Learn more with iMore!