iPhone 5s camera has f/2.2 aperture, 1.5 micron pixel size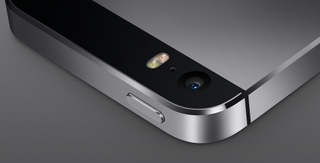 iPhone owners love their camera, and the iPhone 5s is getting a pretty decent bump in that regards. The camera on Apple's latest iPhone will have an all-new five-element Apple designed lens, with an aperture of f/2.2. On the pixel front, Apple isn't going to be packing in more pixels:
The pixels on the iPhone 5s will be 1.5 microns, so while not quite on par with the 2.0 micron pixels on something like the HTC One, it's still an impressive improvement.
The software has also been designed to take full advantage of the camera on the iPhone 5s. The camera app will set the white balance and exposure, and creates a "dynamic local tone map" and "autofocus matrix metering" with 15 zones automatically. When you take a photo, the camera actually takes multiple shots and will pick the best one.
The camera itself comes with a new dual-LED flash, one which is cool and white and the other is warm and amber. The iPhone 5s will combine the two to try and get the best color balance from the flash. Pretty impressive.
We don't get OIS on the iPhone 5s, but we do get auto image stabilization, which takes multiple photos, combines them, and picks the sharpest image overall. Also included is a new burst mode that will take 10 frames per second.
Video recording also got a nod, with 120FPS 720p quality slo-mo video recording new to the iPhone 5s.
One things for sure, we're looking forward to taking this out for a spin. How about you guys? Liking what you see?
I just hope that it doesn't suffer from the enlarged pixels. My HTC One lost a lot of detail when I had it.

HTC One uses only a 4 MP resolution, the 5s retains the 8MP resolution. Pictures on the 5s should be much sharper than the HTC One.

I also used a 920 and it had the same issues as well. I'm not saying the 5s will, just hope it won't

My thoughts exactly... Meanwhile, Xenon flash seems to be slowly finding its way on smartphone cameras.

Not even ois, apple can't even keep pace with the competition of 2012. As skeptical as I was I expected much much more. I guess it's clear they don't care about having the best smartphone camera. Pathetic..

No OIS at this day an age? What's going on at Apple?

I remember the lg viewty had slow mo video in 2008 or so. It was a fun feature for a few minutes max

Quite underwhelmed. Still no real need to upgrade from 4s yet. As I dual OS user (iOS and WP8), I still have no need to upgrade to the 5s.

i wonder will 5s be able to beat lumia 925?

safe to say, probably not (especially with the next 2 updates lined up for the lumia's appear to have camera improvements considered) But... why compare the 5s with the lumia 925, shouldn't this be stacked up against the lumia 1020?

impressive specs... my 4s is going to my wife, and i will be getting a 5s. big improvement in many regards.

Was hoping for real OIS, but that would be a bit of blue-sky considering how much space that would add to the camera. Thinner phone overall is still the priority.

exactly, i'm actually pretty happy that they increased sensor size and got a bigger aperture. doesn't totally eliminate the problem with blurry pics, but should reduce the need for image stabilization.

Actually, not really. If you add up the improvements in sensor light-gathering area and the slightly wider aperture, it's about 1/2stop of improvement. It's about the same performance increase that you used to see in the compact camera market from year to year... incremental, but not earth-shatteringly better. A real image stabilization system would make at least 2 stops difference, like being able to use ISO 100 when you would otherwise have to use ISO 400.

Lets wait and see, an Fstop improvement, larger pixels and a beast of a chip to power the camera with a thin form factor looks promising. I love the dual LED with different types of light. I laugh at the people who cannot read that it is not simply two LED lights but two differennt types for different situations.

There are alot of people who can't read & seem to glaze over the facts.

Kinda surprised it doesn't record in 1080p.

It does - it's just the slo-mo that's 720p

can someone actually explain what micron pixels are sorry i'm not very camerasy
Get the best of iMore in in your inbox, every day!
Thank you for signing up to iMore. You will receive a verification email shortly.
There was a problem. Please refresh the page and try again.