iPhone 5s vs Samsung Galaxy S5: The battle years in the making!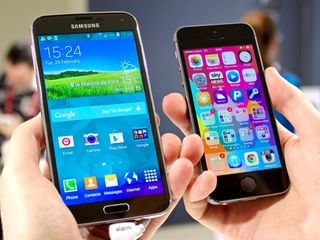 The iPhone 5s and the Samsung Galaxy S5 are going to be two of – if not the two – hottest smartphones of 2014. Or likely until Apple launches the iPhone 6 at least. There are going to be more than a few folks due upgrades, or just generally looking for a new phone that are going to be looking at choosing between these two. Especially leading up to April 11, the global availability of the Galaxy S5.
It's not a 100% fair fight just yet, since we've had 5 months to get to know the iPhone 5s and a grand total of a couple of hours at a trade show with the Galaxy S5. So, maybe consider this round 1. There'll be much, much more – like software – to dive into when we actually get a Galaxy S5 in hand. But even from a quick early look, there are some similarities, and some big differences.
In terms of design, both Apple and Samsung went for iterative bumps with their respective flagship devices. Apple is of course in its 's' year with the iPhone which usually means nothing much in the way of design changes. Samsung has retained the overall look and feel of its recent Galaxy devices such as the Note 3 and its predecessor the Galaxy S4, while making some subtle and welcome changes to how its made.
Apple still has Samsung licked when it comes to construction, though. The iPhone is a symphony of metal and glass – and yes, a hint of plastic – while the Galaxy S5 is still a festival of plastic. It has at least addressed the issue of the horrible, nasty glossy rear covers, though. The soft touch dimpled effect back of the Galaxy S5 is very nice to hold. But plastic is still plastic, and Apple isn't the only OEM using metal in its top of the line devices. A lot of folks did want to see the same from Samsung this time round.
Both have pretty fantastic looking displays. We know Apple's Retina Display looks the business, but Samsung has also done a pretty great job with the 5.1-inch 1080p panel on the Galaxy S5. This also means a pretty noticeable size difference between the two, but the Galaxy S5 has much slimmer bezels and a flatter home button to help keep the bulkiness to a minimum.
Then we get to the fingerprint scanners. Well, Samsung calls it the Finger Scanner. Similar feature, very different execution. The Galaxy S5 has a swipe style fingerprint scanner, which in my opinion is less comfortable to use than Touch ID. Both can register multiple fingerprints, but where I think the Galaxy S5 may edge ahead is third party integration. Samsung has partnered with PayPal to allow you to use your Fingerprint to authenticate payments. As with the iPhone 5s, Samsung claims that your fingerprint is securely stored on the device, and never sent anywhere else. Just how secure it is we'll surely find out when devices are in more hands.
Camera wise, we know the iPhone 5s has an extremely good shooter. Apple has yet to be drawn into the megapixels race, instead opting for a refined 8MP shooter and improved software. Samsung on the other hand has bumped the camera up to 16MP as well as improving its software. The promise of fast auto focus and rich tone, live view HDR has so far looked promising. We're looking forward to putting it to the test out in the real world, but there's a strong possibility Android may have just found its new camera king.
Oh, and did we mention the Galaxy S5 comes in gold? And no, it doesn't look like a band aid.
The software is another story entirely, and arguably accounts for the bigger share of overall user experience. It isn't right to base a comparison of the two on a short hands-on, and on devices which are still in the pre-production phase. When we get a Galaxy S5 in hand, we'll be much better placed to evaluate further. But for now, does what you see in the Galaxy S5 tempt you to jump ship? Leave you pining for that rumored larger display iPhone? Sound off in the comments below!
I think the S5 is a decent bump from the S4. My only gripe is that they were not able to keep the 5 inch form factor of the S4, .1 inch screen bump isn't much but the phone did grow a bit. Also not in love with the dimples on the back but that is not a deal breaker. What the iPhone 6 has to offer is what will really be interesting to compare the S5 to.

And when it comes, we'll compare the two to death. You can be sure of that :)

So hard to have a fair comparison between these two since the release/upgrade cycles are a half year apart. The 6 is shaping up to stomp the S5 when it is released however. Currently, though, I'd take an iP5S over an S5 but a Note 3 over an iP5S. Such a good year for competition! Posted from my TARDIS!

Don't forget also, the new HTC One will be announced on March 25 :)

Not sure it's gonna 'stomp' the 5s. It's essentially a Note 3 minus a GB of RAM. SD800 processor update, but not an earth shattering speed increase nor are the graphics different than the N3. As an owner of both the N3 and 5s I can honestly say there isn't any genuine perception of 'either' being speedier than the other. In fact, in Anand's benchmarking the Note 3/Snapdragon 800 is beaten up by the A7 both computationally and graphically. There is a test or two the N3 has an insignificant (<1%) edge on the 5s...but 9/10 tests, the A7 bests the SD800---so time will tell. When it comes to display though I LOVE my N3 size, ppi density, even the 'vibrancy' of the S-OLED--- but I use 'movie' mode for everything I do because of an almost cartoonish saturation. Apple...if they're able to capture their current display properties and resolution to the next level...while offering a pair of 'sizes' (my opinion as to why they tried the 5c---to see if they could pull off two completely different phone builds with two different fab processes and TWO supply chains managed)---maybe a 4" and a 4.8-5.2" iphone 6/6iX(?) I'm all in. I love the iOS Eco system. I'm happy with iOS 7. I love the integration and reliability I get between phone, tablet and computer. Support. Service. Dependability. But I'm also a fan of 'technology' itself. I've always kept a 'foot' in Android (Xoom, S2, Note 1, Nexus 7 original, Nex 7 2013, Note 3). ICS did wonders for Android. Unfortunately without the development community as involved (and offering as 'polished' an experience if they are in fact represented) and the ridiculous delays to 'push' Android/TouchWiz/AT$T updates out the door in a timely manner has become a joke in and of itself. For me, I've found buying Android comes down to buying what you're happy with at that point in time...and not to 'expect' KitKat, LimaBean or Macaroni&Cheese as they make their way down the pipe...to the masses, while The cutting edge nerds are rocking the 'Nutter Butter' OS!
Tl/Dr: it's not gonna 'spank' or 'smoke' or whatever your verb used was....the 5s :-)

I would just like an iPad Mini Retina w/phone option. That would solve everything for me. Until then, I swap back and forth on phones and keep my iPad.

"The 6 is shaping up to stomp the S5 when it is released however. " -- hope you are correct, but what facts are you basing this on?

I'm really interested in what HTC will bring to the table. Nothing about the S5 makes me want to jump ship, I've never like the Samsung UI, the plastic body, and the overall design is just ugly to me. The new HTC and the iPhone 6 will be a harder decision to make once they are both released.

Like it a lot, I currently own the 5S & 'Note 3, don't think I will trade in my Note 3 with that S-Pen. The S-Pen is just a feature you need to use for a few days to appreciate its potential. I am hooked on it. What I really like is the new curved watch or whatever its called. That is bad ass, great display, gives all your notifications, phone calls, music, heart rate and even makes you breakfast. Really great looking hardware along with great software. I think its the best looking SmartWatch to date and best of all it does just about everything you need a SmartWatch to do.

Well for me it's a simple decision between the two. What has the best design, intuitive software, and strong quality. I think each phone is great, but are targeted toward different buyers. Sent from the iMore App

I to am not really find of the back of the samsung s5 but I love that it's soft and have grip.. That's my main problem with iPhone that without a case it can sometimes be a bit slippery in the hand.. But hands down wether people think android is better then apple.. For me I disagree I don't really like the android software no matter how nice their phones are.. But I am interested to see what the iPhone 6 is gonna be and I will be waiting to upgrade to that

Fair comparison with the exception of the screen. The S5 kills the 5S in that department. You can actually see the pixels in the video. The retina thing is outdated.

Get rid of crap touchwiz and galaxy s wins in a landslide. Until then 5S all day Sent from the iMore App

You know you can root it and throw on a different rom, or just use a different launcher like I do. See with android phones, you have options. Where as unless you jail break your iPhone 5 and a half, you're stuck with the hideously bright and laughable boring ios 7.

Unfortunately the Samsung comes with the junk Android OS, so it's still not a choice. I'm not going base my phone choice on whether I can (laugh!) change themes on it.

I still think that the iPhone 5s is much better that the gs5. I mean it's just another plastic phone from SAMEsung nothing special. Send from my Nokia lumia 920 using tapatalk.
Get the best of iMore in in your inbox, every day!
Thank you for signing up to iMore. You will receive a verification email shortly.
There was a problem. Please refresh the page and try again.