Lock Screen Weather app adds weather to the iPhone Lock screen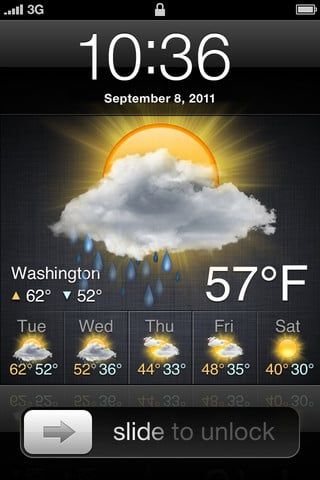 Lock Screen Weather is a clever app that allows you to display local weather information and graphics on the iPhone Lock screen without requiring a jailbreak.
Current weather conditions on your Lock Screen
Optional five-day weather forecast displayed below current weather
Tens of thousands of cities around the world supported
Current weather and forecasts updated automatically and according to where you are (optional)
Background sounds captured right in the nature (optional)
Both Fahrenheit (℉) and Celsius (℃) scales supported
Originally designed graphic assets reflecting every significant weather change
The way it works is by playing a silent track through the iPod app, then using the album art for the track to display the weather based on locations you set within the app settings. Because of the dynamic abilities of how album art is displayed in the iPod app, and subsequently shown whenever you lock your iPhone or iPod touch, this app essentially tricks the iPhone into displaying updated Lock screen weather without breaking any of Apple's strict developer guidelines.
The only drawback is, whenever you have the app running to display weather on the Lock screen, you won't be able to listen to any music from the iPod app (or any other App Store app that uses audio output or album art, such as Pandora). This is, however, a very adept workaround and gets the job done without the need to jailbreak and install apps like IntelliscreenX.
[gallery link="file"]
Having trouble finding what you need in the app store? Send us an email to news@tipb.com and let us know what you're looking for, and we'll do our best to find you just the right App for That!
Get the best of iMore in in your inbox, every day!
Andrew Wray is a Salt Lake City, Utah based writer who focuses on news, how-tos, and jailbreak. Andrew also enjoys running, spending time with his daughter, and jamming out on his guitar. He works in a management position for Unisys Technical Services, a subsidiary of Unisys Corporation.
This looks great - but not sure 'whether' I'll need it or not?

So since it's always playing a silent track, how much battery does it eat through...

This looks a lot like HTC Sense... No?

Eh... im jailbroken... no need

What nonsense. Just jailbreak. This app is a bigger hack than the jail breaking itself.

This sounds like a bad idea for battery life.

I can't help but laugh (almost till tears) at the amount of work that goes into circumventing Apple's refusal to enable features that should be integral to the platform. Connected apps/live data apps (widgets) are the killer app iOS is missing.

But why? Is the weather that important? I know that today it hit 82 degrees outside, the day before it was 84 degrees, tomorrow they say 76 degrees which normally means it will hit 81 or 82 degrees instead.
I already know that during the night it will drop below freezing and then get hot during the day.
Guess it might matter to those in the far northern states or eastern states but I won't waste battery on it.

Does it drain your battery or anything?
Very interested.

Hmmm, considering that it's constantly playing a track, what do you think?

My HTC Evo 3D manages to do it without draining the battery

until you use the stupid camera lol. i work for a cell company, worst htc of the entire line up. shoulda waitted for the razr or raider.

how can one need this? upgrade to ios5...there you go weather widget.. this will obvi drain ur battery constant song playing.. and if your on and older device jailbreak. and if your too big of a jew/ noob, buy a ios 5 device

Dang, I almost spit Earl Gray tea on my monitor...

Tom you asshole. Don't make comments like that you ignorant twat

Just curious... what does being Jewish have to do with any of this?

Exactly my point. Tom obviously a confused soul.

Seems like they could have come up with something better..

speaking as the client, not much use for me, speaking as a programmer; interesting way to make the job done, i wonder how animations would work.

Wow what a convoluted workaround to Apple's rigid control. Coming in iOS6, Apple 'invents' lock screen widgets.

Not Available in US Store can some one tell me the country store for this app?

Not available in Canadian App Store, but says it is available in the UK App Store, so I log in to my UK account and its not there. I also logged into my us account... Not there either!
Thank you for signing up to iMore. You will receive a verification email shortly.
There was a problem. Please refresh the page and try again.