Space gray iPhone 5s gallery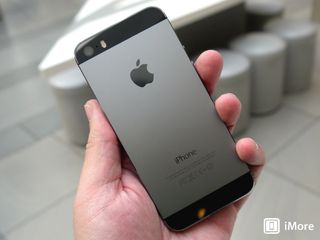 Here it is; the Space Gray iPhone 5s. Having queued outside in the cold British weather, I now have in my possession a brand shiny new iPhone 5s in black and gray. The Space Gray is actually quite a handsome beast, so before any reviews, before even turning it on and activating, here's a few quick hands on snaps for your viewing pleasure. I've also thrown in a couple of side-by-side shots with my white and silver iPhone 5, to give an even better impression of the color, and the difference in the camera flash between the two.
If you're either waiting on one of these, or out in a lineup somewhere to grab one, let me know what you think of it!
Get the best of iMore in in your inbox, every day!
Beatifull. Maybe i will go for it :)

I also purchased a Space Grey iPhone 5s, and I have to say it looks great! I wasn't too keen on the Space Grey colour when I first saw it in pictures however in real life it looks brilliant: possibly better than the Black & Slate iPhone 5!

I agree, it's so much nicer in person. Apple did a really good job with this color

Thanks for the photos. Now I know I made the right choose. I order two phones, one for my wife (Gold) and the other for me (Space Grey). I started to get two of the Gold but didn't want the two of us having the same color. I'm loving the Space Grey...!

can we get photos taken by the Iphone 5s or are you off for a nap

Trying to take a nap since I been up for 30 hours ;-) We'll be covering everything iPhone 5s in the coming days, that you can be sure of :-)

Is it different from black&slate iPhone 5? If so, how does space grey iPhone 5S feels like? Do you think it's better or worse than iPhone 5 black&slate version?

Done a quick post with a comparison photo now I'm home with my slate/black one

Looks really great! Almost convinced to get new 5S instead old 4S now.
BTW I almost can see how Samsung, HTC and LG will bring a lot of Gold phones on the market in couple of month ;)

I'm going to laugh when this happens, and we all know it will, especially since the gold version is in such high demand. I don't like the gold/white one, now if it were gold/black...heck yes!

Ooohh love it!!! THANKS for the pics! I ordered online. :)

Can you show some pics of it next to the iPhone 4S? I want to see the color similarity

Don't have a 4S or a 4 I'm afraid :(

Yup, thanks, looks great! its the one I plan on getting =)

Looks identical to black iPhone 5 to me !

Apple just makes some sexy stuff.
I don't care what anyone says.
Looks nIce Richard.

Thanks for the pics and comments Richard. I currently have a black 5 and ordered the space gray 5S this morning online....can't wait to see it for myself!

I thought a lot about which color, and I'm with you, I got the space gray. While I like the white and gold backside colors, the black face on this model was more appealing. I would have loved a black faced gold model. Thanks for the pictures.

I didn't like it in the pictures I saw of it online. I preferred the much darker black/slate combo of the iPhone 5. Now seeing these pictures it looks much more slick so I'm happy because that is the color I will be getting. I have never had a white iPhone I just hate the look of the white face.

In the main photo, is the color representative of how your eyes perceive it in real life?? If so, I'm definitely getting the space grey iphone 5s!

i think that's the one i'm gonna purchase

Yes, I like the Space Grey also! The gold (all carriers, all sizes) was sold out at like 8:30AM at the Apple Store so my choices were limited anyway.

Yes the Space Gray is very nice. I got that color. Didn't have no other color to choose from anyway lol. All Best Buy received for Sprint was 16GB Space Gray models. Sent from the iMore App

Like looking in the night sky.

Congratulations sir! An excellent choice, to sure! Sent from the iMore App

Nice. Maybe I'll get that color.

Looks great! Mine is on the way....thanks for sharing!

Hmm. looks the same as my iPhone 5 black. Am I missing something?

I went to AT&T on Friday with the intention on buying a Silver iPhone 5S. They only had the Space Grey in stock, and they said the wait was longer than I was willing to wait. So I reluctantly went with it. I had the white 4S and a black 5. So I was looking to go back. At first I thought the new color scheme of iOS 7 looked better with the white iPhone. But the more I have the Space Grey, the more I like it. My favorite aspect of the 'black' colored iPhones is that the screen disappears when off.

That silver/white 5S looks dirty.

All iphone colours are beautiful, if I had the money I'd collect all of them, one for every occasion (hehe) grey on rainy winter days, gold on hot summer days and white during night. It seems pretty crazy but there's something about iphones that make me want to collect them. Keep them as my trophies. They are just so beautiful. I like collecting beautiful things if I have the means to do so.
Thank you for signing up to iMore. You will receive a verification email shortly.
There was a problem. Please refresh the page and try again.