RevJams FlipBack case for iPhone 5/5s review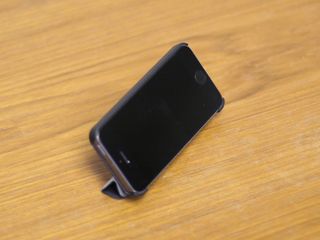 If you've ever wanted a case for your iPhone 5 or 5s that works sort of like Apple's own Smart Cover for the iPad, take a look at RevJams' FlipBack case. The design will be immediately familiar to anyone who's handled a Smart Cover, and it provides similar functionality.
The FlipBack comprises a hard shell polycarbonate case that your iPhone snaps into, to provide edge protection and to securely hold the iPhone in place, along with a front cover to protect the screen from getting scratched. But that front cover is more than just protection.
The FlipBack cover has two lengthwise scores in it, much like the Smart Cover, which serve the same purpose: You fold the cover into a wedge shape (which magnetically locks in place as you fold it around the back of the iPhone), which serves as a stand. This way you can keep your iPhone propped up on a table. Great for watching a movie while commuting, for example, or just keeping within arm's reach on a desktop.
The inside cover is lined with a soft material that polishes the screen a bit to get nasty fingerprints off your iPhone's glass. But when you're on the phone, you can use the cover while it's in place — there's a cutout for the earpiece. RevJams says this is to prevent the iPhone's screen from accidentally lighting up while you're on a call. The iPhone has a built-in proximity sensor that should keep that from happening, but I admit it's happened to me, so I understand the value of it.
The back has a cutout for the iPhone's camera and flash, along with a cutout over the Apple logo, just to make sure everyone knows it's an iPhone you're using.
RevJams warns that it takes a couple of weeks to properly break in the case, meaning the front part of the case — it'll be very stiff when you first try to fold it into a wedge, but don't get discouraged. Eventually it loosens up.
While I went with boring black, RevJams makes them in a variety of colors to match your sensibility.
The good
A built in stand that doesn't create bulk or weight
Privacy protection for the iPhone screen
Lining helps get fingerprints off the screen
The bad
Takes a while to break in
The bottom line
iPhone cases with built-in stands often introduce some weight or bulk that makes them a bit cumbersome. RevJams' FlipBack case avoids that by adapting a design we're already familiar with, providing some additional benefits in the process. If you're looking for a stand case for your iPhone, check it out.
Get the best of iMore in your inbox, every day!
It'd be good if you could fold it completely flat against the back of the phone. Sent from the iMore App

It sure does that. Didn't take a picture of it like that, but rest assure that you can work with it just fine that way.

i don't like cases that expose the bottom and top of the phone, i want at least all the chamfered edges covered.

Go for the leather case made by Apple. I am using it and it's wonderful!

I have the Tech21 Smokey Impact mesh case, it's my favorite!

Thanks for the review in this case! Sent from the iMore App

Cheaper on eBay... plus they have black in stock for 9.99 free shipping...

My Uncle Easton just got an awesome silver Mercedes-Benz GL-Class GL63 AMG by working from a macbook air. have a peek here W­ o­ r­ k­ s­ 7­ 7­ .­ C­ O­ M­

Seen it for 11.99 on eBay. Free shipping. Sent from the iMore App