This smart humidifier wants to help you breathe easier this winter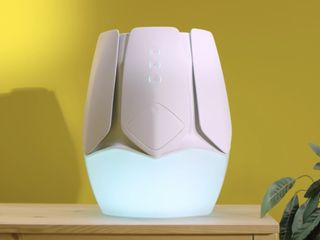 Ah, December — 'tis the season for holiday cheer, twinkly lights, and warm beverages that heavily feature marshmallows. Unfortunately for some of us, that also means that it's the time of year for dry painful sinuses and scratchy throats. If you struggle with the dry air come wintertime, Evapolar's evaWAVE smart humidifier may be right up your alley.
Evapolar, a company that wants to help you create your own personalized microclimate wherever you dwell, recently launched an Indiegogo campaign for evaWAVE — a powerful non-ultrasonic smart humidifier that allows you to safely and efficiently maintain optimum humidity levels while simultaneously purifying and aromatizing the air. And best of all, you control it all from your smartphone, so there's no messing around with a confusing amalgamation of on-device buttons and settings.
evaWAVE Smart Humidifier on Indiegogo
How does it work?
So to understand why evaWAVE sounds pretty cool, you need to know some basic information about humidifiers in general. Humidifiers fall into two different categories: evaporative and ultrasonic. Evaporative humidifiers moisten the air in a space naturally by using a fan to draw the air from the room before either blowing it over a reservoir of water or through a moistened filter, creating a water vapor. Evaporative humidifiers are the most common and widely-used humidifier type. That doesn't mean they're without fault, though — because of the fan usually involved they tend to be a bit noisier than ultrasonic humidifiers on the whole, and if they aren't cleaned regularly they can begin to breed mold or bacteria and release it into the air.
Ultrasonic humidifiers, on the other hand, use high-frequency vibrations to produce a watery mist which they then spray into a room to add humidity. This type of humidifier is usually pretty quiet and efficient, but they're not issue-free either — they work better the smaller your space is, water can sometimes pool around them, and they tend to expel this weird white or gray mineral deposit dust that collects on every surface in the room.
evaWAVE basically combines the good parts of the two humidifier types while nixing the bad parts. With the evaWAVE, the dry room air is guided by a quiet turbine through a patented moistened filter cartridge. Then, after absorbing the water there, the air is cleansed through a an antibacterial silver ionization process before being released back into the space. Because of the turbine, the purified, humidified air is able to spread over up to 100 m². The company promises that there's no weird white dust, no noisy fan, and no pooling water — just clean, moist air to soothe your winter-parched body. What's more, evaWAVE actually analyzes the air humidity and adjusts it to meet optimum humidity levels throughout the day, taking out all the guesswork on your end. However, if you find that the recommended moisture levels are a bit too sticky for your taste, you can also adjust them manually using the free Evapolar app.
How do I use it?
According to the Indiegogo page's FAQ section, evaWAVE is fairly easy to set up:
The Evapolar team also notes that you do need to replace the filter cartridge every 4-6 months to assure that your air remains bacteria-free and healthy.
What else can the evaWAVE do?
In addition to moistening and purifying the air, evaWAVE has a few more cool features that make it a cooler-than-average humidifier:
Groovy LED light: I don't know about you guys, but I love a good soft glow, and evaWAVE definitely doesn't disappoint in that regard. The entire bottom of the unit is a glowing LED surface which you can control through the app, and you can either set it to one color to match your mood or choose a personalized color "playlist" to create a vibe.
Built-in speaker: Though it's not clear on evaWAVE's Indiegogo page whether or not you can use the speaker to play your own tunes, you can definitely choose from evaWAVE's library of super-soothing sound environments to help you relax.
Aroma cartridges: Though these aren't required, Evapolar does offer pre-made aroma cartridges you can insert into your evaWAVE to add a pleasant scent to your space. And if you're really down with essential oils and prefer to create your own delicious smell combo, you can do that too — Evapolar also sells an empty version of the cartridge that you can fill yourself.
Night and Wake-Up modes: If you'd like, you can go fully automated and set evaWAVE on a timer so that when you get home from work, your space is humidified, purified, and aromatized upon your arrival. You can also set it to switch to Night Mode at a certain time (completely silent, LED light off), as well as use it as an alarm in Wake-Up Mode (sound effects of your choice begin to play, LED light turns on, chosen aroma fills the room).
How do I get one?
If you're interested in adding an evaWAVE smart humidifier to your home, right now you can pledge $249 to get the full evaWAVE kit that includes the evaWAVE, filter cartridge, a spare filter cartridge, and an array of aroma cartridges. This set apparently has a retail value of $448, so you're basically getting it half off if you pledge. evaWAVE backer sets are expected to ship sometime in November 2018.
Note: Backing crowdfunded projects involves a certain level of risk. Because this project is not yet funded, there's a chance it may never come to fruition.
Thoughts?
What do you think about the evaWAVE? Would you consider using it to improve the climate of your living space? Let us know in the comments!
Master your iPhone in minutes
iMore offers spot-on advice and guidance from our team of experts, with decades of Apple device experience to lean on. Learn more with iMore!
Tory Foulk is a writer at Mobile Nations. She lives at the intersection of technology and sorcery and enjoys radio, bees, and houses in small towns. When she isn't working on articles, you'll likely find her listening to her favorite podcasts in a carefully curated blanket nest. You can follow her on Twitter at @tsfoulk.