Still want an iPhone 5? Here's where to buy one in the UK!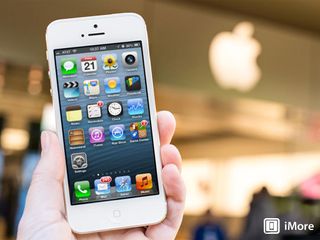 (Image credit: iMore)
So, you were planning to upgrade to the iPhone 5 until last week when Apple said it would be discontinued. While the iPhone 5c is essentially the same phone inside, we get it; colorful plastic isn't for everyone. The iPhone 5 has that same metal clad exterior as the new iPhone 5s, and for some that's the differentiator. The good news for UK buyers; there are still plenty of places you can pick one up. You might not have long, but if you want one, here's where to go!
The carriers
Aside from Vodafone, the other three major carriers all still show availability of the iPhone 5, some on pay-as-you-go as well as on contract. If you head to Three, you can pick up all three sizes of iPhone 5 on contract from £31 per month with up front payments beginning at £29 for the 16GB version. On pay-as-you-go, you'll be looking at £499 through to £699 for the different sizes in both black and white.
EE still offers the iPhone 5 on a range of its 4GEE plans which begin at £26 per month with differing up front payments. The ones to really look at though are the £41 and £46 plans, with £19.99 and £9.99 respectively up front for the phone. £46 gets you 10GB of 4G LTE data should you be in a supported area, and a minimal initial payment. The other advantage to EE is their new 'Swap' promotion, which allows the trade in of certain phones after 6 months or more of your contract for a newer phone. The iPhone 5 is currently one of those phones, so if it is in 6 months you could also have an upgrade path to the iPhone 5s.
O2 is offering the iPhone 5 both on contract and on pay-as-you-go, though price on the latter is £549.99, quite a bit more expensive than on Three. On contract, you're able to pick one up on the O2 refresh plan which splits the cellular cost and phone cost into separate chunks allowing you to upgrade early by paying off the phone. For £47 a month you can get an iPhone 5 for free with 4GB of data, though it will only work on O2's 3G network.
The bottom line; from these three carriers there are still a good range of options to pick up an iPhone 5 at different price points. We don't know how much stock remains, or how long each of them will continue to sell the phone, so if you're set on one you need to act quite swiftly.
Third-party retailers
The two major high-street retailers, Phones4u and Carphone Warehouse, both still offer the iPhone 5 for sale. Phones4u will only offer it on a contract, and appear to only have the 16GB version in stock. The good news is that they're offering it "from free" and will be able to set you up on a range of deals across the various different carriers.
Carphone Warehouse will sell the iPhone 5 SIM free at a cost of £499.95 for the 16GB model. That's not a reduction from the price of recent months, but it still sits right in the middle of the iPhone 5c and iPhone 5s outright pricing. As with Phones4u, Carphone Warehouse will offer you the phone "from free" on a range of deals across the major carriers, so somewhere there's the right one for you.
The important thing to remember with these two high-street retailers; if you go into a store you stand a better chance of haggling out a better deal for yourself. And with the iPhone 5c and iPhone 5s inbound, you might be able to strike up a winner.
Online, Expansys currently still sell different capacities of the iPhone 5, starting out at £599.99 for the 16GB model. This is a huge increase over somewhere like Carphone Warehouse, or even a pay-as-you-go option on one of the carriers. More specifically, it's also a £50 premium over the iPhone 5s which lands on Friday, so at this point there's no reason to recommend buying one here.
There may also be stock left at other, smaller online retailers. If you find a good deal, drop us a note in the comments and let us know where you found it!
eBay and Gumtree
Don't forget about eBay. If the iPhone 5 is really the one for you, eBay is sure to be seeing an influx of pre-owned phones going up for sale to raise money to buy the iPhone 5s. While the majority may not be new, you could stand to save a healthy chunk of change if you're prepared to get either a pre-owned for refurbished iPhone 5.
Some retailers will also be selling new phones through eBay, and again there might be a great deal lurking within the pages and pages of listings. It's not necessarily the easiest way to get an iPhone 5, but it's likely to be the place you'll find them for longest.
Gumtree is all about pre-owned things, but I've found some great deals on there in the past. It doesn't come without risk, but again, there's going to be a whole lot of people trying to raise funds towards the iPhone 5s right now, so you could find a steal.
Your tips
So, that's just a few places you can still find a good deal on a new, refurbished or pre-owned iPhone 5. If you find a great deal somewhere, hit us up in the comments below and let us know what you got and where!
Get more iMore in your inbox!
Our news, reviews, opinions, and easy to follow guides can turn any iPhone owner into an Apple aficionado