T-Mobile exec tells employees they aren't getting the iPhone 5 this year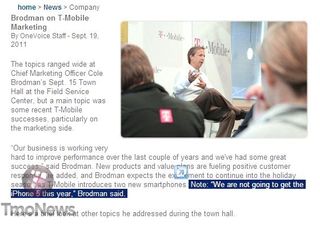 T-Mobile Chief Marketing Officer Cole Brodman held a townhall meeting today where he told employees that the company would unfortunately not be included among the carriers getting the iPhone 5 when it launches later this year.
TiPb previously heard that the T-Mobile iPhone 5 launch was already being prepped, so either that information was inaccurate, something has changed, or iPhone 5 isn't the iPhone T-Mobile is getting (budget iPhone?, iPhone 4S? Who can keep track at this point?)
Could T-Mobile be the only major US carrier without an iPhone in its stocking this holiday season, or could they still have an iPhone party before the end of 2011?
[TmoNews]
Andrew Wray is a Salt Lake City, Utah based writer who focuses on news, how-tos, and jailbreak. Andrew also enjoys running, spending time with his daughter, and jamming out on his guitar. He works in a management position for Unisys Technical Services, a subsidiary of Unisys Corporation.
So what does that mean for Sprint? I know that is seemingly unrelated but the blog fodder was all about having it on all carriers.
Yet again...another reason why nothing is in stone until Apple steps on stage and announces it. :)
Get the best of iMore in in your inbox, every day!
Thank you for signing up to iMore. You will receive a verification email shortly.
There was a problem. Please refresh the page and try again.