Walmart heavily discounting the iPhone 5c, available for less than a dollar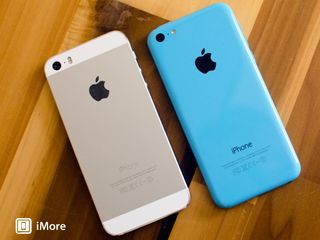 Walmart is heavily discounting both the iPhone 5s and iPhone 5c for the next 90 days in preparation of the iPhone 6. If you're still looking for a sweet deal on a brand new Apple smartphone, look no further than the US retailer as you'll be able to pick up the premium flagship model for just $79, while the iPhone 5c can be yours for $0.97. These prices will lock purchasers in two year contracts with AT&T, Sprint, US Cellular and Verizon.
Apple hasn't yet announced the iPhone 6 but should this fire sale be anything to go by, Walmart is certainly preparing to move stock of current generation units. Which will you be picking up, if any? Let us know in the comments!
Source: Walmart, via: Engadget
Get the best of iMore in your inbox, every day!
Got it August 12 in the UK. Really good movie, almost on par with The Avengers in my view. Sent from the iMore App

The 5C would not be a wise choice at this time, given that a new non-metal phone with 5S innards is not an impossibility next month. However, the 5S would not be unwise since the metal phones seem to only be available for one year as per the 5. Yes? Sent from the iMore App

Since Wal-mart, in this case, is absorbing the cost of a 5C by $98 and 5S by $120 (usually 5C costs $99 and 5S $199). Will they give that much of discount if I get an unlocked phone? Or am I not thinking this correctly?

Don't know about the US, but in Canada, Walmart does not sell unlocked iPhones

Wished title would mention " on a 2 year contract "

The article did... Posted via iMore App

Did you honestly believe that Walmart was selling unlocked 5C's for less than a dollar? The price implies a contract.

He can dream can't he. Sent from the iMore App

5.5 inch iPhone 6, you can have the others. Sent from the iMore App

the iphone 5s is too expensive beside iphone 5c ___________________________________
http://www.galaxynote-2.com/galaxy-note-3/
http://iphon6.fr/