Five things you need to know about Apple's new iPads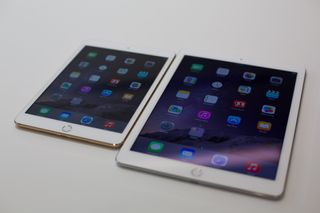 The iPads are coming! The iPads are coming! Yes, as expected, Apple announced the newest members of its ever-growing iPad family on Thursday—the iPad Air 2 and the iPad mini 3. These two will be available for pre-order beginning tomorrow, October 17; here's what you need to know about them.
1. The iPads are numbered again (and there are a lot of them)
Yes, it's true: Apple's abandoned its Mac-like naming structure of "The new iPad" and retreated into once again numbering its iPad models. And as much as I love the Mac's naming schema, I agree with Apple here: It wasn't working on the iPad because of the sheer number of models still available. iPad 2, iPad 3, iPad with Retina display, iPad Air… When it's difficult to explain to your mother which model she should remember to buy, that's trouble.
Apple hasn't completely alleviated the "which model to buy problem" with its five-iPad lineup, but they're at least all streamlined in name now: The iPad Air 2 and iPad mini 3 are the latest models, with the iPad Air, iPad mini 2 (née iPad mini with Retina display), and iPad mini sticking around as cheaper price-point options.
The cheapest iPad in the lineup is now the iPad mini, coming in at $249 for a 16GB-only model ($379 for cellular access); the iPad mini 2 and iPad Air stick around at $299 and $399, respectively, with a 32GB model available for $100 more; and the iPad mini 3 and iPad Air 2 begin in at $399 and $499.
2. The iPad Air 2 is packed to its super-slim gills with power
Apple spent a good portion of today's event going over the numerous power boosts and tweaks to its flagship iPad model: The company has created a brand new A8X processor to power the iPad Air 2 that's 40 percent faster than the A7 and provides a 2.5x graphics boost in comparison to its predecessor. It also gains the M8 chip found in the iPhone 6 and 6 Plus (and its new barometer sensor).
Despite this major power improvement, the new iPad retains its 10 hour battery life and slims down 18 percent from the iPad Air, coming in at just 6.1mm thick. In part, the device's thinness is due to display innovations; Apple has laminated its Retina display, reducing the space and air in-between the glass and screen. (Yes, Apple got rid of the air in the iPad Air 2. Har har har.) The iPad Air 2's display also receives an antireflective coating, reducing glare and reflectivity on the screen while out in bright or harsh environments.
The one casualty in this quest for thinness? The iPad's rotation lock/mute switch. RIP, little buddy.
Last (but not least) is some connectivity tweaks to increase speed over both Wi-Fi and cellular connections. The iPad Air 2 incorporates the Wi-Fi 802.11ac standard into its antenna set, and supports even more LTE bands.
3. Tablets are cameras, too
There are also some big camera improvements coming to the iPad Air 2 for those who like snapping images with their tablet. (I may not be one of them, but I know they're out there.) The iPad Air 2 isn't quite the gift to photographers as its iPhone cousin, but it at the least makes the tablet a viable alternative for shooting images. The rear camera now sports an 8-megapixel sensor with improved on-device image processing; the iPad also gets the iPhone's burst mode and slo-mo video features, though slow-motion video is only available at the iPhone 5s's 120 frames-per-second speed and not the 240FPS of the iPhone 6.
4. The latest iPad mini has only one major improvement: Touch ID
After lavishing a lot of love on the iPad Air 2, I'd hoped we'd be treated to a slightly shorter but still glowing presentation for the iPad mini; instead, we had to make do with a few short slides on Apple's smaller device. And for good reason: The company's iPad mini 3 has just two features that differentiate it from last year's model—Touch ID and a gold coloration option.
Yeah. That's it. It keeps the same exact form factor, the same A7/M7 chipset combination, the same 5MP camera sensor and photography features, and the same antennas.
Sure, if you're really itching for Touch ID and gold on your mini, the $100 might be a good investment. But for those hoping those on-stage upgrades made it to Apple's smaller device, you're flat out of luck.
5. Speaking of Touch ID...
Gone are the days when you had to click the home button, swipe over, and enter either a simple passcode or complex password just to access your iPad. Now, simply placing your finger on the Touch ID sensor will read your print, compare it to the one stored securely on the Apple A8 processor, and if it matches, instantly grant you access.
Touch ID is a biometric personal identity scanner and not only is it simple and fast, it's also an excellent compromise between convenience and security. It brings all of the authentication and authorization benefits the iPhone has enjoyed since last year, but now brings back consistency between iPhone and iPad as well.
In other words, those of us with both iPhones and iPads will no longer be placing our fingers on the home button and wondering why nothing is happening.
iPad users also get the online-only version of Apple Pay, which allows you to use the Touch ID sensor to pay for online purchases with certain vendors. It just means that shopping from the iPad—already one of the most popular devices for doing just that—becomes not only quicker and more convenient, but more secure as well. It doesn't carry over to using your iPad to pay for items in-store, however—you'll still need an iPhone 6 to take advantage of Apple Pay's NFC pay technology.
Stay tuned for more
We'll have lots more on the new iPads very soon, so stick around. Rene's down in Cupertino playing with the new iPad Air and iPad mini as I type this very sentence; check back later on iMore.com for his first thoughts and reactions.
Master your iPhone in minutes
iMore offers spot-on advice and guidance from our team of experts, with decades of Apple device experience to lean on. Learn more with iMore!
Serenity was formerly the Managing Editor at iMore, and now works for Apple. She's been talking, writing about, and tinkering with Apple products since she was old enough to double-click. In her spare time, she sketches, sings, and in her secret superhero life, plays roller derby. Follow her on Twitter @settern.