The 128GB iPad Air 2 is no more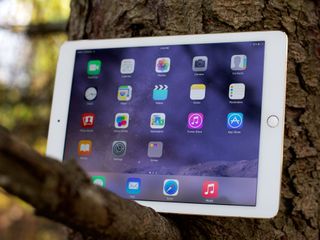 As the Apple Store has come back online around the world it's time to check out what's new, but also what's gone. In the case of the iPad Air 2 there is now no longer an option to buy the 128GB model in WiFi or cellular forms it seems.
That means you're left with either 16GB or 64GB as your choices if you want to pick up Apple's now cheapest large iPad. You can still pick one up in gold, silver or Space Grey, but if you want 128GB of internal storage now you're forced to go for the iPad Pro. And one of those will cost you at least $749/£619.
It's not unusual to see such a thing. Apple now has no cross-over between the iPad Air 2 or the iPad Pro when it comes to storage sizes. Even if the iPad Pro does start at 32GB, something not available on the iPad Air 2.
You can check out the remaining iPad Air 2 models at the link below.
See at Apple (opens in new tab)
Get More iPad
(opens in new tab)
When Apple discontinues some storage models they drop in price a lot for third party sellers.

They need to drop 16G completely. My iPad Air 2 128G right out of the box was only 114G. What is states is never what you get. 16G will be strapped quickly. Sent from the iMore App

I've been waiting for a nice upgrade to my late 2013 iPad Air. The prices on the Pro are harsh ... but they have double the RAM. I would have loved a more reasonably priced iPad Air 3 with 128GB of storage, personally.

Orrr. . . You can go into an Apple Store, or another retailer, like Best Buy, and buy one from their inventory if you want one right now. I know I'm happily enjoying mine.

Maybe I'm the only one who didn't get it, but this signals that Apple is no longer going to be upgrading or seriously trying to sell the cheaper, not-Pro, 9.7" iPads and instead is just moving to the Pro line, which is more expensive. For someone like myself, with about 50 gb of stuff on my iPad usually, but pushing up to 80 or so when I am planning a trip and want to load up a bunch of movies, I'll need to get a Pro. Also means that my iPad Air 2 screen is the best screen I'll ever have unless I want to pay the extra for a Pro. This is an unusual move. It's one thing to drop sizes on the iPhone 5s when the 6 becomes available - because it's the same price as the 5s was. It's another to switch to a different product and do this. I could see people moving to Android devices because, for many people, the Pro features are just not worth the extra cost.
Get the best of iMore in in your inbox, every day!
Thank you for signing up to iMore. You will receive a verification email shortly.
There was a problem. Please refresh the page and try again.