Airmail lands on iOS, lets you customize your email experience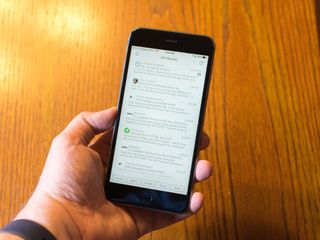 Popular Mac email app Airmail is now available for iOS, offering a wide array of features including the ability to snooze emails, interactive notifications, filters, multiple account support, customizable swipe actions, Apple Watch support, and so much more. Airmail works with most service providers like Gmail, Google Apps, Microsoft Exchange, IMAP (iCloud) and POP3, and has third-party integration with Drive, Dropler, Box, OneDrive and Dropbox.
Airmail also offers iCloud sync, which means that your account settings and preferences will be synced from your iPhone to your Mac and vice-versa. Here's a quick rundown of some of the features that you'll get with Airmail:
Accounts support: GMAIL, EXCHANGE, IMAP and, POP3
Push Notifications, with VIP and Custom actions.
Push Notifications, full body preview and custom sound.
Badge, Unread, Messages, and New
Apple Watch app with glance and interactive notifications
Customizable Swipes
Thread and single message support
Snooze Messages, Bulk Editing, Drafts, Aliases, Multiple signatures and Unified Inbox
Horizontal layout
3D Touch quick access, Peek and Pop
iCloud Sync Mac/iOS, iCloud Sync Label color Mac/iOS, iCloud Account settings sync Mac/iOS, iCloud Preference sync Mac/iOS, iCloud VIP sync
Handoff Mac/iOS
A dedicated version for the iPad is in the works, and will be available at a later date. If you're frustrated with the email client you're currently using and are looking for a more customizable option, look no further.
The clumsiest man in tech.
The push notifications are weak!! Sent from the iMore App

Can you elaborate a little more?

Unreliable. I couldn't even get the app to display any. The app would only get new email if I had opened the app. I made sure all notifications are on, and background refresh is active.

Gotcha. I'm trying it out now. So far notifications are working for me. We'll see if it holds up.

Try removing and adding the account again. It worked for me.

No go and tried 2x. Emails come in and Outlook gives me a notification and updates the badge but Airmail just sits there until I make the app active and then goes to retrieve.

Try turning off the notifications for Outlook. Maybe somehow Outlook is catching the notification before Airmail. Then, if you haven't already, go into the settings of Airmail and under notifications, make sure "Server Badge Count" is on.

I second that. No push notifications for folders. :/ Meh. Even apple native app does that.

taken from Apple store for violations of some sort Sent from the iMore App

Maybe the Appstore could not handle the requests......it is still available here, after some spinning moments.....

So what makes this email app a 'must have' over the other slew of email apps that all do the exact same thing (Outlook and Spark both come to mind)?

Don't think anyone mentioned it as a "must have". Like other email apps whichever one suits your liking is the one to use. Outlook and Spark are both great apps. I'm trying Airmail out to see how it compares.

I am not seeing any notifications on my iPhone apart from badges and on my Apple Watch I either receive no notifications or one or two arrive but with a huge delay. Very disapointed so far.

it's working now after removing and adding the account.

Nice. It's been working for me so far.

Anyone know whether this app enables you to create a contact group, and then take an email and FORWARD it to that contact group by simply entering the group's name? I have an exchange mail account (mention this only b/c apparently there is some unique group integration issues when dealing with exchange based mail accounts)

I cannot find an option for that in the app.

I don't use Airmail yet, but for groups I recommend Mailshot. I've been using it for years. It's very simple to create groups then all you do is copy and paste the group to the Cc: or Bcc: etc and your good to go. I've used this with numerous mail apps and it worked every time so I'm pretty confident that it will work with airmail. And as an added bonus, if you need help (unlikely), the dev is very good with responses.
They used to (maybe still do) have a lite version that you could then upgrade to the full version.

How is working background app refresh? If I open an email from gmail web interface, are the badge and lock notification updated automatically?

I believe so but it may not be instant when you first use the app as background refresh learns your patterns based on your use of the device and tries to predict when an app should be updated in the background.
To answer your question what I did was I sent myself an email, Once I received a notification in Airmail I deleted it on the web. I then sent myself another email and when I opened Airmail the first email was gone. By sending myself another email I kind of "forced synced" the app. So, I believe once Airmail learns your patterns everything should be updated automatically. Hope this helps.

Thank you for your test. For the moment only Outlook is working without problem with notification, but I don't like the interface :-(
So, I have to wait for a new release...

Is this app capable of importing gmail labels? Posted via the iMore App for Android

What is the diference between Airmail and Spark? I can't see something to convince me to buy a U$5 and stop using a free one.

@op any note on if this features salutations? Dispatch has it and although it's semi-dreadful the salutations feature alone makes it my killer (gmail) mail app.

Aren't you paranoid that this email client has stored all your private and confidential info from all your emails on their servers. Pretty scary, I think outlook app does the same.

how to make this default email app, please help me.

Does this support gpg like the OSX app?

Anyone know how to save an embedded image? Seems like a fairly basic thing to save images sent via email but either Airmail omits the obvious or I'm a complete moron & can't figure this out. Somehow my wife manages to forward photos via email embedded rather than attached but I can't find the way to save embedded images in Airmail. :o(

I got Airmail today for my Mac and the iPhone and will sign up for the iPad beta. So far the iPhone version works just fine for me, still learning some of the settings which there are a lot of. Push notifications have worked for me, I added my gmail accounts and I finally figured out that to get Airmail to work on my iPhone and iMac is to use an app specific password since I have 2FA turned on. The only odd quirk on the desktop version is I can't get Airmail to be the default mail application despite the simple directions they post online, the Airmail client has a field you need to check and its greyed out so you can't check it. Simple email to the folks in charge and will likely have a quick reply soon.

It's rare that I would pay to replace a baked-in app, but Airmail is worth it. I've tried most (if not all) email apps, and this one works best so far. The main thing I don't like about the stock one is the lack of snooze and the fact that I have to log out and back into my Gmail accounts about once a week as they just stop working. Simple reason why it's better than Outlook and Spark: it displays emails properly Some emails come to me in a format that seems too wide to display fully in Spark and Outlook, but they seem to fit the screen perfectly in Airmail. Only downside is heavy battery drain. It's not been on screen for very long, about 50 mins in the past 24 hours with about 15 mins background activity, yet it accounts for 30% of my battery drain. Second only to Safari, and way ahead of the next biggest drain. Looks like it's behaving as expected in terms of usage "time", but it's obviously burning through the battery when it is active. Anyone else notice big drain?

How is this better than the stock app or Spark? Convince me to buy it
Get the best of iMore in in your inbox, every day!
Thank you for signing up to iMore. You will receive a verification email shortly.
There was a problem. Please refresh the page and try again.