Airmail for Mac update brings redesigned menu, ability to snooze emails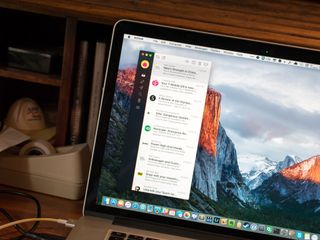 Airmail for Mac has picked up an update to version 2.6, featuring a redesigned menu, ability to defer emails, a utility that lets you resize attachment images, and more.
Here's a full list of the features introduced in version 2.6:
Snooze!
Attachments Image Resize
New Smart Unread Selection - Use "Mark Always" for the old behaviour
New shortcut W - Full Menu Access
New shortcut D - Snooze
New shortcut Z - Send to Services
Redesigned Menu
Fixed Google Authentication Window
Fix LDAP not persisted
Fix Message Scroll issue
Fix on Snooze on GMT
Fix Exchange attachment send
Fix Search in threads
For the uninitiated, the third-party client offers a slew of features, such as the ability to attach directly from your iCloud account, Handoff support, Today View, and a unified inbox if you've got more than one email account.
The clumsiest man in tech.
How about a Hotkey for Bounce? Sent from the iMore App

Can it do ActiveSync? If not, it's useless to me. I want push delivery.

It doesn't need ActiveSync, as it has full Microsoft Exchange server integration.

The new version of AirMail brings feature-parity between it and the beta version of AirMail iOS. The iOS app is excellent, especially as it interacts directly with email servers instead of storing your email and/or credentials on a 3rd party server. The beta has been out for a while, and at this point seems stable enough for release (at least to me). I think you can still sign up for it: http://airmailapp.com/beta

What's the difference between this new version and the beta I've just downloaded which is really nice I must say? Sent from the iMore App
Get the best of iMore in in your inbox, every day!
Thank you for signing up to iMore. You will receive a verification email shortly.
There was a problem. Please refresh the page and try again.