Announcing the winners of the Mobile Nations 2012 Halloween Costume contest!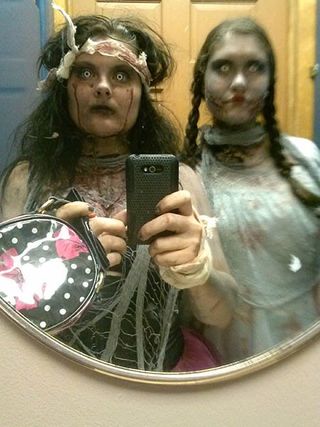 The judges worked long and hard going through the hundreds of submissions in this year's Mobile Nations Halloween Costume Contest, and they have finally narrowed it down and chosen 10 winners! There were so many incredible entries, from funny to scary with everything in between, and all of them were super creative, so this was a really hard contest to judge! We appreciate all the pictures that were submitted, and hope that you all had as much fun entering as we did getting to see everyone.
You can watch a video of the entries above, and check them all out in a gallery at the link below. (If you don't see your picture in the photo gallery or video, it's likely because it didn't have a tablet or phone in the picture. Gotta follow those rules!) Winners are posted below, with description/back story if it was included in the email . If you were one of the chosen winners, watch your email later this week for details on what you've won! Congrats everyone, see you back here next Halloween!
Check out the full gallery of entries (opens in new tab)
We couldn't find a 4th member of the group but the tablet did the trick!
A couple of scary ladies.
"This year my family went with a Lord of the Rings theme...Legolas, Gimli and Frodo. Boromir was unavailable as he was taking the photo."
Homemade Mario Pixel art
"Our iPod nano costumes! I know your contest said to be "holding" the object but what better than to actually be an iPod right? I made the costumes simply out of colored duct tape. I then made our menu buttons out of paper including the play list screen after each of us picked out our own individual songs. Besides being a little tight and needing major skills to go to the restroom, they were a huge hit!"
"Here is the Mario Riding Yoshi costume I made this year! My smartphone (pictured) has had a retro gameboy cover on it for a long time, as a testament to my love of old school Nintendo. So, obviously, that turned out to be a perfect accessory for this costume! I made Yoshi out of cardboard, newspaper and colored duct tape and secured him to my waist with a climbing harness. Then I altered a child's Mario costume to complete the illusion. It's a bit scrappy, but I still hope it gets me a 1up on the competition."
Here's Penny in her costume.
"A bit taller, a bit faster...must be a 5. You may be thinking "wow...another iPhone costume. Great creativity." But please note, first, that the shirts were hand made by us, and, second, that due to my abundance of vertical space I was actually able to support an iPhone 5 costume this year! WOW! My poor wife, though, was stuck as an iPhone 4s. I'm also a bit faster than she is. I showed off my LTE and better processor speed while running the bases tonight."
"This started off trying to figure out how my 6 year-old son Timmy could have the Imperial March playing while trick or treating... The Playbook was perfect! A little (a lot really) duct tape, my convertible case and now Darth Vader is ready to lure iPod users to the dark side!"
Now that's some gadget love.
Get more iMore in your inbox!
Our news, reviews, opinions, and easy to follow guides can turn any iPhone owner into an Apple aficionado