App Giveaway: OfficeTime - Time & Expense Tracking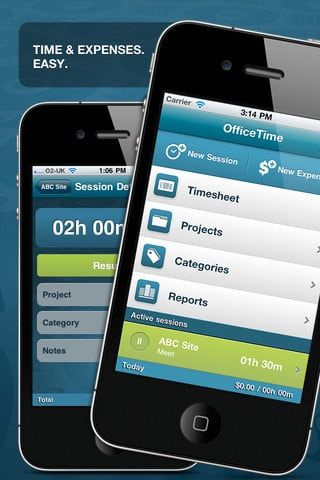 OfficeTime is a time and expense tracker for the iPhone and iPad. The interface is clean, elegant, and designed so you can quickly be in and out - keeping track of your time shouldn't take a lot of time!
Pay once. Get for both iPad and iPhone
Export to Numbers or Excel
Get cross team reports on your desktop.
Work with cross platform offices: PC, Mac, iPhone, iPad, iPod Touch
Track by project and category.
Run multiple timers
Rapidly switch tasks
Time in the background
Pay no monthly fees
Work offline. No need for WiFi or 3G
The good folks at OfficeTime Software have given us 5 promo codes to giveaway. But that not all! One of the promo code winners will also receive a copy of the OfficeTime desktop application ($47 value)! For a chance to win, just leave a comment below!
OfficeTime - Time & Expense Tracking is available on the iPhone and iPad for $7.99.
[App Store link (opens in new tab)]
Have an app you'd love to see featured on TiPb? Email us at iosapps@tipb.com, tell us about your app (include an iTunes link), and we'll take a look.
[gallery link="file"]
Former app and photography editor at iMore, Leanna has since moved on to other endeavors. Mother, wife, mathamagician, even though she no longer writes for iMore you can still follow her on Twitter @llofte.
Finally the boss can stop asking me what I do all day. Cause I can show her!! LOL

I've tried multiple time tracker apps for my legal business, and have gone back and forth among Time Master, Office Time and Get Paid. They're all good, with different pros and cons -- but would love to win the desktop software for Office Time.

This would be great to use for my current job!

App Giveaway: OfficeTime is work

Does this code work internationally? I hope so.

With frequent travel overseas, this app would be incredibly helpful in tracking multiple projects, especially when crossing time zones. Its simple interface with ability to sync would provide ease and versatility to track billable hours. Would love to test it out!

I've purchased quite a few apps that are designed to track business expenses, and haven't been happy with any of them. This one looks very well designed. Thanks for the giveaway. Fingers crossed. :)

This would be a nice app to win (giveaway).

Great app to log the every day work.
Now i have something to remember me what i being done during the weeks or months on the project i'm in, and report to the bosses.

Well, I gotta show the world that I spend some time working, though surely, it will show some % of my time being internet-ly social! :)

Mostly needed now, when i am having Drama at work

Would be a nice app to have!

don't have anything to track, but I can find something!!

I use the Mac application daily to track time spent on various projects; out of the various time-trackers out there, it seems to have the best balance of features vs. intrusiveness. In addition to tracking time away from the computer, I could see an iOS version coming in handy for scenarios where you move between multiple computers, or even find yourself booting between OS frequently.

Sorry, dup message. Not trying to cheat in the giveaway. :)

This comes a the perfect time for me. We are starting to track time at work now.

That would be my new favorite app !

Sounds very useful, indeed.

This would be an awesome addition to my iPad!

Being a consultant, that would ease my live, gain in efficiency and accurancy.
Would love to have it.

I would love to have the full version of this app!

I would love OfficeTime should would make life so much better TY

This is actually pretty smart. I work way too much in front of my computer and often forget to take small breaks. This could help me a bunch. Might take a close look at this app.

I would love this application, this would make my life better.

I'd leave a comment but I have no way of tracking the time it would take me to do so...I wish there were some kind of app....

I've tried many of these apps and have yet to find the right one. Hope this one works for me.

Sounds like a very interesting app.. Count me in please.

Me want free app! Me want free app!

Looks like a very useful app...

I've tried the lite version and it's great! Hope i'll win the full version! ;)

I'd love to use that to track my time more efficiently!

As a consultant, I would find this a very useful product.

I use excel currently to track my time on projects & estimating, I would love to use this all in one tracker. I don't think it will over analyze what I am doing, but will allow me to be very productive!!
I'd love to try it!!!!

As a contractor I am always looking to improve my estimating and job costing. Being able to to track time for multiple components of a project at once would be nice. I also like the idea of being able to access that data on the road. My office is fast becoming the front seat of my truck.

Basecamp is for the birds! Give me OfficeTime!

I really need this! Please put me in the drawing.
Thanks

This app looks great. I time almost everything in my life but it is difficult to determine how much money that time was worth. I occasionally travel for business and it would be nice to be able to track both hours and expenses in one app then export to spreadsheet ... BOOM!

I've never won anything before..this would make my life complete. This app will make sure I slot enough time to check out the best iphone, ipad and ipod blog in the world! You guessed it! TipB baby! Woo hoo! Please give me this app! Ahhh! hahaha. No really. This would be awesome. ..

Looks intersting, would like to check this one out.

My wife would love this for her home business that she is trying to get off the ground!

I'd love to have this. I'd certainly make good use of it!!!

This would be perfect for me once I'm finished with law school. I need a way to track my billable hours after all!

I would love to use this app, I'm spending much time on the road and by the looks of it sounds like a swiss knife for consultants.

I'd love to have this. I'd certainly use it a lot!!

Before this was posted I downloaded the Free version. The full version would be great. This is replacing the TimeTracker app I had on my Palm Pre. I wish I could find an iOS version of that!

I would love this! Thanks for the chance.

I use their desktop ap and I love it. Would be very happy to have it on my iPhone as well!

This is really awesome, I could a tool like this to track my expenses and time.

This would be the perfect tool to manage my time as a college student.

As an independant fire investigator who is in the process of starting his own consulting firm. This would benefit me in many ways! Besides i just spent my last $7.99 upgrading to the iPhone 4S.

I have spent a lot of time looking for an app that helps me keep track of my expenses and combined with some sort of task management functionality, just makes it the perfect solution for me and many people out there!!!

This app would be very helpful to me.

As a small business owner, this could come in very handy with my new iPad 2. I'm trying to consolidate as much as I can down to that device.

I love OfficeTime. I have used the application for roughly 6 years now. It was the best one when I researched it then and still is now.
Adding ipad capabilities would help me when i'm out of the office.
If I am lucky enough to win I will give the desktop code to a co-worker as I already have this fabulous application.

Would be very helpful to me.

This would be a great app to track my time & expenses for client billing.

That's very useful. Hope I can win that.

Very cool app would help me immensely loose track of time and tasks since I was disabled, put on oxygen being housebound that happens now, but not to DH who has to do so much of that I used to or remind me here, he thinks he's burdening me, I said I'm disabled not mentally challenged ouch! Thanks!

I would love to use this in our catering business!!

As a consultant, I would love to try this out!

Sounds like this app would be super usefull for college, would love to see how much it could help with homework and class work :)

I work on multiple projects in the construction industry. This app would be a huge improvement in my time keeping. Even if I don't get the free one, I will end up buying.

This sounds handy - I've been hunting for a decent (but reasonably simple for use in the field) multi-platform system just like this! Too bad the desktop application is (for a relatively unknown product) a little pricey (especially in this economy, where consultants like me have to squeeze every nickle) and the "giveaway odds" aren't exactly in my favor. But hey, who knows?

This would be the perfect way to keep track of the time spent working on my client's work!

Anyone with iOS time tracker experience: I've used a spreadsheet for time logging for 10 years because I've not found anything easier or quicker. Do these dedicated apps work well?

As a self employed IT contractor, this would be awesome for me :)

Would be nice to win this timesaver!

The GUI looks incredibly polished, and an app like this could save me a lot of time. I'd love to win a copy.

WOW, this app would decrease the time I spend in the office after returning from a long biz trip. And it talks to my my iCal app too. I could benefit from that.

Nice app. Would be great to go along with the new phone the wife picked up!

This is a great app when you have to bill for multi clients!

Sounds great. I'd love to win!

I'd love to have one these apps, can't wait to win something here!

I'm outa control. Need control. gimme control. please.

Would love this since I travel to work.

Would be a great addition to my app collection. Thanks.

As a freelance designer, this would be so useful for me! Hope I get lucky!

The idea of a combo app is appealing _ I currently use iExpenseIT (A great app) and On The Job (also very good) but they're separate apps. Inthegration would due nice.

would be great if i got one

Its about time I get a copy of office time :)

I am currently doing some consulting work... This would definitely help

This would be so helpful.

I am currently doing some consulting work... This would definitely help.

Hey! Thanks a lot!!!!! Stephen Dodd, Founder of OfficeTime!

I'm looking for a good time tracker for a while, but I haven't found one that suits my needs. Maybe this one? I definately would like to give it a try.

Sounds like an awesome app... should work great on mu iDevice.. Thanks!!!

Sounds like an awesome app... should work great on mu iDevice.. Thanks!!!

I'd love an app like this.

I'd love an app like this.

this would fit the bill for me perfectly! I am looking for a good solution to track time on my iphone!!!

this would fit the bill for me perfectly! I am looking for a good solution to track time on my iphone!!!

Great idea for an app and desktop software for my business!

This would be a helpful application, not just for business.

This would be a helpful application, not just for business.

It sounds like sanity may be achievable with this easy to use app, not just around tax time but year round. What a time saver!!!!!

I just started my own consulting business and OfficeTime seems like the perfect solution for tracking my hours and expenses. I have just started using the free app and can only imagine what the full blown version could do to save me time and anxiety. Please pick me as one of your winners.
Thank you for signing up to iMore. You will receive a verification email shortly.
There was a problem. Please refresh the page and try again.