Developer Spotlight: Stephen Dodd of OfficeTime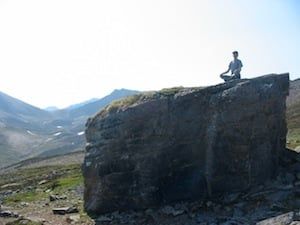 iMore's developer spotlights are like DVD/iTunes Extras for the App Store -- a weekly look behind the scenes at the programers and designers that bring you the iPhone, iPod touch, and iPad apps and games you love. This week, Leanna talks with Stephen from OfficeTime Software.
What's your name? Stephen Dodd
What's your company's name? OfficeTime Software.
Where are you located? Brighton, UK. Nice party town by the sea. It became famous as where the Prince Regent (and future King of England) came to impress the ladies away from family's watchful eye. It still seems to be the place for London teenagers to do the same.
We're actually dispersed all over the place. OfficeTime grew out of a Canadian design agency. Our awesome customer support guy is in Denmark. We get PR and Social Media help from great people in the US and parts of OfficeTime have been developed in Germany and Ireland.
What's your website address? www.officetime.net
What's your Twitter name? @OfficeTimeApp
What app do you make?
Back in the Internet boom days, a design agency I was with needed a good time tracking solution. We really didn't like the feel or functionality of anything on the market. I thought, "How hard could this be?" and thinking I could whip it up in a long weekend, got to work. About a thousand hours later, OfficeTime was born.
The most important thing when developing OfficeTime was to make it easy to use. If it doesn't just work, people don't use it and you lose valuable and potentially billable hours.
People are now happily tracking their time and expenses on versions for the Mac, PC, iPhone, iPad and iPod Touch and syncing it all up in the end.
What apps, other than your own, are currently among your favorites? I'm a sucker for good usability and ergonomics. Zite is a great personalized news feed on the iPad. 1Password does a great job keeping my zillion passwords both safe and accessible. Oh, and Plants Vs Zombies has just such good production values.
How long have you been a developer? OfficeTime was launched in 2003 on the Mac. I dabbled before that.
How long have you been an iOS developer? It's funny. I started designing OfficeTime for the iPhone even before I had one. When apps were first announced, it was this fun, frantic time figuring out this new environment much like the web in the mid 90's when everyone was wondering how to optimize gifs and design for this new medium. OfficeTime was unfortunately a long time in development due to some setbacks and a rather obsessive attention to the user experience.
During that time I downloaded every time tracker available on the app store. I mean literally every one. Then we used them and decided what we liked and what we didn't and used the experience to build something that we hoped would be better. I'm just amazed at how many time tracking apps there are that make you think so hard to do something so simple.
Do you develop for any other platform in addition to iOS? If so, which one(s)? Mac & PC. We're looking at the Android platform but worried about quality control. Between different versions of Windows, Mac and iOS, there's already a lot of little things details to attend to. It's often these little things that frame your app and contribute to it's perceived quality.
What primary computer setup do you use for your iOS development? A lovely little MacBook Pro connected to a not quite so lovely, not quite so little ViewSonic display.
What iOS device(s) do you personally use most often? iPad, iPod Touch, iPhone 3GS. iPhone 4S.
What mobile devices, other than iOS, do you currently use? None, yet.
What's your favorite thing about developing for iOS? There's a good established framework for user interaction. If you're wondering how to best represent something, chances are there's an Apple app or another prominent app that may have a good example to build on. This is less well-defined in, say, the Windows environment where it's cool to cut your own path and develop a unique GUI which can have its disadvantages.
What's your least favorite thing about developing for iOS? It's great having an OS with few security problems but it sure would be nice to be able to do a little more. The feature people love most on the Mac & PC versions of OfficeTime is after stepping away from their desktop for a few minutes, they come back to a dialog asking them if they'd like to subtract the time from the timer or even apply it to a different project like the phone call you just took. We'd so love to do this on iOS.
What feature would you most like Apple to add to the iOS 5 SDK? User granted access to the phone logs so we can time your calls. But I don't see that happening.
What feature would you most like Apple to add to the App Store? The App Store is this huge thing and there's so much Apple could do with it. Many developers mention app discovery. I'd like to see an improved ratings system that figures out this tough trust issue. If trusted reviewers could be properly weighted, you could factor the app rating into the ranking scheme and dramatically improve the top app lists. Developers really need an ability to respond to user reviews in some way. As it stands, there's no conversation going on right now. It's just not very social.
If we were to eavesdrop on you while you were coding, what curse word would we hear you use the most? Great Blistering Barnacles! Oh, wait, that's Captain Haddock.
I summon my zen and Keep Calm and Code On.
What do you do when you're not coding iOS apps?
I'd love to just code but these days spend most of my time in all the little things that go into a business. I think the games industry is the classic example of people moving into it so they can be close to what they love and ending up spending their day in Excel.
What should we look for from you next?
Oh, we've got such big plans for OfficeTime. We have this huge list of feature requests. People just love to write in. The hardest part is saying no otherwise you end up like Microsoft Word. We won't put anything in unless we can do it elegantly.
Next up is a revamp of the desktop version with the knowledge we've gained from our iOS app. (Sounds suspiciously like what Lion did...)
And, like most people, we hate paying by month and having to use a web-based app to get our team's billables on the same page. So we've got big changes coming to make it even easier for a whole team to track their time across iPhone, iPads and desktops and let their supervisor keep tabs on what's approaching budget.
Thanks Stephen!
Master your iPhone in minutes
iMore offers spot-on advice and guidance from our team of experts, with decades of Apple device experience to lean on. Learn more with iMore!
Former app and photography editor at iMore, Leanna has since moved on to other endeavors. Mother, wife, mathamagician, even though she no longer writes for iMore you can still follow her on Twitter @llofte.