App of the Week: Timer for iPhone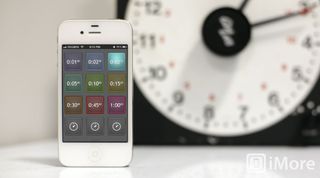 If you read my review of Timer earlier this week, you know I'm a huge fan of App Cubby's newest app for setting timers. Its primary attribute is its simplicity. To start a timer, you just hit the big button that represents the time you want.
Here's what App Cubby's David Barnard has to say about Timer and the theory behind its design:
And ultimate it is!
With the ability to set up to 12 timers at once from the same screen, Timer is incredibly efficient at setting timers. It's also very beautiful.
Now, one of the main negative responses I received about Timer, despite its efficiency, was that asking Siri to "set a timer for 5 minutes" is actually faster than opening Timer and hitting a button. And this is true. However, Siri uses the iPhone's internal clock and timer which has a couple of limitations including the inability to set multiple timers. Also, if you ask Siri to set a 30 second timer, she'll reply with "I can't set a timer with seconds. Sorry about that."
Timer doesn't have either of these restrictions. Now, I'm not denying the convenience and just plain awesomeness of using Siri to quickly set a timer, but for those times when Siri and the iPhone's built-in clock can't do what I need, Timer is the perfect substitute.
Just the other day, I was baking a banana creme pie from scratch. This recipe required about 3 different timers going at once and Timer was my hero. The huge buttons made it super easy to start the timer I needed while covered in various ingredients (knuckles work great on the iPhone's touch screen!). I also appreciated the count-up timers for those times when I had to perform a task for, say, 8-9 minutes.
Seriously, Timer is the ultimate app for setting timers. Super easy. Super fast. Super awesome.
$0.99 - Download Now
(opens in new tab)
Get the best of iMore in your inbox, every day!
Former app and photography editor at iMore, Leanna has since moved on to other endeavors. Mother, wife, mathamagician, even though she no longer writes for iMore you can still follow her on Twitter @llofte.
What's a count up time? Is that different from a regular count down timer? I couldn't find this in the app.

When a timer goes off, its button starts a count-up timer so you know how much time as elapsed since the timer went off.

While some of the more advanced Siri functionality can be somewhat inconsistent ( http://blog.crushapps.com/2011/10/more-fun-with-siri-dictation/ ), the native Clock app's Timer feature has always worked flawlessly with Siri for me, and everyone else who uses it. There's also the added benefit of knowing that no matter what else you're doing with your 4S, the native Timer app is going to alert you -- and nag you until you acknowledge it, something 3rd party apps just won't do.
Using the Reminder feature with Siri is just as consistent, and has the added benefit of alerting you on all of your iCloud-connected iOS devices simultaneously... ie: Siri, remind me in 20 minutes the pizza is done.
3rd party timer apps might look pretty, but the native iOS Timer and Reminder apps teamed up with Siri can't be beat when it comes to sure-fire consistent alerts...

Have to agree with you. I can't see needing a separate app for timers. Siri works great.

Its apps like this that always make me think. Why didn't I do that! lol. Great idea - and like most great ideas. Simple and effective.

That being said - I did not tihnk of this app - Flipboard!http://www.theappmediaco.com/blog/app-developers/flipboard-android-app-d...

It's well designed and I don't have Siri on my phone, so that comparison isn't relevant for me, but I do have a dollar and I think I'd rather have it my wallet than this on my phone!

This app is my new grilling companion. I like its simplicity, but I wish it would let me choose a ringtone off my phone rather than use the preset sounds.

5 stars for the 18,000th timer app in that app store? I wonder if it has to do with the dev sitting in on imores podcast and Rena promising a glowing revue. I love the impartial reporting. "wink"
(I hope this is what you wanted me to say Rene) didn't want to seem too harsh

Leanna doesn't run the podcasts, I do.
I don't run the app picks, Leanna does
It may -- just may -- be possible that smart devs are great on podcasts, and also happen to make great apps.
Kind of like Joss Whedon might be great on an interview show the same week Avengers comes out.
Now back to playing Galaga...

This is great. My usual nap length is 23 minutes (and i also set a planned world record nap of 4 minutes- i am not kidding.) We know that the iPhone timer would laugh at us if we ever tried to set these sorts of times, so I am going to d/L this now.
And i wasn't kidding about my world record.

Timers are indeed wonderful tools for managing efficiency and productivity. At Appsules, we built Elapsed which lets you run multiple timers concurrently grouped (overdue, running, paused) and sorted by remaining time. Additionally, frequently used timers can be saved as presets for easy one-tap reuse. Multiple instances of the same timer can be launched (ex. two loads of laundry, one preset, no problem!). Even more… its the only timer app out there that lets you modify running timers while they are still counting down… change the remaining time, duration, alert sound or even timer… life isn't always predictable… so we want you to have options.
So, please do check out http://www.elapsedapp.com – you'll find it to be a significant upgrade from the default Clock app. Oh, one last thing… its FREE!