Transmit 5: Everything you need to know!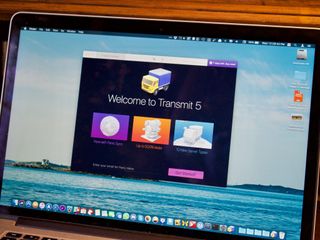 After seven years, Panic has released its latest major version of its file transfer software, Transmit, for macOS. Transmit 5 features a number important updates, with everything, from the user interface to the file transfer engine, getting either overhauled or at the very least spruced up. Panic is also making another big move with Transmit 5: this version of Transmit is not available in the Mac App Store, and you'll have to download and purchase it from Panic itself in order to check it out.
Here's everything you need to know about Transmit 5.
What is Transmit 5?
Transmit is a file transfer application that lets you manage files on a host of different servers, uploading, downloading, tweaking, and transferring them however you need. Originally, Transmit was primarily an FTP (File Transfer Protocol), but over the years it's grown to support a wide variety of different server types, and Transmit 5 features support for 10 new cloud services.
What are the big changes in Transmit 5?
While Transmit 5 features several updates across the app, including a new user interface, the big changes the Panic focuses on are servers, sync, and speed.
When it comes to servers, Transmit now supports additional servers and new cloud services. The app uses Panic Sync, the company's own syncing method, to sync your sites between Transmit on multiple Macs, as well as Transmit for iOS. Transmit 5 also features a new version of its file transfer engine that offers improved transfer speeds, along with more intelligence about complex folders.
What types of servers and services can I connect to with Transmit 5?
Transmit features support for connections to the following server types and cloud services:
Amazon Drive
Amazon S3
Backblaze B2
Box
DreamObjects
Dropbox
FTP
FTP with Implicit SSL
FTP with TLS/SSL
Google Drive
Microsoft Azure
Microsoft OneDrive
Microsoft OneDrive for Business
Rackspace Cloud Files
SFTP
WebDAV
WebDAV HTTPS
What's new about sync?
Transmit 5 uses Panic's in-house syncing solution, Panic Sync, to keep your files up-to-date across multiple Macs and Transmit for iOS. Panic notes that Panic Sync is encrypted and that the company can't see your data.
You'll also find local-to-local and remote-to-remote sync in Transmit 5, along with finer control over what gets synced.
How has the speed of operations been improved in Transmit 5?
Panic completely rebuilt their file transfer engine for Transmit 5, making not only faster, but smarter as well, with the new engine offering better handling of complex folders. Transmit 5 also makes speed improvements with folder multithreading, which transfers the contents of folders asynchronously, as well as instant file transfers, which begin operations without the need to retrieve the sizes of all of the files in question.
There have also been tweaks to the UI to let you more quickly access everything you need from a single window.
What else is new in Transmit 5?
There's quite a bit, actually. You can now manage and generate secure server keys without needing to leave Transmit.
There's now a feature called the Places bar, which acts much like the Favorites bar for bookmarks in Safari or Chrome's bookmarks bar. It allows you to place all of your favorite folders in an easily accessible place that lets you get to them in one click.
Other new features include batch rename of files, tag support, two-factor authentication (2FA) support, file copy and paste, Touch Bar support, and selectable file syncing.
Transmit 5 also supports v4 of the Amazon S3 API.
How do I purchase Transmit 5?
Transmit 5 is available directly from Panic. You can try it free for seven days, after which you'll need to purchase Transmit 5 to unlock the full app. For the first week, you can buy the app for $35, though after that, it will be available for $45.
What about an upgrade discount?
Panic is not offering a discount for most Transmit 4 owners, so the price is the same for almost everyone. I say "almost" because there is an exception. If you purchased Transmit 4 from Panic after June 1, 2017, you can head here with your Transmit 4 serial number and get a free upgrade to Transmit 5. Mac App Store customers that purchased Transmit in the same period need to contact Panic directly about upgrading.
Is Transmit 5 available in the Mac App Store?
No. Panic says that distributing outside the App Store allows for a full demo. However, the company also says that it will continually reassess the Mac App Store and hopes to return at some point.
Other questions?
If you have any more questions about Transmit 5, be sure to tell us in the comments.
Get the best of iMore in in your inbox, every day!
Joseph Keller is the former Editor in Chief of iMore. An Apple user for almost 20 years, he spends his time learning the ins and outs of iOS and macOS, always finding ways of getting the most out of his iPhone, iPad, Apple Watch, and Mac.
Fantastic software, bought straight away. A must-have tool for any Mac developer working with remote files
Thank you for signing up to iMore. You will receive a verification email shortly.
There was a problem. Please refresh the page and try again.