Apple announces the iPhone 5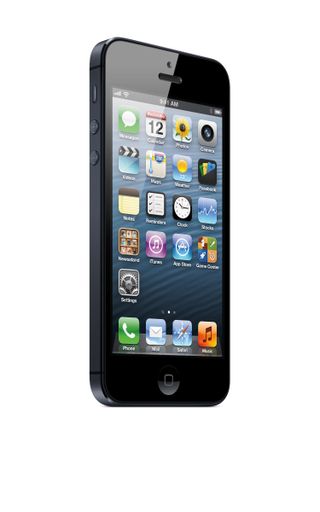 Apple has just announced the iPhone 5 and it is exactly like the leaks we have seen so far. It is currently being revealed on stage by Phil Schiller. The iPhone 5 will have a 4-inch screen with a retina display at 1136 x 640 and 326 PPI. The iPhone 5 will be 18% thinner than the iPhone 4S and will weigh 20% less too. The iPhone 5 is made from aluminium and glass and is made to fit your hand and allow one handed usage. The iPhone 5 will come with LTE as well as the usual flavors of HSPA along with N wireless at 2.4 and 5ghz. The new A6 chip will power the iPhone 5 and its claimed that it will double the performance of the iPhone 5 and double the performance of the graphics too. Press release after the jump!
Get the best of iMore in in your inbox, every day!
UK editor at iMore, mobile technology lover and air conditioning design engineer.
It's everything I thought it would be so far.

So, it's a smaller screen, with lower resolution, than other phones that are already out? And thicker than other phones that are already out, too?

A 4" screen is a pretty good size, though. I have a Galaxy Nexus, and while I like it a lot, the screen is a little too big for easy one-handed use, and I have pretty big hands. I always thought that in terms of size, the original Moto Atrix was the most comfortable phone I ever used (including iPhones), and that was a 4" screen.

If you want a bigger screen, get a tablet. There's no need for a huge screen on a phone. It's meant to be used by one hand.

What I like most is the Facebook contact integration we have all been waiting for. However, this does not change the fact that ta small screen means harder to manage and edit contacts (a small nuisance for some and huge for others like my husband who is legally blind). I have been managing his iphone contacts directly from our desktop computer using this: http://www.copytrans.net/iphone-contacts.php However, a slightly bigger iPhone screen would not help immensely, you know.

Facebook contact integration? My very first Android phone (1 1/2 years ago) had that - as they all have since. Maybe your husband would find the new Samsung Galaxy Note 2 useful? It has a 5.5 inch screen.

That's a weak excuse - not everyone has the same hand size. It's personal preference and fit really. I'm not a big fan of the new 4" iPhone screen (looks a tad bit awkward to me) and neither am I fan of the Note (5.2"? was it?) but I can definitely see why some people would want a bigger screen.

The ghost of SJ speaking from the other side.
And you are the expert how?

disappointed...... but congrats to rene for tracking this with accuracy

It's ugly but I'm probably still getting it

The white one is ugly, but that slate metal on the Black one... Pretty nice looking.

So far... It's not that impressive.

It might just be the gdgt photos, but what is that "light" to the right of the home button?? http://6094711254a791c1ffc1-1b28cc3e944a434122231576ebaac5ce.r98.cf1.rac...

This entire presentation is lacking! The worst thing that is lacking is innovation. there is absolutely nothing there that is going to make me want to buy this phone. Well, Android here I come. thanks apple for pushing me away. I miss Steve Jobs.

No it's not. It's a smart phone. If all you want is a cell phone, you're in the wrong place. Many iPhone users had far higher expectations than what has been announced today. Now go enjoy your old dumb-cell-phone-only that nobody else cares about.

What's is so innovative about putting out a phone every 2 weeks with wack ass apps and crappy keyboards? If you think that anything that Samsung or HTC makes has a better screen,you're just blind or a hater. I dont care what the specs say, those screens look like shit is comparison to iPhone 4s.

Wow. Apple has put innovating on hold so they can continue suing the competition.

Did anyone see the email address in the presentation as @iCloud.com???

Last I checked, this was ACTUALLY the "thinnest smartphone in the world." http://www.intomobile.com/2012/05/25/oppo-smartphone/

Apparently, that, and the Motorola RAZR, at 7.1mm, don't count at "smartphones" to Apple.

I wonder what sort of dock options there will be for the iPhone 5? I hated Apple's iPhone 4 dock, and I'm not a fan of their all-purpose iPhone dock. I own a Kidigi dock designed for an iPhone 4 with bumper, and it's awesome. I'm really looking forward to getting an iPhone 5, but I'll miss having a nice angled dock to rest my iPhone in on my desk.

iPhone 5 is crazy hot!!!!!

I have to agree with others who have expressed disappointment in today's announcements. I'm still using my VZW iPhone 4, and I'm not feeling at all excited about upgrading to the iPhone 5. Very underwhelming. I hope all of this hits Apple in the sales numbers, both soon and hard. Maybe they will finally get the message. I'm due for a full upgrade until April 2013, and that means I may as well wait a few more months to see what the next iPhone will be. If it is another underwhelming piece, I'll probably jump to another platform. At this point I'll speak with my wallet by keeping my iPhone 4 a while longer. :-(

Problem is I think that people expected too much. This is normal stuff for Apple, they stick with a core design for at least 2-3 generations (iPods and the iPhone/iPhone 3G/3GS are testament to that fact) so it isn't really all that unexpected. Problem is that back then, these designs were revolutionary and the competition was far behind - that has changed drastically now, the competition has more than just caught up and they are pushing hard by innovating and adding more features. I really think Apple dropped the ball on this one, they could have launched a completely new device and that would have cemented their position for another 2 generations. Instead, they chose their wise old strategy and decided to opt for short term gains (as you'll see when they release the pre-order numbers).

That's really a great iPhone!

It is, absolutely beautiful. I can't wait to preorder, and then get my hands on it on September 21st. Problem is, our Apple Store is in a mall, so where is the line going to start? Lol. Great job iMore team on all these predictions. This device really is amazing, and coming from an iPhone 4 it's going to be a huge difference. I'm so excited to see how quick the LTE works, and play Order and Chaos on that 4 inch retina display with the power of the A6 chipset. Awesome product Apple, you've done it again.

I'm not sure why everyone is so disappointed. What did you expect? This was one of the worst kept secrets in Apple's history so we knew what was coming. Iterative updates are kind of what the industry is doing now. We've gotten to the point where the devices in our pockets are so powerful every additional feature is nice but not revolutionary and our battery tech isn't keeping up either.

I need to upgrade my iPhone 3G, please give me this iPhone!!!

Make me a believer!....I would love to win this!....Nothing better than a free device!! :)

NEED THIS! I see a lot of hate comments on other sites from non-iphone users. The main thing is usability. I see no need for a 5 inch screen on a phone. Get a tablet if thats what you want. I also think its unrealistic for people to want a completely redesigned phone as well. The OS changes are great but I like the look of the 4/S and 5. Yes the iPhone was behind on a few things, but they are built to last and nearly everyone in my city has one so that has to mean something.

I think a lot of people are disappointed because they have silly expectations. If the screen were to get larger than this, it would make the device bigger. I love the small size of the iPhone and think Apple really nailed it with the iPhone 5 screen size. The 16x9 ratio rocks for video. And the tallness of 16.9 rocks for stuff like web and texting since it adds more vertical content. I don't know what kind of design people were hoping for. The iPhone is basically just a screen with a camera and ear-speaker above, and a home button below.

Exactly! I think they did great with this one. People forget sometimes lol Cant wait to pre-order. Just need to check with AT&T

The asinine amount of leaks destroyed this product launch for me... and for many others, I bet. It's not that this isn't a great device in its own right, it's just that we've basically seen it and all of its "new" features since this Spring. Apple needs to get a better grip on these production-line security issues... it's hurting their product launches. Relatively, of course - this will sell in huge numbers. Wonderful engineering and the polish of iOS aside, the non-revolutionary design, underwhelming new features, and 6-month old leaks of all of the above will have many people looking at other devices... perhaps for the first time in 5-6 years. Especially in the States. We'll see how this does worldwide. The iPhone 4 and earlier segment aline will probably put these numbers in the high tens of millions by Christmas. I won't bet against Apple or their design/engineering/marketing teams, but... meh.

The thing about apple that has sold me is the reliability of their products, yeah the design didn't change but is that all we care about? What about the hardware side of it? The specs are awesome! I have an iPad as well so if I want a bigger screen, I'll use my iPad.

I waited 6 extra months to upgrade from my 3GS. I am severely disappointed. I should have gotten the Galaxy S3 when it first came out, instead of stalling.

In 5-6 years, the S8-S9 still won't be as good as the phone Apple's presented today..

trolololol oh so thats why the Slll is the only phone to ever overtake the iphone in sales in america?? because its not as good.

Any ideas what time it will be on sale on Friday? I did the pre-sale for the 4 and I want to say that I woke up around 6am eastern to get it... I don't remember though; it seems like it was so long ago *sigh*

I know people are disappointed about the lack of surprise element from the iPhone release. But you can't expect Apple to continue to suppress all the information about the iPhone when they are planning to rollout the phone worldwide on the same date. Unless Apple create all parts for the devices in their own factories, it is going to be very hard to suppress leaks for them from now on, with such a large following and so many people making money from leaking information about their technologies. I am pretty excited for the iPhone 5, I think it is one of those devices that is going to feel amazing in hand. No matter how much I read and the number of images I look at, it will be an amazing experience to play with the device and see what it can really do. Not to mention how much this device will integrate with the rest of my techno-system.

What a joke. It still amazes me people are so excited about 4 inches. "It still works with one hand" wooooow. It is so revolutionary. Not. In a few years it will get bumped up to 4.3 or so and people will say the same exact thing. It's funny, it really doesn't matter what Apple does people will love it no matter what.

The best part about this is that it is called the iPhone 5 (NOT iPhone 6). Where are all the dumbasses who were constantly driveling about how "it's technically the 6th version so it absolutely must be called the iPhone 6" blah blah blah. Since you all obviously cared so much about something as trivial as a name, as someone in the majority that doesn't give 2 shits I just want to officially point out that you all were WRONG and now look incredibly stupid for incessantly arguing about it in the comments of numerous posts over the past months. Rene deserves to write an entire post dedicated to one huge I TOLD YOU SO.
Thank you for signing up to iMore. You will receive a verification email shortly.
There was a problem. Please refresh the page and try again.